[From pxhere.com]
Dear friend,
Over the last few weeks, our team at Founding Fuel was busy looking at the immediate past and the immediate future, barring a few days when an important event in Indian entrepreneurial world claimed all our attention.
A Look Back
Two weeks ago we presented to you a curated reading list of the best stories that appeared in Founding Fuel in 2018, updating you on how the needle has moved since those pieces first appeared on our platform. Those of you who got back on the list, and shared it with your friends, our sincere thanks. In case you haven't had a chance to read it, you can click here.
Clash of Cultures
A week later, we brought you the inside story of Binny Bansal's ouster from the company he co-founded 11 years ago with his friend Sachin Bansal. The story went into details of what took place behind the closed doors and resonated with thousands of readers.
Some of you (about 300) signed up for this newsletter after reading the story. Welcome. We are sure you will find our weekly missives interesting and thought provoking.
We thank you for your overwhelming response—some of which is compiled here. We promise to take the discussion forward, and add value to your professional and personal journeys. (Is there any distinction between the two anymore?)
The Biggest Questions of 2019
One of the ways we are tackling that is by looking at the future, and in the last couple of weeks, asking a very specific question: What will be the biggest questions of 2019?
As Indrajit Gupta explained in a mail we sent to our network requesting them to send their top questions: "We're curating a set of questions that any intelligent reader would want to know about 2019. We're crowdsourcing the questions from our Founding Fuel community of readers and contributors, picking the best ones—and then asking some of the finest minds to take a stab at answering them….
We have no idea what 2019 will be like. But we're ever willing to stick our neck out, look for the questions that might matter—and search for the answers that help bring a measure of clarity and understanding."
The Process
When we compiled all the questions, the list had more than 60 that reflected this diversity of topics. We grouped similar questions, and for a week, spent a few hours every day discussing the topics that each of us thought were interesting and important for 2019. When we were not discussing the questions over Zoom, we spent a good part of the day pouring over the essays, podcasts and videos referred to during the discussions. And talking to more people about the big themes.
We followed it up with a few more sessions bringing the list down to 10 questions. It wasn't easy, given that the quality of the questions we received in first place was high. Even questions on the same topic approached it with different perspectives. So, we took some more time to frame the questions in a way that reflected the complexity, importance and immediacy.
We will share the exact questions when we get those answered by some of the finest minds that have spent years thinking about and working on the topic. So, we request you to await the questions and a very important announcement related to it.
For now, let's look at the big themes the ten questions will explore, and some of the interesting essays, podcasts and videos that we referred to during our discussions—some of them explored in Founding Fuel earlier.
I hope you enjoy reading what we have compiled.
Regards,
NS Ramnath
The Big Ten for 2019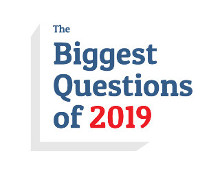 Get a head start on what 2019 has in store by focussing on the issues that will really matter. Find answers to a specially curated set of questions that cover a wide arc, from policy and politics, entrepreneurship and innovation, and business and economy. The countdown starts soon.
1. Elections 2019
India is facing parliamentary elections early next year. In the 2014 elections, NDA riding on the Narendra Modi wave, won 336 of 545 seats. Much has changed since then.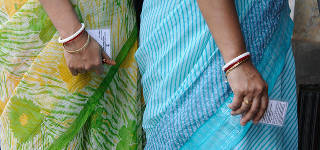 [By Al Jazeera English under Creative Commons]
Into the mind of the Indian politician
Charles Assisi | Corruption is a clichéd narrative to woo voters. What alternative narrative can politicians sell to the world's largest democracy? Read Now
In conversation with Vinay Sitapati
Charles Assisi | The author of 'Half Lion' highlights some little known facets of former Prime Minister PV Narasimha Rao's life, and leadership lessons from how a man without much of a mandate brought in profound transformations. Play Now
India's socio-political narrative has changed to BJP's advantage
Nilanjan Mukhopadhyay | One would be an ostrich by pretending that the phenomenon of distrust becoming legitimate sentiment, is solely the result of BJP's pursuits. Read Now
2. Privacy
When Europe's General Data Protection Regulation came into force in 2018, it sent a wave of intense debates across the world. India is in the process of passing a data protection law, and eventually a privacy law in the coming years.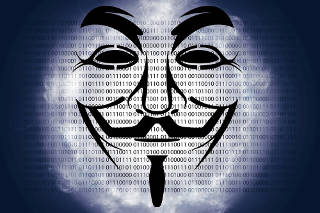 [By Pete Linforth under Creative Commons]
The future of privacy: A conversation with Rahul Matthan
What sort of legal framework ought an economically poor, but data rich nation ought to have? When you agree to an entity accessing your data, ought there be a time limit? And what does it mean to have a fundamental right to privacy? Read Now
Enjoy the data while it lasts. It won't for too long
Charles Assisi| Behind your back, a fierce battle is being fought between actors of all kinds over who owns you. It will end soon. But a price will have to be paid. That includes our privacy. Read Now
China's surveillance state should scare everyone
The Atlantic | The country is perfecting a vast network of digital espionage as a means of social control—with implications for democracies worldwide. Read Now
3. Technology and Jobs
Businesses, social sector and even government are fast adopting new technologies to make themselves more efficient. Efficiency often comes at the cost of jobs.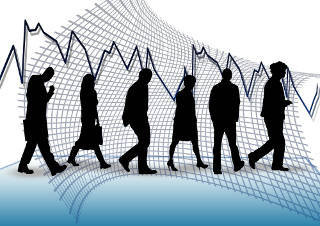 [Photograph by Gerd Altmann under Creative Commons]
Solving India's problem of jobless growth
Arun Maira | Jobless growth is a multi-cause, systemic problem. Tackling each cause individually will backfire. A more effective solution is to develop a synergistic policy-matrix. Read Now
Singapore's Deputy Prime Minister addresses NITI Ayog's Transforming India program
Speaking in August 2016, Singapore's Deputy Prime Minister T Shanmugaratnam says "India needs to grow by over 8 per cent over the next 20 years if it is to create jobs for a youthful population; reduce its extremely high degree of underemployment; and achieve inclusive growth – including a significant shift of people from the lower income group to the middle income group, just as China achieved." Play Now
4. Radical Nationalism
The United States, Brazil, Argentina, the Philippines and a host of other countries have either elected or given more votes to leaders standing on the plank of nationalism.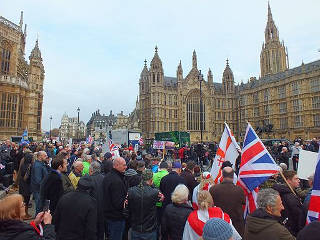 [By Bulverton (CC BY-SA 4.0), via Wikimedia Commons]
Munk Debate: The Rise of Populism
Steve Bannon, former head of Breitbart News debates David Frum, senior editor at The Atlantic. Play Now
Disquiet in Paradise: Why the Internet May Be Turning into Fort Knox
Arun Maira | Three recent books lay bare claims that the internet is a democratizing and empowering force in society. Instead, new internet czars have concentrated power in their own hands, made us dumber—and spawned a more divisive society. Read Now
A darkening horizon
Pratap Bhanu Mehta | As the liberal order declines, a polarised world full of majoritarian, intellectually insecure angst looms. Read Now
5. Strong State and Democracy
The Indian government seems to be taking on the Supreme Court, the Central Bureau of Investigation, the Reserve Bank of India and other independent institutions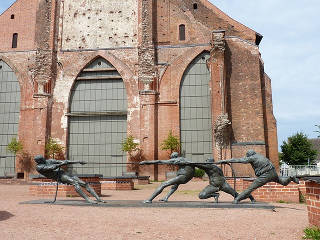 [By falco under Creative Commons]
Democracy, inclusion, and prosperity
Raghuram Rajan's speech at the D.D. Kosambi Ideas Festival held on February 20, 2015 in Goa. Read Now
ModiGovt@4: Institutions take a big hit
Satish Misra | Notwithstanding various government claims of its achievements, relationship between different institutions, both autonomous as well as official, and the Modi government has been at best uneasy. Read Now
6. US-China Trade War
The US and China are fighting a trade war that has impacted over 5,000 products and billions of dollars worth of trade.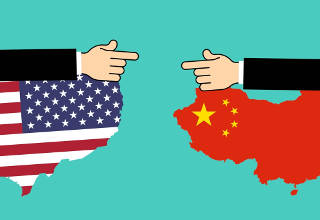 [From pxhere.com]
In race for global power, US and China push nations to pick a side
Edward Wong and Alan Rappeport | China and the United States have been courting other countries to pick a side over their trade dispute. Read Now
India can lead the world in solving 'problems without borders'
Navi Radjou | India has a historical opportunity to assume global leadership in co-creating innovative solutions to tackle socio-economic challenges that affect the whole of humanity. Read Now
K Ramkumar | It is impossible to achieve one's leadership ambition or leverage diverse resources without pooling power. And power pooling cannot be achieved without negotiation—or power trading and trade-offs. Read Now
7. Corporate Governance
India has seen a series of corporate governance scandals hitting some of the best known companies including ICICI Bank, the Tatas, and Infosys.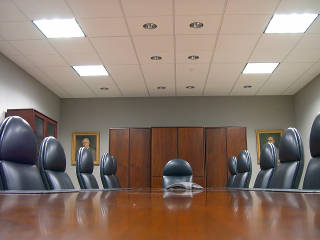 [By kzd under Creative Commons]
India Inc's Corporate Governance Challenge
A special Facebook Live Conversation with Sanjeev Aga, Subroto Bagchi and Sanjoy Bhattacharyya on what it takes to fix India's corporate governance challenge in the context of Tata-Mistry fight. Play Now
Why Narayana Murthy needs to relearn the rules of the Murthy Doctrine
Rama Bijapurkar | The Infosys founder has always claimed the high moral ground on good governance. But by taking on the current board in a high-pitched boardroom battle, he may have violated his own tenets and weakened the institution. Read Now
8. Swachh Bharat
The clean India movement was kick-started by the newly elected NDA government in 2014 to make India clean and open defecation free.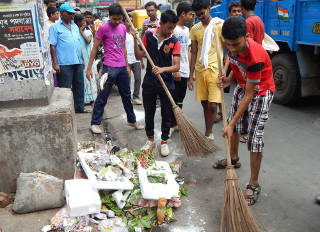 [By Ramakrishna Math and Ramakrishna Mission Belur Math (Public domain)]
A civic tech approach to Swachh Bharat
Amrita Chowdhury | Monitoring performance and impact is key to the success of the Swachh Bharat Mission. And that's where technology can make a big difference. Read Now
Bill Gates on the toilet, reinvented
Bill Gates speaks about 21st century sanitation in Beijing, China. Play Now
9. Environmental Protection
Every passing day brings some bad news about the environment, even as new scientific studies indicate that curbing global warming might be tougher than expected.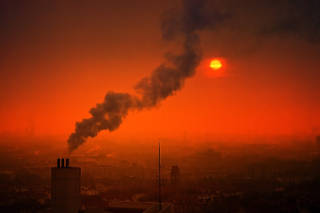 [From Pixabay.com]
Clean disruption: How green trends are changing business
Tony Seba | In this video, clean energy and transportation expert Tony Seba talks about how advancements in batteries, electric vehicles, self-driving cars and solar energy will change energy and transportation over the next 5 to 15 years. Play Now
Lessons from fighting a drought
NS Ramnath | Droughts can be managed to take the sting out of the phenomena. Here are seven learnings from Amit Chandra, managing director of Bain Capital in India, social entrepreneur Nimesh Sumati and Sundeep Waslekar, president of Strategic Foresight Group & Cauvery delta farmer Ravichandran Vanchinathan. Read Now
Saving Spain's largest saltwater lagoon
This environmental documentary follows environmental activists and fishermen in their fight to save Europe's largest saltwater lagoon from industrial farming. Play Now
10. The Impact of Broadband
What will be the real impact of cheap data in India?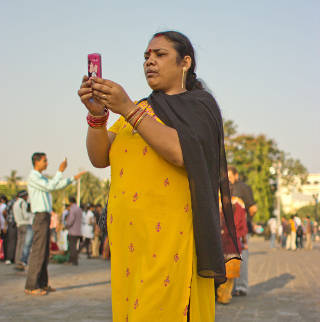 [By Victorgrigas (CC BY-SA 3.0), from Wikimedia Commons]
Offline and falling behind: Barriers to Internet adoption
More than 60% of the world's population remains offline. Without removing crucial deterrents to Internet adoption, little will change—and more than 4 billion people may be left behind. Read Now