[Photo by World Economic Forum from Cologny, Switzerland, CC BY-SA 2.0, via Wikimedia Commons]
Dear friend,
The public mood is fickle. Just last year, almost everyone was praising Bill Gates's foresight, saying "we should have listened to him when he warned about the pandemic waiting to happen." Now, the pendulum has shifted to the other side, with many accusing him for many countries botching up their vaccine policies.
Irrespective of what your view on Gates might be, it is interesting to get a perspective on him from his friend-turned-foe Larry Ellison of Oracle. Here's an extract from Softwar, by Matthew Symonds.
"One telephone conversation with Gates in 1993 sticks in Ellison's mind. 'It was the most interesting conversation I've ever had with Bill, and the most revealing. It was around eleven o'clock in the morning, and we were on the phone discussing some technical issue, I don't remember what it was. Anyway, I didn't agree with him on some point, and I explained my reasoning. Bill says, 'I'll have to think about that, I'll call you back.' Then I get this call at four in the afternoon and it's Bill continuing the conversation with 'Yeah, I think you're right about that, but what about A and B and C?' I said, 'Bill, have you been thinking about this for the last five hours?' He said, yes, he had, it was an important issue and he wanted to get it right. Now Bill wanted to continue the discussion and analyze the implications of it all. I was just stunned. He had taken the time and effort to think it all through and had decided I was right and he was wrong. Now, most people hate to admit they're wrong, but it didn't bother Bill one bit. All he cared about was what was right, not who was right. That's what makes Bill very, very dangerous.'"
A paragraph later, Symonds writes about a tactic that Ellison used to fight Microsoft. The logic throws some light on the dynamics of polarization that pushes the public mood to swing from one end to the other.
Symonds writes: "Ellison's decision to start attacking Microsoft in 1995 was based on the same reasoning as today's attacks by Oracle on IBM: 'If I want to make a point, I have to compare it to a counterpoint. I can't explain hot without comparing it to cold. In fact, there's no such thing as hot without cold. Everything's relative. So I attacked Microsoft: this is what they think, this is what we think.'"
What do you think?
In this issue:
Are you ready for gig mindsetters?
Do the older generation even understand?
What's time?
Have a good day!
Are you ready for gig mindsetters?
In her essay, which kickstarts the month-long FF Masterclass on A Bold New Breed (more details below), organizational analyst and strategic adviser Jane McConnell tells us that a bold, new breed of employees is emerging—gig mindsetters.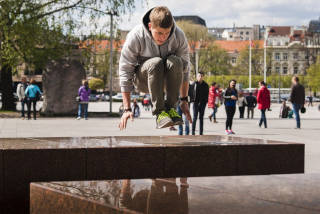 McConnell explains: "Gig mindsetters are a new breed of employee who dare to challenge the traditional thinking and ways of working that in the end will make your organization more resilient. However, they are unseen and often not recognized for their potential impact.
"Are you, as a leader, scanning the horizon inside your organization to spot these people who are potential game-changers?
"Your honest self-assessment on these four questions is an indication of where you stand today.
Are people in your organization able to communicate directly with you or your immediate team when they have ideas that may challenge the status quo, without having to go through layers of management?
Do you encourage teams across your organization to work out loud, sharing their work in an ongoing way before it is completed?
When an experimental initiative fails, do you consider it a positive experience and ask the people involved to share what they learned?
Do you give people time for outside activities such as external networking, conferences, and taking external online learning programs?
"If you answered 'yes' or 'sometimes' to two or more of the questions, you are likely one of the rare senior managers cultivating a gig-mindset approach to work in your organization."
Dig deeper
Some of you were a part of the terrific Masterclass with Tsedal Neeley, professor at Harvard Business School, and Bhargav Dasgupta, MD & CEO of ICICI Lombard, on Reimagining Work in the Post-Pandemic World on Tuesday. For those who missed it, it was a part of a bespoke learning experience curated by Founding Fuel. Those who signed up had the opportunity
to be part of a dynamic, live conversation even as the masterclass was streamed live on LinkedIn (and also on Facebook and YouTube).
to participate in a Clubhouse conversation with the top executives of ICICI Lombard who shared their lived experience
to get access to key takeaways, summarized by our team.
Here's a sample of the learning aid.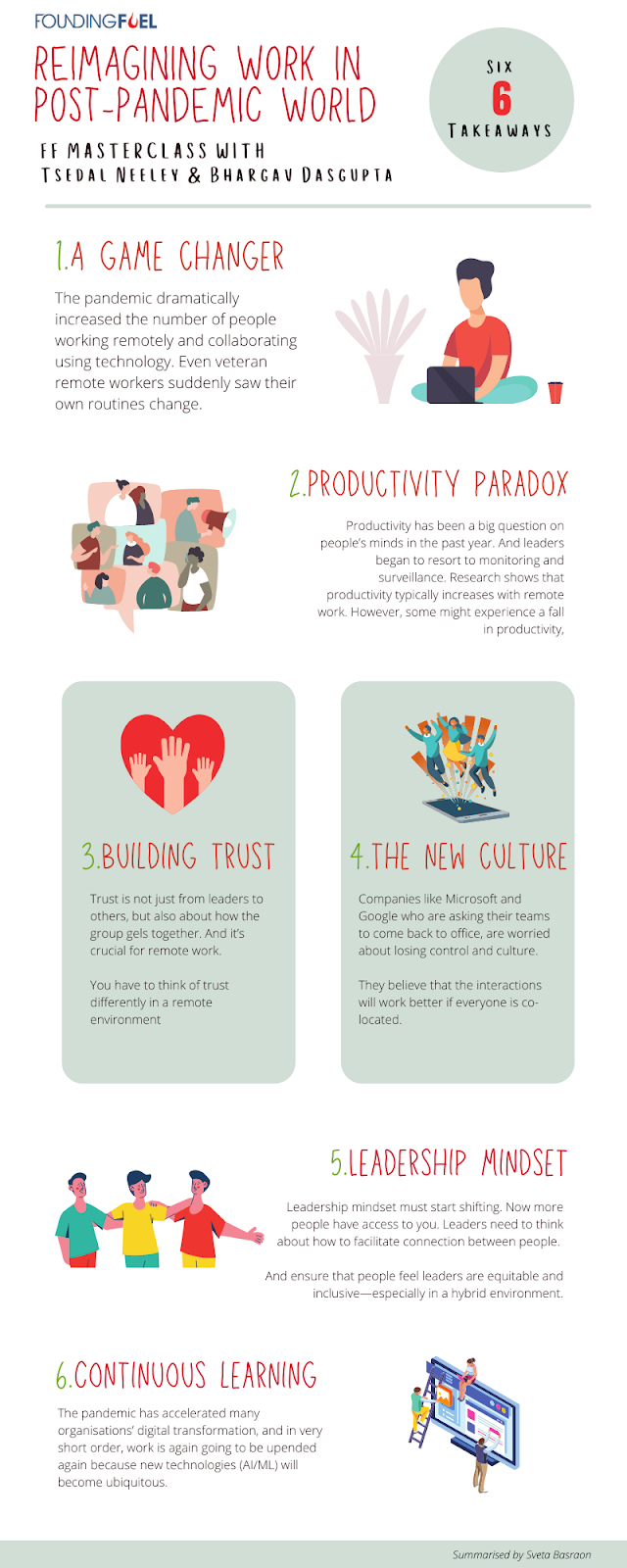 Now, the article above is the first piece in Founding Fuel's Masterclass: A Bold New Breed—a month-long bespoke learning programme on why leaders need to understand and embrace Gig Mindset.
For more details, and to access related content as it gets published, click here.
To register for the programme, sign up here.
Do the older generation even understand?
We are fighting one of the biggest crises of our lives. We will come out of it in a few months if things go well. But the pandemic is not the only existential crisis facing the world. Climate change is waiting just around the corner. FT has started a series on how the young population looks at the world, and here's a thought-provoking paragraph from the story.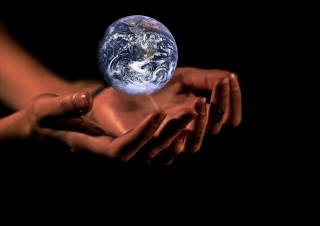 [Image by cocoparisienne / Pixabay]
"Abhi Kumar, a venture capitalist, says older generations do not 'totally grasp the scale of climate change and the worries my generation has in relation to it. For example, I'm from a Global South country [India] and I agonise over permanently emigrating to a place where the effects of climate change won't be quite as severe when I'm 50-60 years old. I'm not sure older generations quite grasp that anxiety. For them, this is just another challenge that humanity will overcome with a few bruises (like wars, recessions and now pandemics). While I find the optimism endearing in a certain way, it just isn't grounded in the reality that climate change is going to be a problem like none other we've faced as a species.'"
Dig deeper
Still curious?
What's time?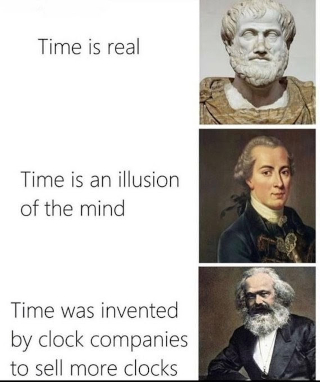 (Via WhatsApp)
Tell us what you think and find noteworthy.
And if you missed previous editions of this newsletter, they're all archived here.
Bookmark Founding Fuel's special section on Thriving in Volatile Times. All our stories on how individuals and businesses are responding to the pandemic until now are posted there.
Warm regards,
Team Founding Fuel
(Note: Founding Fuel may earn commissions for purchases made through the Amazon affiliate links in this article.)