[By Yann (talk) - Scanned by Yann (talk). Public Domain]
Good morning,
In The Hard Thing About Hard Things: Building a Business When There Are No Easy Answers, Ben Horowitz writes: "Great CEOs face the pain. They deal with the sleepless nights, the cold sweats, and what my friend the great Alfred Chuang (legendary cofounder and CEO of BEA Systems) calls 'the torture'. Whenever I meet a successful CEO, I ask them how they did it. Mediocre CEOs point to their brilliant strategic moves or their intuitive business sense or a variety of other self-congratulatory explanations. Great CEOs tend to be remarkably consistent in their answers. They all say, 'I didn't quit'.
One can well imagine Mahatma Gandhi saying something like that, or something even simpler.
In today's edition, we have some more interesting perspectives and leadership lessons.
Father-son duo Damodar Mall and Harsh Mall, stationed in two different parts of the world, Mumbai and New York, share something common between the two.
Nitin Paranjpe asks a provocative question about Gandhi that throws light on leadership.
And we found an instance where the map is the territory.
Read on, and have a fantastic weekend.
How Amy found a new love for McDonald's
In his essay, Harsh Mall digital marketing consultant based in New York City, tells the story of Amy Jacobs, a mid-level manager with one of the Big Four consulting companies.
The last time Amy ate a Big Mac was eleven years ago, when she was in college. Since then her tastes have 'evolved', becoming more oriented towards organic, farm-to-table, GMO-free food, the contemporary definition of healthy eating. Until, that is, Covid-19 came along and upturned almost every conversation around consumption.
Now, after the coronavirus induced lockdown, every Thursday night, Amy meets her friends on Zoom, sitting in front of her MacBook with her favourite glass of Argentinian merlot and a takeout order from her new favourite restaurant, McDonald's.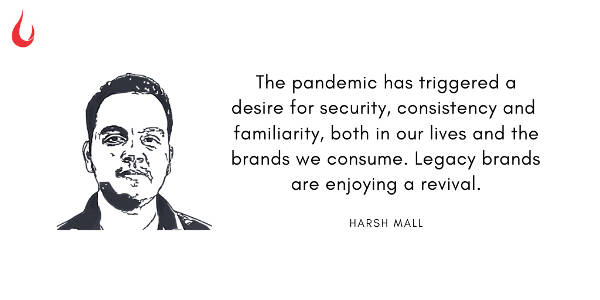 If you want to understand why, please do read the whole story. But don't stop there.
Right under the essay, you will find an audiogram by Harsh's dad Damodar Mall, CEO, Grocery, Reliance Retail, giving the Indian perspective.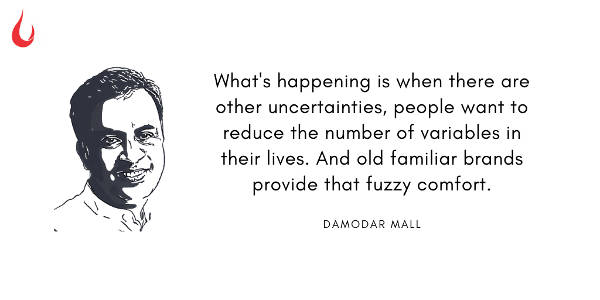 There's even more. Join Harsh and Damodar on the brand new series Talkin' 'bout My Generation, on Facebook Live on Saturday, July 18 at 7.30 pm IST.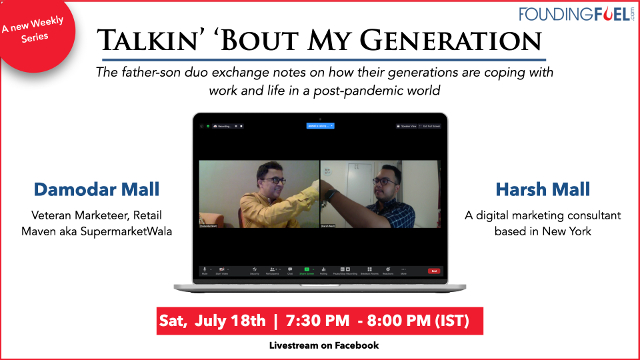 In the inaugural episode, they will chat about the difference in the way their two generations behave as consumers and interpret the changes around us. The series is curated by Founding Fuel, and will host a range of speakers and points of view.

Would Gandhi have walked to Dandi all alone?
In an interview with Anil Sachdev, founder and chairman at School of Inspired Leadership, Nitin Paranjpe, COO, Unilever, shares some fantastic insights. Here's one on leadership and being authentic. He says:
"All of us know Mahatma Gandhi. And one thing I've always wondered is what might have happened when he set out for the Dandi march, and a day later he discovered that there was no one else walking behind him. Would he have stopped? Or was he the sort of person who would have walked and tried to make salt alone. I feel he'd have gone and done it all alone. And I suspect most people would have seen him like that and because they saw in this man, a person with such conviction, such belief that it inspired all. That's why he had hundreds of thousands of people following him. Because he was willing to follow this belief system, irrespective of anything else. So I would say to everyone. I don't know whether I can ever be like that. But I'd say, have a point of view, and be authentic to yourself. I don't know whether you will become a leader, but you will be true and that's your best shot."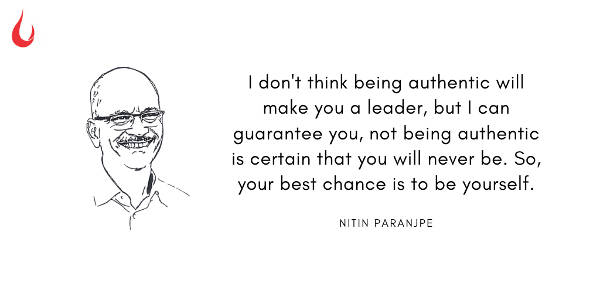 Being authentic may not make you a leader. But I can guarantee you, not being authentic is certain that you will never be. So, your best chance is to be yourself.
Don't be afraid of expressing a point of view. Having a point of view once again doesn't guarantee that you're a leader. You become a leader when the point of view is different, it's inspiring, makes people say wow, that's good and people then want to follow.
Great leaders don't become great leaders, because they have followers. They become great leaders because they follow—they follow their beliefs.
How to make accurate pie charts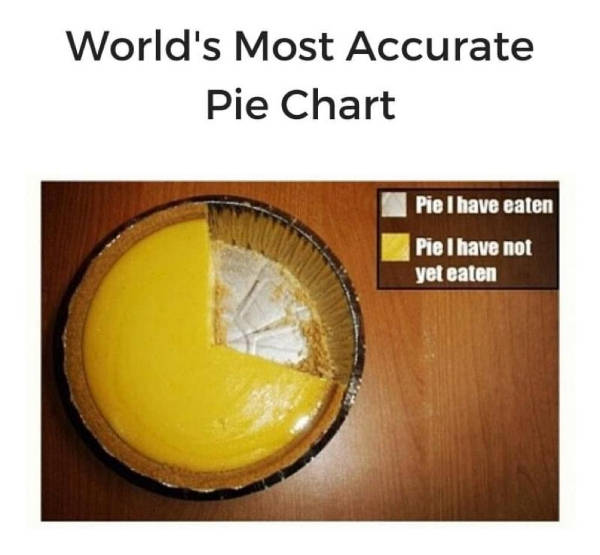 (Via WhatsApp)
What are your favourite data visualizations? Share them with us, or share it on Twitter, tagging @foundingf. Or head to our Slack channel.
And if you missed previous editions of this newsletter, they're all archived here.
Bookmark Founding Fuel's special section on Thriving in Volatile Times. All our stories on how individuals and businesses are responding to the pandemic until now are posted there.
Warm regards,
Team Founding Fuel