[Photo by Wade Austin Ellis on Unsplash]
Good morning,
In Mastery, Robert Greene says that to achieve it requires "some toughness and a constant connection to reality." Irrespective of which part of the world you look at, irrespective of which decade or century you look at, those who achieved mastery, achieved it with some tough love. Greene says that's what we should seek from our mentors.
He writes, "Masters are those who by nature have suffered to get to where they are. They have experienced endless criticisms of their work, doubts about their progress, setbacks along the way. They know deep in their bones what is required to get to the creative phase and beyond. As mentors, they alone can gauge the extent of our progress, the weaknesses in our character, the ordeals we must go through to advance. In this day and age, you must get the sharpest dose of reality that is possible from your mentor. You must go in search of it and welcome it. If possible, choose a mentor who is known for supplying this form of tough love. If they shy away from giving it, force them to hold up the mirror that will reflect you as you are. Get them to give you the proper challenges that will reveal your strengths and weaknesses and allow you to gain as much feedback as possible, no matter how hard it might be to take. Accustom yourself to criticism. Confidence is important, but if it is not based on a realistic appraisal of who you are, it is mere grandiosity and smugness."
In this issue
The haves and have-nots of the future
Indian TV: Bread & Butter Vs Decency & Ethics
Sleep well
Have a lovely day!
The haves and have-nots of the future
Reflecting on Elon Musk's recent demonstration of Neuralink, a brain-computer interface company, Charles Assisi points out its significance by pointing out two big arguments.
One is, the half-life of knowledge is declining fast. ("This year, it is estimated medical knowledge will double every 73 days.") This leads to the second argument: "Life-long learning and embracing the liberal arts are the only ways to stay relevant and human."
However, Charles writes, "the limits of relevance and being human are being pushed as well. When algorithms such as Deep-speare can craft Shakespearean verse and art generated by artificial intelligence can be auctioned for hundreds of thousands of dollars, what good is a contemporary education?
"It is inevitable then that when the chip that Musk demonstrated goes into the mainstream, there will be two kinds of people—those who possess it; and those who don't. Much like people have smartphones and those don't. Those with smartphones have an advantage over those who don't have one."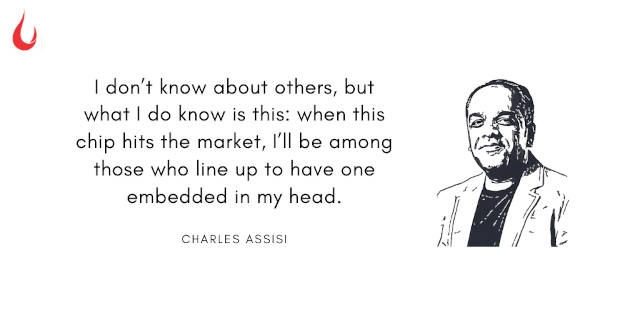 Dig Deeper
Read: A chip in the head
Reflect: What about you? Will you rush to embrace Elon Musk's chip? Will you wait and watch? Or will you fight it? Let us know!
Indian TV: Bread & butter vs. decency & ethics
If you are wondering what's going on inside TV news organisations and their dangerous obsession with Rhea Chakraborty, The News Minute provides some insights. TNM's Pooja Prasanna writes that there is resistance to such coverage from television journalists, but they are getting pushed back by a system that constantly competes over viewership and ad revenues.
Prasanna writes:
"It's not just on field—inside newsrooms, too, many have raised questions about the 'facts' being put out by news channels, only to be silenced with arm-twisting tactics. A source told TNM that when a senior member working in an English news channel questioned the apparent and casual misogyny against Rhea Chakraborty, the person was castigated for bringing 'random feminism' into the coverage. Another young crime reporter based out of Delhi but was deputed in Mumbai for the coverage, was told to 'come back and resign' if he does not deliver as asked. Multiple stories of younger journalists questioning the coverage, only to be asked by the seniors to not 'attach themselves too emotionally to what is happening' have emerged.
"Meanwhile, some senior journalists whom TNM spoke to said that they, too, are under pressure. If they subtly point out some inconsistencies in the theories being peddled by the 'arrest Rhea' gang, they are shown the TRP ratings each time. The unequivocal threat to the senior editors of channels is that this is the 'bread and butter' of the profession, and that their channels cannot be left behind. If the numbers drop, then there shall be job losses and they—the editors—will be the first casualties."
The tweet by cartoonist Satish Acharya captures the sad picture, including a stinging depiction of a popcorn tub.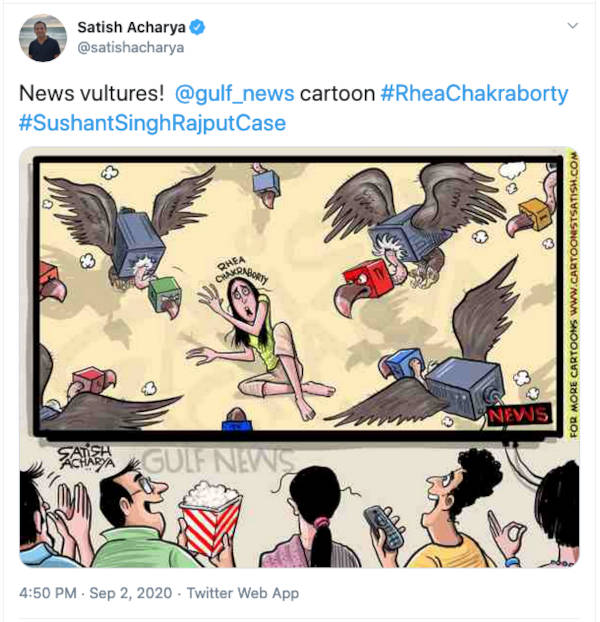 Dig Deeper
Sleep well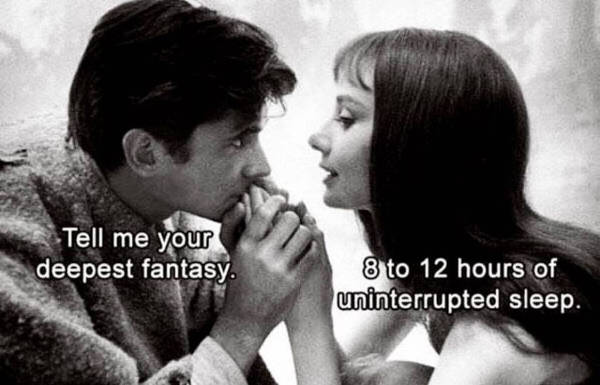 (Via WhatsApp)
Are you getting enough sleep? Share your experience. Head to our Slack channel.
And if you missed previous editions of this newsletter, they're all archived here.
Bookmark Founding Fuel's special section on Thriving in Volatile Times. All our stories on how individuals and businesses are responding to the pandemic until now are posted there.
Warm regards,
Team Founding Fuel