[Photo by Kristina G. on Unsplash]
Good morning,
In Good to Great, Jim Collins argues that good leaders have unwavering faith that they will succeed, regardless of the difficulties, and at the same time, have the discipline to confront the most brutal facts.
He gives the example of Winston Churchill during World War II. Collins writes, he "feared that his towering, charismatic personality might deter bad news from reaching him in its starkest form. So, early in the war, he created an entirely separate department outside the normal chain of command, called the Statistical Office, with the principal function of feeding him—continuously updated and completely unfiltered—the most brutal facts of reality. He relied heavily on this special unit throughout the war, repeatedly asking for facts, just the facts. As the Nazi panzers swept across Europe, Churchill went to bed and slept soundly: 'I… had no need for cheering dreams,' he wrote. 'Facts are better than dreams.'"
Collins says, "Yes, leadership is about vision. But leadership is equally about creating a climate where the truth is heard and the brutal facts confronted."
As we fight a war against the coronavirus, this combination of unwavering faith and discipline of confronting brutal facts is more important than ever before.
How are you building this habit within your own organisation?
In this issue:
Don't focus narrowly: Think systems
The shake-up in Indian farms: Boon or bane?
The easiest thing to do in a pandemic
Have a great day!
FF Exclusive | Don't focus narrowly: Think systems
In his latest essay, addressed to social change-makers seeking 'impact on scale' even as sources of funding dry up, Arun Maira offers a few important pieces of advice: Stay focused on the purpose (the doughnut) and not the scale and brand of your organisation (the hole). Innovate. And learn to be a catalyst. To effectively do this, one of the skills leaders have to develop is to 'think systems'.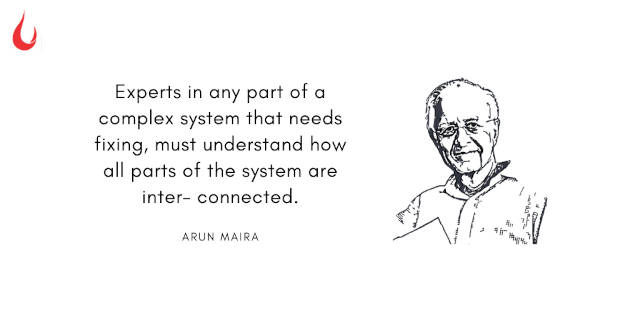 Maira writes:
"Strong actions focused on only one part of an interconnected system can have large unintended consequences on other parts of the system. Therefore, experts in any part of a complex system that needs fixing, must understand how all parts of the system are interconnected.
"Indeed, this is a lesson that medical practitioners should never lose sight of. A specialist in ailments of the heart may cause damage to other parts of the body if he does not understand the connections between the cardiac system and other vital systems that keep a human being healthy.
"Specialisation within the sciences has enabled great advances in many fields. However, the largest breakthroughs often create the greatest hazards in other areas because the impacts of narrow solutions on the whole system are not understood. The use of fertilizers has undoubtedly contributed to the increase of food production. Damage to soils which is reducing their ability to sustain food production has become a problem. Advances in digital technologies have provided means of communication that have benefited people everywhere. Now humanity must find solutions to prevent breakdowns in social harmony they are causing."
Dig Deeper
The shake-up in Indian farms: Boon or bane?
The three agri reforms bills, two of which were passed by Parliament on Sunday, may have set the cat among the pigeons. But there's no taking away from the significance of the reforms. So what could it accomplish? And what are the prevailing concerns?
At its core, farmers need to produce what the market wants. That might sound obvious, but for a variety of reasons, the market signals have remained distorted. India has one of the largest consumer markets—and there is demand for new kinds of fruits, vegetables, pulses, and other cash crops. And every year, yet, more than a third of the food stocks, mostly rice and maize, in the Food Corporation of India godowns continue to rot. This is what the government acquires every year through its Minimum Support Price (MSP) scheme. And by all accounts, farmers, particularly in Punjab and Haryana, have been lulled into producing in an MSP regime, without realising that this is unsustainable in the long run.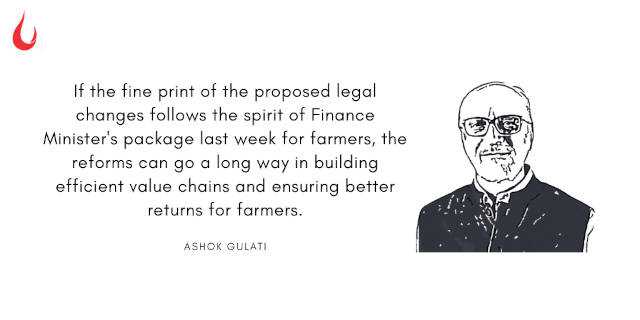 Farmers should have more choice on where to sell their produce: All this while, farmers were forced to sell their produce in the Agricultural Produce Market Committee (APMC) markets. And held hostage by vested interests—corrupt middlemen and traders—there. Now, the farmers have the choice to sell their produce directly to large exporters, processors or retailers. Or sign binding contracts for contract farming that ensure that their entire marketable surplus is taken care of—and it fetches a remunerative price. The political kerfuffle is partly because the APMCs were a state subject. Now the Centre is accused of introducing a new law without due consultation. And critics fear that the MSP regime will be gradually withdrawn over time. They cite the example of Bihar which did away with the APMC Act in 2006. And today, the price farmers earn from maize in the open market is much lower than the prevailing MSP.
Setting up farmers cooperatives: The biggest concern is whether small farmers will have sufficient bargaining power with large corporations like ITC, Reliance and Cargill. The Modi government is hoping to take a leaf out of the Amul experience, where new producer cooperatives were set up to ensure greater bargaining power. Amul helped organise the entire value chain for milk and dairy products, and backed it with a sustainable marketing effort. However, of late, politics has started to make deep inroads into the milk marketing federations in Gujarat, hurting the interests of farmers. And producer cooperatives are still at a nascent stage in India.
Catalysing private investment in storage and warehousing: The Essential Commodities Amendment Act harks back to the era of shortages. And removing stock limits, done to combat hoarding in a variety of commodities, is likely to trigger more investment in proper storage facilities and improve the price realisation for farmers. There are legitimate concerns about how the new system will be implemented on the ground though.
Dig Deeper:
The easiest thing to do in a pandemic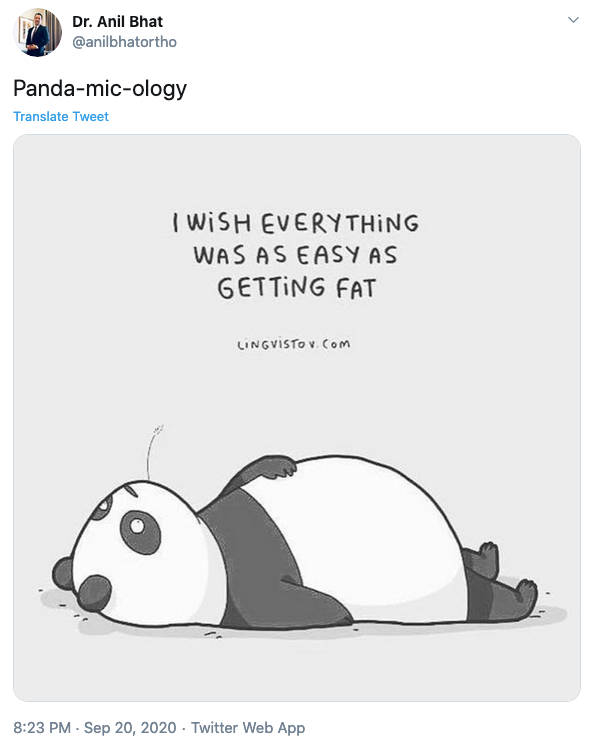 (Via Twitter)
How are you taking care of your fitness? Did you check out FF Recommends on fitness? Share your thoughts on our Slack channel.
And if you missed previous editions of this newsletter, they're all archived here.
Bookmark Founding Fuel's special section on Thriving in Volatile Times. All our stories on how individuals and businesses are responding to the pandemic until now are posted there.
Warm regards,
Team Founding Fuel