[Image by kropekk_pl from Pixabay]
Good morning,
Towards the end of The Difficulty of Being Good, Gurcharan Das writes,
"The Mahabharata is a tale for a time of crisis and it is relevant to the economic upheaval that gripped the world in 2008. The epic had a problem with the self-destructive kshatriya institutions of its time, and there are parallels between the Mahabharata's lament and the things that we might say or ought to say about our own crisis. The person who lost her job in the economic calamity would have asked the same question as Draupadi when the Pandavas were in exile. When everything was going so well and Yudhishthira had been consecrated 'universal sovereign', why did this tragedy have to strike? Why was our kingdom stolen in a rigged game of dice?"
As we face a global crisis that's far worse than the one we faced in 2008, the end of the section offers some ideas to ponder over.
Das writes, "For those who had lost their jobs through no fault of their own it was easy to become cynical and amoral. It was tempting to believe that life is unfair, and so anything goes. It is to them that the Mahabharata holds up Yudhishthira's inspiring words—'I act because I must'. The epic's message for our leaders in these morally difficult times is to restore trust in the idea of a free society of laws where anything does not go. The task of an inspiring leader in Kali Yuga is not just to think about the difficulty of being good but how to confront that difficulty—and to place that thinking in the great textual confrontations of the past."
One of the common refrains about this pandemic is that it has had no precedents, and we have no playbook to refer to. However, it would also help us to remember that at a deeper level, the problems that we face today—economic, political, social and moral—have been faced by humans in every age. Looking deep into history and ancient literature can give us insights we might miss while reading newspapers or management journals.
Last Sunday we shared our recommendations on headsets. We have another set of useful recommendations today.
Wish you a happy Sunday.
Fix your workstation—and that pain
The last couple of months have been a pain in the neck for some of us—literally. One person in the Founding Fuel team suffered a numb right hand, another stiff and painful digits, and a third pain in the shoulders, and numbness and tingling in the right hand. The common culprit: poor posture and compressed nerves in the neck, from years of hunching over the laptop or simply from sleeping the wrong way.
So, we've been trying to fix the root cause—how we sit, work, and sleep. Here's what is working for us.
Get up, stand up: One morning I woke with a stiff neck. The pain gradually shifted to the right shoulder, arm and down to the hand. My orthopaedic doctor advised me to not sit for long hours at a stretch, to sit with the back properly supported, and to avoid bean bags and plush sofas. And to keep the shoulders relaxed while working on the laptop, and keep the neck upright. – Sveta Basraon
The fix
CS Swaminathan: The Amazon Basics laptop stand is a good option for raising the height of the screen. And it leaves space below for an external keyboard. I also keep switching from laptop to iPad based on my convenience. I prefer to also use a memory foam seat cushion. The FOVERA Orthopedic Memory Foam Coccyx Seat. It has a small space at the back so that you do not hurt the tailbone. Although I don't have that problem, it is quite useful.
NS Ramnath: I picked up the HealthSense Soft-Spot BC 21 back cushion four years ago after my old chair (with a comfortable mesh sheet back) broke, and I started using a plastic chair with a hardback. I was looking for a way to make it more comfortable. This came pretty close to giving the same feeling—firm, and comfortable. I eventually got a chair with a padded seat, mesh back, pneumatic seat height adjustment and wheels, but I continue to use this back cushion when I work from my bed (this is much better than using pillows) or when I use the dining table. While it's good, don't expect too much. It doesn't work that well when you slouch (it works best when you sit straight, with the back pressing against it). And it's not too comfortable during hot summers.
Sveta: I couldn't buy equipment during the lockdown, so I use books to raise the height of the laptop—the top of the screen ought to be at eye level so that the neck is relaxed and not always bent down. I also use an external wired keyboard which I keep on my lap—so my hands and shoulders are relaxed. And I have a makeshift standing table—I've cleared the countertop of my chest of drawers for that.
Sleep right: A little over a month ago, I woke up and found the little finger on my right hand had gone stiff. It was hurting as well. Over the next three-four days, it started to spread. I could feel the thumb going stiff as well. Turns out, when sleeping, the arch of my neck wasn't getting the right kind of support. Pressure built up and stressed the nerves, which cascaded into pain down the arms and hand. – Charles Assisi
The fix
Swami: I use a Muji neck pillow occasionally.
Charles: I rolled a towel at the base of the pillow to support the arch of the neck. Since then I've started using a neck pillow—the kind that passengers routinely carry on flights. Incidentally, the pain has disappeared as well.
(Watch this cool video from Dr Rajat Chauhan, a sports medicine specialist, on why the neck needs that support)
Mind the height: All those video calls made me look for the quietest spot and I eventually started working from my bedroom. Which co-incidentally also has a wall-mounted iMac placed at quite a height, as it doubles as a bedtime Netflix screen.
The problem is, my eyes aren't at the correct angle for the iMac camera if I use the dining chair. I needed a new chair—one that would also look good in a Zoom setup, was sleek enough to fit the space, and also offered greater control over height (~50 inches). - Anmol Shrivastava
The fix
Anmol: An Amazon Basics work stool. It arrived a week ago. It was a breeze to set up, has a comfortable back cushion and footrest. It's still early days, and I use it while on a video call, but I'm enjoying the experience. I now find myself also taking audio calls and reading books while seated on it. Perhaps because sitting at a height feels more fun than normal. Surely, the height has made me focus on my posture more intently.
Get a good night's sleep
Are you keeping track of how well you are sleeping? How well you sleep will determine how energetic you feel through the day. In these days of stress, its value has only gone up. A 2017 Fast Company piece by Tara Swart has some useful tips. One is a warning against a modern problem: don't binge watch Netflix. Another is something you might have heard your grandmother say. Nut milk with turmeric powder. Swart writes:
"Rather than buying a powdered milky drink that's high in sugar, you can make your own relaxing bedtime drink using a nut milk, like almond, which is full of magnesium. Magnesium helps reduce levels of the stress hormone cortisol and calms the nervous system. As a secret ingredient, add turmeric, whose powerful anti-inflammatory properties can prevent nighttime stomach problems that might interrupt your sleep (and which have even been implicated in preventing dementia). If you want to sweeten your drink, use Manuka honey rather than sugar to help boost your immunity."
Challenge yourself
When the world gives you dishes to wash, make a bike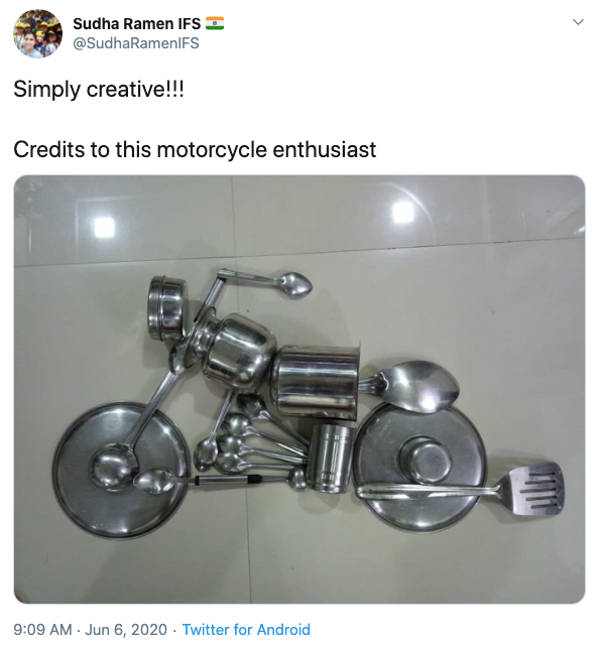 (Via Twitter)
What is your inspiration? Share it with us. Or post on Twitter, and tag us @foundingf. Or join our Slack channel and post it there. If you aren't there already, here is the invite code.
And if you missed previous editions of this newsletter, they're all archived here.
Bookmark Founding Fuel's special section on Thriving in Volatile Times. All our stories on how individuals and businesses are responding to the pandemic until now are posted there.
Warm regards,
Team Founding Fuel