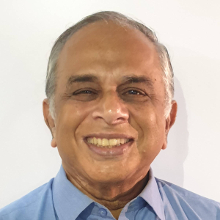 Ajit Rangnekar
Director General of Research and Innovation Circle of Hyderabad
Telangana Government
Ajit Rangnekar is the Director General of Research and Innovation Circle of Hyderabad, a Telangana government initiative to take Innovation in agriculture, health and sustainability to market. He also runs the Hyderabad chapter of Social Venture Partners, an organisation which assists NGOs to scale up their impact.
He retired as the Dean of Indian School of Business, where too he espoused entrepreneurship and innovation in socially important sectors. He has been a member of many global committees in business education, and advises boards of foundations and social ventures.
Prior to ISB, he was in Hong Kong for over 20 years—for the first seven years with KC (HK) Ltd, handling investments and strategy, and then for 14 years with Price Waterhouse Consulting, handling various roles including Country Head, first of PW and then of PwC Consulting practice, and East Asia Head of PwC Telecomm practice and of Learning and Development.
Prior to going to Hong Kong, he worked with Associated Cement Companies in India, in different roles, including OR Analyst, Financial Planning Manager, and General Manager, Catalysts Plant.
He is a graduate of IIT, Bombay, and did his post graduation in management from IIM, Ahmedabad.
He lives in Hyderabad with his wife, Alka. He has two sons, both UK citizens, who live in London.