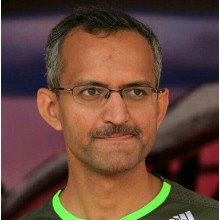 Rajat is an ultra marathon runner who thought up La Ultra (www.thehigh.in), perhaps the toughest run in the world. He is one of the rare doctors in India who specializes in the whole spectrum of conservative management of musculo-skeletal pain, esp. back pain. He believes that educating the person with pain, is the most empowering tool.
He is also an Associate Editor of British Journal of Sports Medicine, one of the most respected Sports Medicine and science journals in the world.
He got introduced to pain management 28+ years ago when he started running, because to run faster, you need to understand your body better. It also makes you understand that pain isn't necessarily your enemy. 'Pain is simply a messenger, you appreciate it, understand it, and then move on', those were pearls of wisdom of Dr Roderic Macdonald, former President of British Institute of Musculo-Skeletal Medicine.
After MBBS, Rajat went on to specialize in Sports – Exercise Medicine from Nottingham University, UK, where he realized that 'Exercise as Medicine' is a very powerful tool, which has been understood very little by both the 'medical' and 'fitness' industry. Another thing that struck him was that doctors are ill-equipped when it comes to understanding patients with back pain, because the text-book of medicine spent less than a page on it, even though 80% of the population would experience back at some stage of life.
In mid 2008, he started Back 2 Fitness, first in Bangalore and then moved to Delhi in 2009. The approach we have towards patients and clients at 'Back 2 Fitness' is pioneering work in the field of 'Healthcare Industry', where patient / client is yet again, put at the centre