[From Unsplash]
Good morning,
On one side, there is a narrative that legacy media outfits are dying. On another side, there is a narrative that such outfits are thriving. How are we to think about it? Jeff Jarvis, one of our favourite commentators on the theme, argues in his book Geeks Bearing Gifts that legacy media lost the plot a long while ago.
"We need to reexamine whether entire sections of newspapers and magazines that were created to build audience or revenue are still worth the resources that go into them. Take—just for the sake of illustration—sports… When mass-media economics were in force (namely: that all readers see all ads so we charge all advertisers for all readers, a myth whose implications I will explore) then that 20 percent of incremental readership was quite valuable. But today, online, we get paid only for the ads readers actually see. And sports sections, historically, drew few ads—mostly for tires (under the sexist logic that men read sports and men buy tires). Further, there are now plenty of sites that specialize in sports—from ESPN to SB Nation, from fan blogs to the teams and leagues themselves—and most times they can do a better job of game coverage than stretched newspapers can…
"When I've had such discussions on Twitter, I get in trouble with fans of sports coverage who point to some great writing done in its service or to investigative journalism uncovering dangers or corruption. Stipulated. But I respond by asking them what percentage of the total cost, space, and time devoted to sports qualifies as such critical journalism. How much amounts instead to game reports that could be produced by Narrative Science, the service whose algorithms take structured data like sports scores, financial results, and government information and turns them into narrative? Can we still afford to be all things to all people?
"We can perform similar tough-minded analyses of business, entertainment, and various lifestyle categories of coverage. Some of them certainly do bring value to readers — for example, I still want news and reviews of local restaurants, though Yelp, Foursquare, TripAdvisor, OpenTable's menus, and other platforms do a better job of giving me more information about restaurants than a lone newspaper critic ever could. It's tragic that newspapers lost out on the opportunity to build such services; if only they had thought like platform-builders instead of storytellers. Legacy news organizations need to examine everything they do and ask whether they can specialize and endeavor to be the best in each category. Then they need to ask whether the resources spent in each category will still earn sufficient revenue and audience to justify the effort."
"Am I suggesting that every newspaper oust its sports department? No. I am suggesting instead that every news organization perform a starkly honest audit of both the journalistic and economic value that all its activities bring under its current, unbundled business models. I use sports as a provocative example."
Have a safe week ahead.
Decoding Omicron
How are we to decode the surge in cases on account of Omicron? To do that, Govindraj Ethiraj of IndiaSpend spoke to chest surgeon Amit Kumar and public health expert Vineeta Bal.
Dr Kumar placed a few things in perspective. "With regard to the third wave, two-three things are very clear. One, that the Omicron variant which is responsible for this current Covid-19 wave is many times more infectious than the earlier Delta variant. Unlike last year, if one family member gets it now, rest assured that all other family members are getting infected. In my own department, one person got infected and almost everybody in the department got it. So it's highly infectious. That's why case numbers are rising so fast. Two, Omicron is escaping vaccines far more than previous variants had done.
"Three, per data available till now, the disease seems to be milder compared to the Delta wave, where many more people were experiencing lung involvement and [reduced] oxygen [levels], which seems to be less common now. It's not that this is not being seen. Hospitalisations are happening, there are Covid-19 patients needing oxygen and ventilator support, but the percentage of such patients seems to be much lower.
"Lastly, Mumbai's municipal corporation has released data that show that of about 2,000 people currently on oxygen across various hospitals in Mumbai due to Covid-19, 96% are unvaccinated. So, if you are vaccinated, Omicron is infecting you, but it's causing mild disease."
There is much else Dr Kumar and Bal share in this interview that we think are very compelling.
Dig deeper
The Turing trap
What's the purpose of technology? All of us instinctively know the answer - it should make life better for everyone. But that's not often the case. Part of it is due to metrics by which we measure technological progress. A recent column in The New York Times highlights one such measure.
"Erik Brynjolfsson, an economist at Stanford, is a technology optimist in general. But in an essay to be published this spring in Daedalus, the journal of the American Academy of Arts and Sciences, he warns of "the Turing trap." The phrase is a reference to the Turing test, named for Alan Turing, the English pioneer in artificial intelligence, in which the goal is for a computer program to engage in a dialogue so convincingly that it is indistinguishable from a human being.
For decades, Mr. Brynjolfsson said, the Turing test — matching human performance — has been the guiding metaphor for technologists, businesspeople and policymakers in thinking about A.I. That leads to A.I. systems that are designed to replace workers rather than enhance their performance. "I think that's a mistake," he said."
Dig deeper
The problem with masses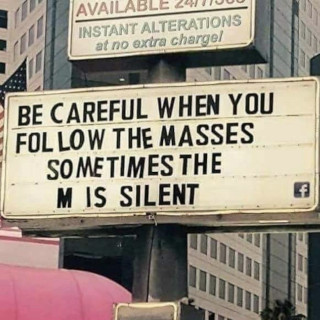 Found anything interesting and noteworthy? Send it to us and we will share it through this newsletter.
And if you missed previous editions of this newsletter, they're all archived here.
Warm regards,
Team Founding Fuel
(Note: Founding Fuel may earn commissions for purchases made through the Amazon affiliate links in this article.)