[Photo by Dom Fou on Unsplash]
Good morning,
One of the case studies in Tarun Khanna's Trust: Creating the Foundation for Entrepreneurship in Developing Countries is about Dr Devi Shetty, founder of Narayana Health and a pioneer of affordable healthcare. In that, Khanna shares a story that connects the green buildings and 'progressive' taxation.
He writes: "In Mysore, a two-hour drive from Bangalore, a new low-cost tertiary care hospital is being constructed, with a design reimagined entirely anew. It is all on a single level, with entirely natural air- and water-cooled spaces, except for certain areas where refrigeration is needed, such as operating theaters and critical-care units. Natural materials are used wherever possible. Construction costs are miraculously lower by 80 percent than they are for conventional hospitals. Dr. Shetty estimates that he will be able to halve the already fabulously low cost per patient for cardiac surgery at his hospital over the next few years. Equally important, the single-floor natural structure blends beautifully into its surrounding village and is not alien to the hapless sick who live nearby.
"Costs can be saved in endless and surprising ways if one develops the right orientation. Even fighting a tax proposed by the Indian government on all air-conditioned facilities might be an opportunity to ensure cost savings. The reasoning for the tax, no doubt, was that the rich have access to air conditioning, so taxing them is a way for a country like India to honour its socialist principles (the Indian Constitution, memorably, declares India to be a socialist republic). Unfortunately, and ironically, this means that all hospitals would be taxed further, thus putting healthcare further out of reach of the poor. Dr. Shetty has organized sit-ins all over the country to protest this tax, centered on the numerous facilities opened by Narayana Hospitals. 'Ultimately, the tax was withdrawn completely,' he proudly exclaims. 'But I'd rather expend all that energy directed to sit-ins in taking care of the sick and the poor.'"
The story also highlights the difficulties involved in building institutions.
The resignation of Pratap Bhanu Mehta from Ashoka University is yet another example.
Join us at the Founding Fuel Club on Monday at 9 pm (IST) to engage with some stellar speakers when they talk about the people who built some of the iconic institutions in India, including IIT, IIM, IISc, IRMA and TIFR.
The guests include S Sivakumar (ITC), Rishikesha Krishnan (Director, IIM-Bangalore), Ashok Misra (Fellow, National Academy of Sciences & Former Director, IIT Bombay), Meeta Sengupta (Founder, Centre for Education Strategy), Sanjoy Bhattacharyya (Partner at Fortuna Capital) and P Hari (senior journalist).
And do share this link with those on ClubHouse and may be interested: https://ios.joinclubhouse.com/event/PDjd6NnO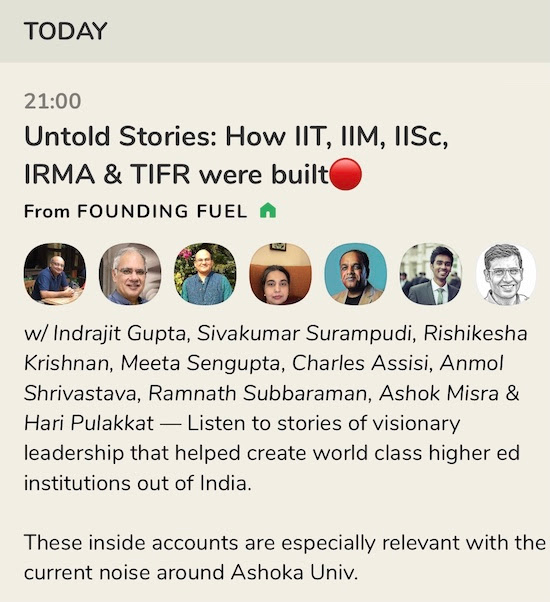 Have a great week ahead.
In this issue
What reformers can learn from the history of medicine
The downside of low prices
The downside of webinars
What reformers can learn from the history of medicine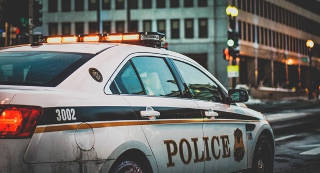 Wired has a story on how evidence-based policing—based on running controlled trials to see which interventions work, and which don't—can make policing more fair. It captures in some detail the work of Lawrence Sherman, director of the Jerry Lee Centre of Experimental Criminology, who has been pushing for this approach. Towards the end, the story has an interesting nugget from the history of medicine.
"Sherman believes that medicine's history has instructive tales for the future of policing. As Sherman has pointed out, Ignaz Semmelweis, the doctor who discovered that hand-washing could reduce deaths in childbirth, was ridiculed and lost his job. The American College of Surgeons felt so threatened by the first performance rankings of US hospitals in 1919 that they immediately scorched the report in the furnace of the New York hotel where they had convened. 'Science is like that,' says Barnes, who recently started a new job as deputy director of the Metropolitan Police's strategic insights unit. 'It starts out with lots of petty jealousies. The police are maybe, at best, 20 years into this, and that is being generous.'
"Sherman is playing the long game. He's confident that his work chimes with the scientific currents of our age and remains the most effective path to a better, more just policing system."
Dig deeper
The downside of low prices
India has had its share of fights against Amazon. Recently, Amazon delivery executives in Pune went on a strike demanding better compensation. Paying more could impact the prices of goods sold on the platform.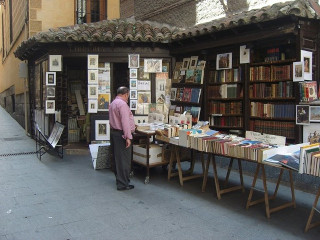 The New Yorker profiles a bookstore that publicises its higher price compared to Amazon. It argues there is a reason why paying more is better. Local businesses take care of local communities in a way Amazon cannot.
Here's an interesting extract from the story.
"Whatever happens with pricing, Caine emphasized, there will always be other reasons to shop locally. His bookstore will never surreptitiously record your family conversations via Alexa or sell your browsing history to the highest bidder, he noted, and it will invest in Lawrence in ways that a company like Amazon does not. For years, Caine pointed out, Amazon did not collect any sales taxes, depriving local and state governments of their share of its take, and it still pays shockingly low and often nonexistent federal income taxes, while enjoying tax breaks from municipalities desperate to attract its fulfillment centers—one of which will be opening soon in nearby Kansas City.
"By contrast, the Raven supports both the local community and local authors. The store has helped sustain the careers of Kansas writers, such as the novelist Bryn Greenwood and the journalist Sarah Smarsh, whose first book tour, for her memoir Heartland, included an event in Lawrence with several hundred locals. Eight years ago, a decade and a half after she started working at the Raven, Kelly Barth published her first book, My Almost Certainly Real Imaginary Jesus, and had a launch party at the store. The Raven's best-selling book of all time is Ladybird, Collected, an essay collection by Meg Heriford, who owns the Ladybird Diner in town. The bookstore donates its profits to Heriford's community meal programme, and each book covers four of the free sack lunches that the Ladybird has been distributing since the diner closed during the coronavirus pandemic."
Dig deeper
The downside of webinars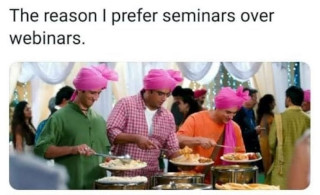 (Via WhatsApp)
Still curious?
We organized a Masterclass on the Future of MBA with a panel including Srikant Datar, Senior Associate Dean (and now, Dean) Harvard Business School, and author of Rethinking the MBA; Ajit Rangnekar, Former Dean, ISB, and Partner, SVP India; Nitin Paranjpe, Global COO, Unilever; and Pramath Sinha, Founder, Harappa Education, Ashoka University, Vedica Scholars. The session was anchored by Meeta Sengupta, Founder, Centre for Education Strategy. Watch: Masterclass: The Future of the MBA
ICYMI: Slow, steady lifestyle changes, gadgets and other tips on how to get the best sleep (and when to seek medical help). Read: FF Recommends: Better Sleep
Not just Amazon, all platform businesses are hitting the headlines these days. In August 2019, Harsh Vardhan wrote about the Zomato Gold membership programme. It was a runaway success, but the inherent conflict at the heart of the scheme sparked off a huge battle between the aggregator and restaurants. Read: Zomato Gold: A crisis that was waiting to happen
Tell us what you think and find noteworthy.
And if you missed previous editions of this newsletter, they're all archived here.
Bookmark Founding Fuel's special section on Thriving in Volatile Times. All our stories on how individuals and businesses are responding to the pandemic until now are posted there.
Warm regards,
Team Founding Fuel
(Note: Founding Fuel may earn commissions for purchases made through the Amazon affiliate links in this article.)