[Photo by Mohammad Rahmani on Unsplash]
Good morning,
How power corrupts is a theme the Dutch historian and author Rutger Bregman tackles with much finesse in Humankind: A Hopeful History. That is why we take time out to revisit this book every once a while and he inevitably offers something to think about.
He writes: "[P]ower causes people to lose the kindness and modesty that got them elected, or they never possessed those sterling qualities in the first place. In a hierarchically organised society, the Machiavellis are one step ahead. They have the ultimate secret weapon to defeat their competition.
"They're shameless.
"For millennia, shaming was the surest way to tame our leaders, and it can still work today. Shame is more effective than rules and regulations or censure and coercion, because people who feel shame regulate themselves. In the way their speech falters when they disappoint expectations or in a telltale flush when they realise they're the subject of gossip."
Clearly, shame also has a dark side (shame induced by poverty, for example), but try to imagine what society would be like if shame didn't exist. That would be hell.
"In our modern democracy, shamelessness can be positively advantageous. Politicians who aren't hindered by shame are free to do things others wouldn't dare. Would you call yourself your country's most brilliant thinker, or boast about your sexual prowess? Could you get caught in a lie and then tell another without missing a beat? Most people would be consumed by shame—just as most people leave that last cookie on the plate. But the shameless couldn't care less. And their audacious behaviour pays dividends in our modern mediacracies, because the news spotlights the abnormal and the absurd.
"In this type of world, it's not the friendliest and most empathic leaders who rise to the top, but their opposites. In this world, it's survival of the shameless."
Think about that.
Stay safe and have a good day.
In this issue
All fuzzy on the Afghan front
Looking beyond the boundaries
Think like a boss
All fuzzy on the Afghan front
We are most concerned with what is happening in Afghanistan as a brutal war for control of the country's capital rages as US troops pull out. Most news reports have it that the Taliban now have the upper hand and that it is on the verge of wresting control. That this narrative is a credible one gained momentum when the Indian consulate in Kandahar evacuated all diplomatic staff stationed there last weekend. Operations are currently being maintained by local staff.
"India is too cautious a military player to deploy its army in Afghanistan"
But exiting Afghanistan totally does not suit India's geopolitical interests either. The nation is strategically placed and if the Taliban does gain an upper hand, there is a palpable fear it can be used as a base to launch terror strikes against India. That is why a report by Anchal Vohra in Foreign Policy had our attention because it makes the case that India is at work to woo the Taliban. This sounded counter-intuitive.
But, Vohra writes, Russia, China and Iran had opened channels with the Taliban a few years ago. India declined as a matter of principle. "During a visit to Kabul in 2016, Syed Akbar Agha, a cousin of Mullah Syed Tayyab Agha who was the former chief of the Taliban's Doha office, told me that the Taliban were happy to reconcile with India. 'We have no problems with Hindustan,' Agha had said. 'In fact we want to send them a message of peace and friendship.' The group was relaying its message through various informal channels at a time when a relationship with India would have given the Taliban legitimacy in the international community. In 2018, two former Indian ambassadors visited Russia as observers of Russia's regional forum on Afghanistan with the Taliban in attendance. According to a source present at the talks, the Taliban had then reached out to the Indian diplomats directly and expressed a will to mend fences. Now, as they score victories in the battlefield, their tone has changed drastically and lost that placating touch."
But is it too late?
Dig deeper
Looking beyond the boundaries
McKinsey's Charles Conn and Robert McLean share six mindsets that problem solvers have. One of them is a topic Founding Fuel has explored often in the past—the importance of looking not just at the fringes of your domain, but even outside of it.
They explain it using an example. "When Sir Rod Carnegie was CEO of Conzinc Riotinto Australia (CRA), he was concerned about the costs of unscheduled downtime with heavy trucks, particularly those requiring tire changes. He asked his management team who was best in the world at changing tires; their answer was Formula One, the auto racing competition. A team traveled to the United Kingdom to learn best practice for tire changes in racetrack pits and then implemented what it learned thousands of miles away, in the Pilbara region of Western Australia. The smartest team for this problem wasn't in the mining industry at all."
But it has its own costs. They write, "Good crowdsourcing takes time to set up, can be expensive, and may signal to your competitors what you are up to. Beware of hidden costs, such as inadvertently divulging information and having to sieve through huge volumes of irrelevant, inferior suggestions to find the rare gem of a solution."
Dig deeper
Think like a boss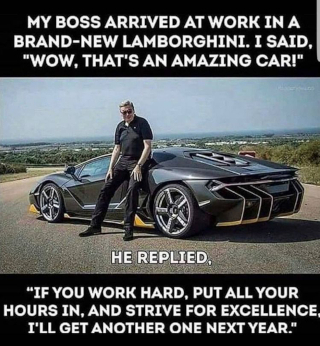 (Via WhatsApp)
Found anything interesting and noteworthy? Send it to us and we will share it through this newsletter.
And if you missed previous editions of this newsletter, they're all archived here.
Bookmark Founding Fuel's special section on Thriving in Volatile Times. All our stories on how individuals and businesses are responding to the pandemic until now are posted there.
Warm regards,
Team Founding Fuel
(Note: Founding Fuel may earn commissions for purchases made through the Amazon affiliate links in this article.)