[Design for a flying machine with wings based closely upon the structure of a bat's wings. By Leonardo da Vinci, Public Domain]
Good morning,
In Learning From Leonardo: Decoding the Notebooks of a Genius, Fritjof Capra, author of The Tao of Physics, shares insights from his study of the multifaceted genius Leonardo da Vinci. One of the qualities that stand out is Da Vinci's deep reverence for nature, which is more relevant than ever today.
Capra writes, "While a brilliant inventor and designer himself, Leonardo always thought that nature's ingenuity was vastly superior to human design. He felt that we would be wise to respect nature and learn from her. 'Though human ingenuity in various inventions uses different instruments for the same end,' he declared, 'it will never discover an invention more beautiful, easier, or more economical than nature's, because in her inventions nothing is wanting and nothing is superfluous.'
"In the designs of his flying machines, Leonardo tried to imitate the flight of birds so closely that he almost gives the impression of wanting to become a bird. He called his flying machine uccello ('bird'), and his designs of its mechanical wings sometimes mimicked the anatomical structure of a bird's wing so accurately and, one almost feels, lovingly, that it is hard to tell the difference.
"This attitude of seeing nature as a model and mentor is now being rediscovered in the practice of ecological design. Like Leonardo da Vinci five hundred years ago, ecodesigners today study the patterns and flows in the natural world and try to incorporate the underlying principles into their design processes.
"When Leonardo designed villas and palaces, he paid special attention to the movements of people and goods through the buildings, applying the metaphor of metabolic processes to his architectural designs. He applied the same principles to the design of cities, viewing a city as a kind of organism in which people, material goods, food, water, and waste need to flow with ease for the city to be healthy."
In this issue
What's changing in Indian sports, and why results will take time
How to prepare for disasters: Lessons from Japan
The difference between support and applause
Have a good day.
What's changing in Indian sports, and why results will take time
The New York Times takes a deep dive into why India, despite its successes in some of the sports this season, has been struggling to make it to the big league. The piece concludes there has been some progress, but it takes a lot to convert effort and hidden talent into gold. The following extract captures the change and the difficulty.
NYTimes writes, "India's archers used to train in obscurity. The new Olympic push has brought them sudden fame, along with months of free training at an army sports camp. The attention was overwhelming, athletes said.
"'When we win the World Cup, no one knows. When we win the world championship, no one knows. When we get world No. 1, nobody knows,' [Atanu] Das said. 'But Indians are in the Olympics, then everyone knows everything.'
"'This is the pressure, inside your head all the time,' he added.
"[Abhinav] Bindra, the Beijing 2008 gold medalist, said that his success was rooted not in state support but in family wealth. His father built a world-class shooting range in their home in the northern city of Chandigarh. Then he topped it up with a swimming pool and a gym so that his son could build his muscle. At the time, the only comparable shooting range was in New Delhi.
"Viren Rasquinha, a former captain of the Indian hockey team, is now the chief executive of Olympic Gold Quest, a nonprofit group founded by former top-flight athletes to promote the next generation of talent.
"While Rasquinha said that the national sports authority has shed some of its lumbering, graft-ridden reputation, creating an ecosystem of coaches, training facilities, infrastructure and equipment takes time."
Dig deeper
How to prepare for disasters: Lessons from Japan
In an interview with IndiaSpend's Govindraj Ethiraj, Satoru Nishikawa, professor at the Nagoya University Disaster Mitigation Research Center, Japan, shares some important lessons from Japan on anticipating and preparing for disasters. It also highlights how systems can effectively learn from history.
Nishikawa says, "The Ise-wan typhoon which hit Nagoya in 1959 was enormous. This typhoon landed at midnight. The flooding from upstream and the high tide and storm surge from the sea sandwiched the low-lying areas of Nagoya and resulted in huge casualties. This was really an epochal turning point which changed [Japan] from a response-oriented to a preventive approach. Prior to that typhoon, most of what the government did was to provide blankets and emergency food to the affected people. But because of the enormous damage, they found that no matter how many blankets or tents you provide, it doesn't save people. So they decided to really invest in pre-disaster [management]. So [1959] was the first step up. The Kobe earthquake was another epochal turning point because it hit a major city without any prior notice…
"Right after these two major disasters, there was a big argument in parliament [on] what should the government have done. Also, in 1995, there was a very strong criticism against the prime minister at that time, because he was late in the response [to the Kobe earthquake]. Because of the lessons [from Ise-wan and Kobe], starting from 2001, we have designated a specific minister of state for disaster management. And this really upgraded the Japanese political response to disasters. Nowadays, when we hear from the meteorological agencies that there is a very strong typhoon approaching Japan, the prime minister sometimes convenes an emergency meeting before the typhoon makes landfall. So it really changed from a receptive attitude to a more proactive attitude in political leaders."
Dig deeper
The difference between support and applause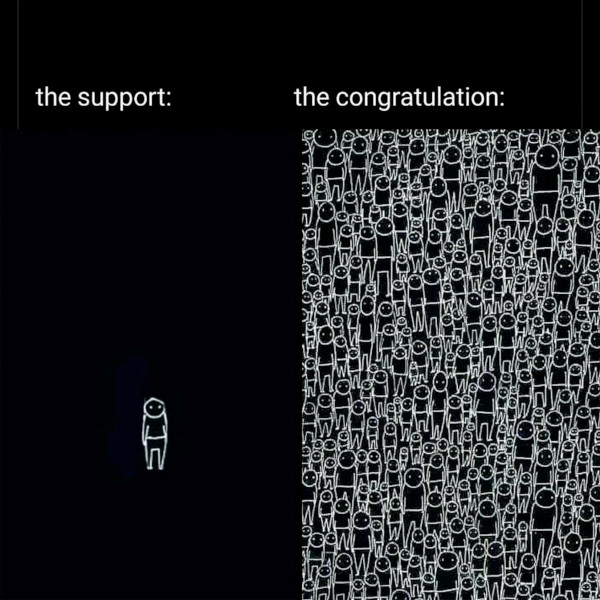 (Via WhatsApp)
Found anything interesting and noteworthy? Send it to us and we will share it through this newsletter.
And if you missed previous editions of this newsletter, they're all archived here.
Bookmark Founding Fuel's special section on Thriving in Volatile Times. All our stories on how individuals and businesses are responding to the pandemic until now are posted there.
Warm regards,
Team Founding Fuel
(Note: Founding Fuel may earn commissions for purchases made through the Amazon affiliate links in this article.)