[From Unsplash]
Good morning,
Why do some people who appear intelligent and have all the resources fail to succeed academically while others without it go on to succeed? This is a question Ian Leslie attempts to answer in Curious: The Desire to Know and Why Your Future Depends On It. It boils down to personality traits.
"It's now recognised that the attitude students take towards the learning process, and the habits they practise, have a bigger impact on how well they do at school than previously accounted for. This effect becomes more pronounced at more advanced levels of education, as differences in intellectual capacity flatten out. A longitudinal study of elite British students found that personality traits account for four times as much variance in exam results than intelligence.
"So which personality traits are important? The trait that has gained most attention from researchers is 'conscientiousness' and its related qualities: persistence, self-discipline, and what the psychologist Angela Duckworth termed 'grit'—the ability to deal with failure, overcome setbacks and focus on long-term goals. This group of attitudes is consistently correlated with high achievement. More recently, powerful evidence has emerged of another personality trait with a comparable impact on educational success.
"Sophie von Stumm, a lecturer in psychology at Goldsmiths University, led a review of existing research on individual differences in academic performance, gathering data from 200 studies, covering a total of about 50,000 students. She hypothesised that intellectual curiosity—the tendency to 'seek out, engage in, enjoy and pursue opportunities for effortful cognitive activity'—would count towards success, because students who possessed it would be hungry to learn information and explore new ideas. The data proved her right: von Stumm and her collaborators found that curiosity had roughly as big an effect on performance as conscientiousness. When put together, the personality traits of conscientiousness and curiosity count for as much as intelligence. A hungry mind, according to von Stumm, is the 'third pillar' of academic achievement."
Stay safe and have a good day!
In this issue
What The World in 2022 portends
The doors the new data analysis and visualisation tools are opening
On compromises
FF Exclusive: The World in 2021, the third quarter
This year has been a tumultuous one and that is why we look to Sundeep Waslekar, president of Strategic Foresight Group, to help us understand key developments as they unfold. He stays engaged with thought leaders across the world, has a ringside view of what is happening, and has been most generous with sharing his perspective every quarter. Here are a few developments, among many others, that took place in the July to September quarter, that Sundeep reckons, deserved our attention:
The global supply chain crisis: There's labour shortage in the transport sector in Los Angeles and in the UK; and a shortage of chips that also impacts appliances and automobile manufacturers.
AUKUS: The sudden announcement of the trilateral security pact between Australia, the UK and the US has created a rift in the Western world—and also heightened tensions in the Pacific with China.
Iraq's emergence as a surprise peace-maker in the Middle East: Iraq's diplomatic moves to mediate between feuding nations across the Middle East, especially Saudi Arabia and Iran, is likely to have significant long-term implications for peace in the Middle East.
There is much else to listen to and soak in in the weeks ahead. On December 16, Sundeep will be part of a stellar panel (see poster below) for our annual Masterclass on The World in 2022.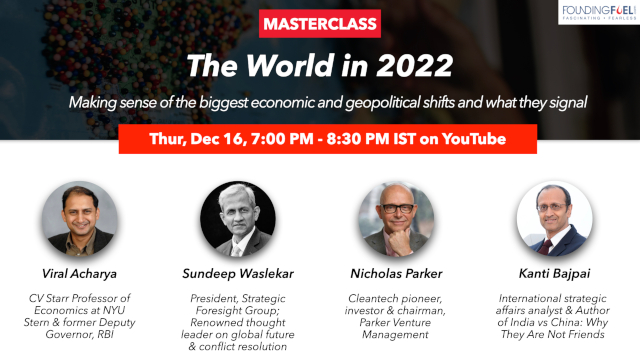 It promises to be a scintillating conversation. Make sure you register here.
Dig deeper
The doors the new data analysis and visualisation tools are opening
A recent story in BBC explored the world of data analysts and scientists. One of the big changes in recent years is the launch of data tools such as Tableau and Cloudera. These tools have significantly changed the world of statisticians which used to mostly attract nerds. Here are two interesting stories from the BBC story that capture the change today.
~ 1 ~
Euan Davis researches the future of work at Cognizant, a technology services group. He says that perceptions of the field have changed.
"Data science used to be a very dry job. It was seen as nerdy but now it's creative. Communication matters because you have to sell what you uncover and that means telling stories around data."
The future belongs to people with soft skills just as much as to those who master hard data analysis, he says.
"The data science position is becoming a hybrid role. Now it's about being a trusted advisor. The data scientist has to be able to read the data in a way that tells something important to business executives."
Data visualisation tools, software that translates complex information into simple images, have changed the data science game, says Mr Davis: "The tools are getting easier to use and more intuitive."
~ 2 ~
Data science represented a dramatic change of direction for Balraj Oates.
She was introduced to the discipline via a competitive event, a hackathon where players analysed global Covid case data to create regional comparisons of the pandemic.
Alteryx software allowed her to drag and drop icons representing data sets such as death rates.
Importantly, by manipulating icons rather than pages of calculations she could match the speed of analysis of a statistician on her team. She compares working with data science tools to using a calculator.
This, she says, "started my data journey". It propelled her back into the working world after a 12-year break raising three children.
Dig deeper
On compromises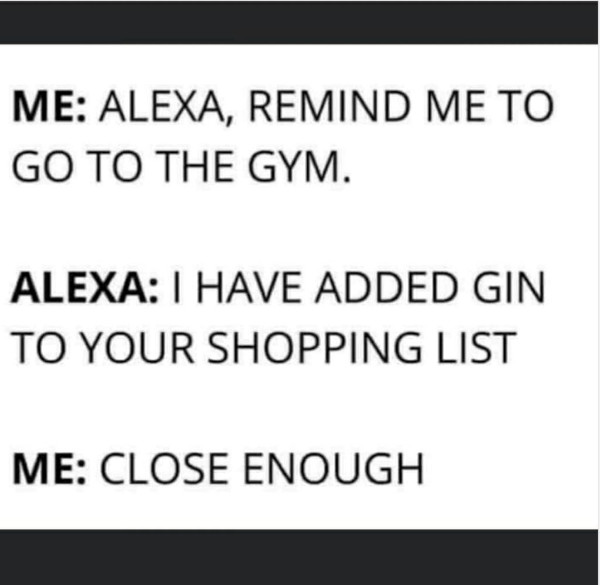 (Via WhatsApp)
Found anything interesting and noteworthy? Send it to us and we will share it through this newsletter.
And if you missed previous editions of this newsletter, they're all archived here.
Warm regards,
Team Founding Fuel
(Note: Founding Fuel may earn commissions for purchases made through the Amazon affiliate links in this article.)