[From Unsplash]
Dear friend,
In his book Sensemaking, Christian Madsbjerg talks about three levels of empathy. Madsbjerg is a professor of Applied Humanities at The New School and co-founder of consulting firm Red Associates which employs anthropologists, philosophers and sociologists to solve its clients' strategic problems.
The first level of empathy, Madsbjerg says, is "below the threshold of our awareness," about which we rarely ever talk about. He explains it using an example. "As a non-native English speaker, I experience this type of empathic engagement with language. When I make mistakes—for instance, when I use a word in a wrong way or context—someone will often use that same word in the right way soon after to help acclimate me to the appropriate usage. I see this same empathic alignment in each and every company or organisation I visit."
The second level of empathy is something we notice, because, he writes, "it's often triggered when we notice something is amiss. If a friend is exhibiting an unusual affect, such as sullen speech, we start to wonder what is going on with her. What is on her mind? Is she sad? Is it something we said?"
He encourages us to move towards the third level of empathy, which he terms, "analytical empathy".
He writes, "this deeper and more systematic empathy is supported by theory, frameworks, and an engagement with the humanities. This is sensemaking: the type of empathy Mark Fields uses to understand the next generation of Ford drivers. This is also what a historian does when she sets out to study, say, the American Civil War: She systematically assembles sources and evidence from that time—pictures, scrapbooks, tools, and news in order to get a picture of what happened. But the research materials are only the beginning. She will need to establish a context based on other scholars' work. She must also validate and critique the importance of the data, and place the data in a theoretical framework that explains the time period. The power structures, gender roles, aesthetics, technology, and information systems are all topics historians have created in order to analyse the data. Without this framework, her data would be merely reportage or journalism. Theory ultimately reveals the insights."
Have a great week ahead!
Indian VCs' IIT bias
Moneycontrol parsed data of India's unicorns—there are 100 companies that are valued at over a billion dollars now—and found that "The 73 unicorns have founders from seven of the 23 IITs, with IIT Delhi, leading the group… About 21 unicorns have at least one founder who is an IIT Delhi alumni, followed by IIT Bombay, with 16, and IIT Kanpur, with 12. IIT Kharagpur, IIT Madras, IIT Roorkee and IIT Guwahati are the other four IITs behind the remaining 24 unicorns."
The story shares an interesting detail from the book The Golden Tap by Kashyap Deorah about how Tiger Global's former partner Lee Fixel made his decisions about investing.
Fixel, Nikhil Patwardhan writes in the story, used to "filter potential startups on the basis of the founders' caste and JEE (advanced) ranks. Only candidates with high JEE (joint entrance examination) ranks make it to India's premier technical institutes—the central-government owned Indian Institutes of Technology, commonly known as IITs. Fixel preferred North Indian Marwari banias with single or double-digit JEE ranks who were young and first-time entrepreneurs."
Dig deeper
Rajapaksas' manœuvres
BBC has a good summary of the fall of the Rajapaksas, the family at the helm of Sri Lankan politics for years now. It also signals what might be ahead for the country, and by extension, its first family.
"The Rajapaksas were hugely popular among the Sinhala masses for years, despite allegations of serious human rights abuses, ill-treatment of minorities and murderous attacks on the media, for which they were blamed. Most among the Sinhala majority did not speak out then.
"But now the whole country is suffering, the cost-of-living protest has united ethnic communities and Sinhalese protesters are even voicing support for minority rights.
"'The economic hardship really hit the majority community and suddenly they turned. I think the Rajapaksas who were able to get away with so much for decades were surprised to see this level of anger,' says Bhavani Fonseka, a human rights lawyer.
"But the Rajapaksas will not be willing to give up control that easily. They are concerned not only about their political future, but also about their security when a new government takes over.
"This might explain the appointment of veteran opposition figure Ranil Wickremesinghe as the next prime minister. He is regarded as having good relations with the Rajapaksas.
"Many Sri Lankans, however, are frustrated by the president's manoeuvring, and are losing patience.
"Without stable government it will be difficult to negotiate a loan with the International Monetary Fund or restructure debt. But if the next government doesn't do that soon, there will be more power cuts and fuel shortages."
Dig deeper
Heatwave - an infographic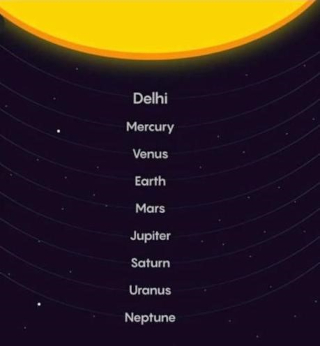 (Via WhatsApp)
Found anything interesting and noteworthy? Send it to us and we will share it through this newsletter.
And if you missed previous editions of this newsletter, they're all archived here.
Warm regards,
Team Founding Fuel