Good morning,
While most of us know that we need a life outside work and engage with hobbies, the truth is, most of us live our lives engrossed with work. And when we started to ask people whom we know why do they not take time out to nurture hobbies, the most common answer was a lack of time.
Is time indeed a constraint? We made an attempt to find out how much time we really have. A time calculator created by the Dutch coder, Eric Rood, started to place things in perspective. There are calculators similar to this that can be deployed.
Now that it was clear the issue isn't as much about time as it is about intent, we reached out to Damodar Mall, CEO - Grocery, Reliance Retail, and Anita Varma, co-founder of DDW, a Mumbai-based ad firm.
Mall is passionate about music and Varma has taken to biking. Both of them keep maniacal work schedules, but take time out to nurture their passions. What attracted them to these passions? How do they carve the time out for it? What does it do to them?
We asked them to share their learnings with us. They happily agreed. And encouraged us to nurture a hobby.
FF Recommends: Live the life you wish to live
Always take a shot at something you're bad at
Damodar Mall
Few people know how Mall took to music. Once upon a time, he had a close brush with death. As he came out of his coma, Mall was left paralysed. He had to learn how to walk again with a stick. That is when some friends suggested, he take up music as part of his extended physiotherapy treatment.
"The key thing that worked for me," Mall says, "is that my life at that time was full of sympathy markers. Everybody who'd come to visit me would ask me how I'm doing and if I'm feeling okay. But this teacher who started to come home, he didn't do any of that. The insight he got for me, though he didn't spell it out in as many words, was that the world looks at you in one way. He was only concerned about whether I had practiced my music or not. He was literally telling me, get rid of these crutches. Get on with work and life. That really worked for me and it has stayed with me."
Damodar goes on to speak about how he chooses a hobby. He identifies something that he thinks is interesting, but he is bad at it, and then takes a shot at it. He recalls his conversation with Indrajit Gupta on writing and how it culminated in a book. "But I still know I am sloppy at it." Mall is being modest.
How far will you push a hobby? "I want to be at a level where I can pass Class VIII with distinction, but never get promoted to Class IX." We know he's being modest. This year he plans to take a shot at the audio visual medium because he finds it interesting and he knows nothing about it.
How it percolates into his work, the trade offs he is willing to make, and a live performance are among the other things that accompanied this 20-minute long fun conversation.
Here's a clip of Mall in full flow as he performs the song for us. (You can listen to Mall playing the full song here.)
And here's the full conversation with Mall.
Biking. The hobby that stuck
Anita Varma
I am what you may call the Queen of abandoned projects and hobbies. From half-painted sarees and art projects that are (still) languishing in a corner of a drawer to dance trainings that got sidetracked (the poor tabla for my Kathak is lying shunned in my attic) to even trying to learn how to sew (yes, yes. I have a sewing machine. You know how it goes).
Sometimes it was purely the lack of motivation, but mostly it boiled down to overwhelming pressure at work and late hours. I work in advertising and keep a fairly erratic and hectic schedule. So personal time and interests tend to get sidelined more often than not, which is indeed quite frustrating. And no, please don't send me that "It's not about having time, it's about making time" quote… I will punch you <3 :)
Folks who know me, know this. So when, at the tender age of 38 I announced that I was going to buy a Bullet (I didn't even know how to ride a bike) many eyebrows were raised. In fact, I recall Charles Assisi offering to take the bike off my hands after a couple of months when I tire of it. But many thousand kilometres later, my bike is still going strong and I still don't tire of riding. (Eat dirt, Charles!)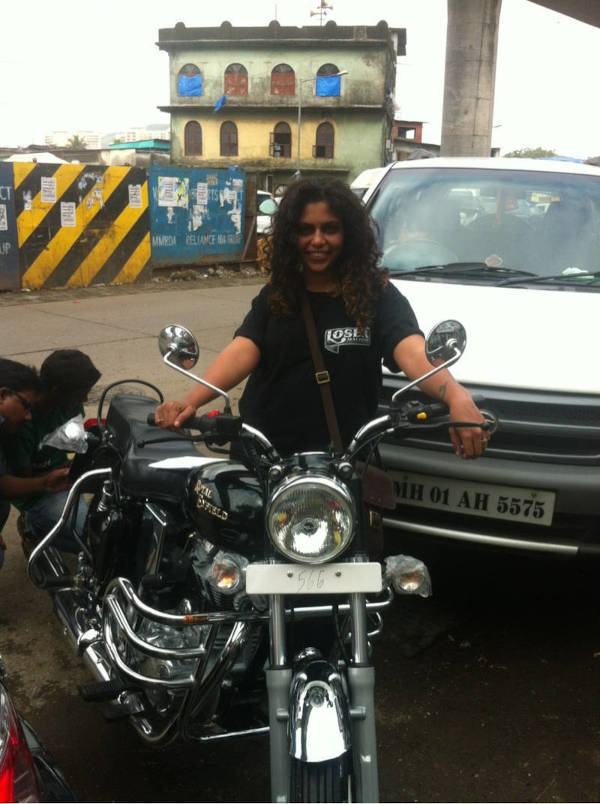 [Anita Varma and Shakti]
To be clear, I am not passionate about bikes. Hell, I don't know the first thing about the mechanics of it. And I cannot recognise a bike by its sound *eyeroll*.
Nor do I spend my Sundays wiping my bike down. Is it the sense of freedom then? Or the adrenalin? Nope. Not the speed either. Give me a cruiser over a sports bike any day.
Quite simply, I enjoy riding. Incredibly so. Many reasons why, but most importantly: it helps me centre. It helps me de-stress and generally simmer down. I'm usually juggling hundred things every day. (Oh ok five!) Add to that copious consumption of mindless social media I can't seem to do without. Riding is what hits the "pause" on all this.
When I get on the bike, I automatically tune off. My phone is off, I don't listen to any music and I am usually focused on riding safe and not killing anybody. I prefer to ride solo and positively detest having a pillion rider. So, the only conversations I am having are with Shakti (my bike), or with myself. We sing, we argue and we cuss. Loudly.
I can go on about biking. The lessons it has taught me. The friends it has made me. The memories it has given me.
As I started riding, I quickly learnt one thing: "It is alright to fall." Or perhaps I just fell so often that I decided I wasn't going to be embarrassed about it anymore! It was quite liberating actually. To not be good at something and be OK with it. Even till date, my skills as a rider are at best passable. But it doesn't take away from the joy riding gives me.
But by far, the biggest lesson I've had to learn is: "Shit happens, and it happens often."
On a bike ride, a thousand things can go wrong. You see bikes breakdown. Tyres get punctured, clutch cables snap, the petrol tank springs a leak, the battery dies, and whatnot. I ride a Bullet and Bullets are in a league of their own when it comes to garage visits. Imagine you have been riding for 14 hours and are just 20-odd kilometres short of the pitstop for the day and your tyre bursts. You are tired, hungry and irritated. But now you have to drag your bike till you reach a tyrewala.
Yay! But come tomorrow and you are set and looking forward to another day of chasing sunsets.
In fact, the one other thing I do enjoy about biking is a sort of gender anonymity that it affords, should you want it. Once the jacket is on, buff in place, helmet strapped in and hair tucked in, you are just another rider on the road. No gawking, no comments, no annoying try-and-overtake-me-i dare-you drama.
So, do I ride every day? Go on long Ladakh trips every year? Wishes and horses!
Work has always been hectic. I do try and go on short breakfast rides (even if it is to Kyani's Bakery in South Mumbai). I have gone on long bike road trips, with my laptop. I've sent emails from an elevation of 3,500 metres and from picturesque forest lodges near Wayanad. And then there are months when the only riding I do is to get pomfret from Powai market.
But that's the thing. Be it going for a spin to just clear my head or a long road trip across the country, I am just that teeny bit happier when I am riding. It's like we say in Mumbai: Ek gear neeche, akkha duniya piche.