[Photograph by Mahargh Shah under Creative Commons]
How can Indian B-school and MBA programmes create a distinct identity in 2015? And what can our business education offer to the rest of the world? These are two questions that crossed my mind while I was at the MBA Universe's Asian Management Conclave (AMC) in Singapore recently.
As a pan-Asian event, the AMC has a large canvas - all of Asia. But as Strategy guru Pankaj Ghemawat put it, Asia is far more heterogeneous than the Americas or Europe on pretty much any dimension you can think of. Recent research corroborates Ghemawat's observations.
To take just one dimension: Michael Witt and Gordon Redding of Insead Business School identified as many as five major types of business systems in Asia. Of these, four are distinctly different from Western Capitalism. But the MBA degree itself is an American creation. This came through from an eloquent perspective on the programme by Jitendra Singh, renowned organisation theorist and dean of Hong Kong University of Science & Technology Business School.
The MBA programme has also been under intense scrutiny in the US. Many observers hold it partly responsible for the excesses that precipitated the financial crisis of 2008. At the same time, debates on the relative importance of rigor and relevance continue with contemporary management research focused more on the rigor of its methods than the relevance of its findings. Singh spoke of how practice is now leading theory. This is unlike in the past when academic contributions like the Capital Asset Pricing model and the Black-Scholes model had a major impact on practice. As a result, even top business schools adopt a judicious combination of courses taught by research-driven regular faculty and experienced adjuncts.
Ghemawat was largely dismissive of the prospect of Asian business schools impacting global MBA education anytime soon. His scepticism was based primarily on what he saw as the poor emphasis on research in Asian business schools.
While Asia accounts for half of the business schools worldwide, only 9-10% of the Association to Advance Collegiate Schools of Business (AACSB) accredited schools are in Asia. These numbers are inflated by India alone accounting for a quarter of all global business schools. India is also responsible for Asia's poor accreditation as only three B-schools from India have received accreditation from the AACSB so far.
The MBA programme, as we know it in India today, is clearly an import from the West with modest efforts at adaptation. But, how should it be different?
India's biggest management challenges lie in execution and getting things done in a complex environment. Given this, our MBA programmes need to have a distinct focus on implementation to complement the decision-making orientation of most MBA programmes. This means a greater emphasis on skills. Since India has a large number of firms owned by business families, and family-based groups, Indian MBAs need the ability to get things done without structures and processes that dominate large Western companies. They also need the ability to manage diversity, and aspirations of an upwardly mobile workforce; and, perhaps more than in any other country, manage government and other stakeholders.
In the long term, Indian MBAs need to be able to build large organisations without making them slow and unresponsive. They need to be able to harness creativity and innovation to do more with less both for their organisations and their customers. Given the critical imperative of sustainability for our planet, this is a potential contribution to the world as well.
Developing such a distinctive curriculum should not come in the way of accreditation since assessors look for alignment of programmes with the school's mission, and not for some model curriculum.
India has the opportunity to create a distinct place for itself in management research as well. The faculty of leading Indian business schools were trained at top doctoral programmes across the world. There are areas like innovation, entrepreneurship, outsourcing, microfinance and health management in which India offers a fertile natural laboratory for management research. We have access to the best academic journals, databases and computer-based statistical tools. Perhaps only the absence of aspiration, organisation and the right climate for research prevent us from realising our potential.
SMU: An Alternate Model for Higher Education in Management?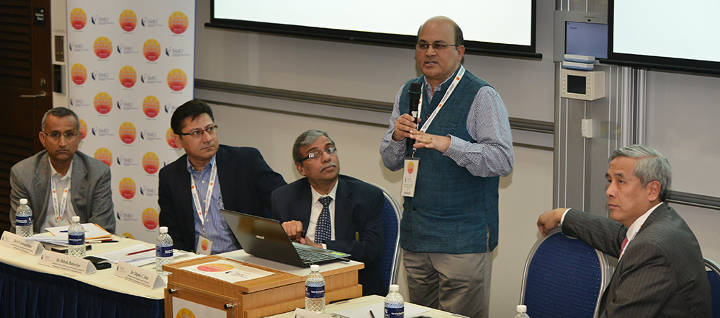 (Photo courtesy : MBA Universe)
The local host of the AMC was Singapore Management University (SMU). SMU is a young university, and its success in the last 15 years provides further food for thought.
Today, SMU has 9,000 students including 7,500 undergraduate students. It has 343 faculty members and has set up 32 institutes, laboratories or centres within it. Undergraduate students do compulsory internships and community service. Eighty-seven percent of students have global exposure. Seventy percent do a dual degree. It has a wide variety of Masters degrees including an MSc in innovation. SMU has done well in research as well, and now figures in several global rankings.
How did SMU achieve this? According to Dr. Tan Chin Tiong, one of the eight co-founders, they first focused on how to create differentiated programmes that would enable them get better students, and the students get better jobs. Ranking and accreditation came later. In fact, Dr. Tan seems to have imbibed the best of Indian philosophy - echoing the Gita, he was emphatic about the need to do good stuff first. The results will follow.
SMU Business School's new dean Gerald George attributed some credit for his university's success to the environment in Singapore. He described it as a country of lists, a country that likes to be ranked #1. I saw some direct evidence of this during my visit - Changi airport being ranked #1 for the third year in a row on the Skytrax rankings was front page news in the Singapore press! SMU has received generous support from the government of Singapore. George emphasised the importance of clarity regarding brand promise, and having the intent and resources to deliver on this promise.
Somehow, we struggle to achieve similar results. In the past, a new Indian Institute of Management (IIM) has taken 15-20 years to reach critical mass, let alone achieve excellence and global rankings. And, all the IIMs together have fewer students than SMU. This comparison though is skewed by the fact that SMU has predominantly undergraduate students while among the IIMs only IIM Indore has an undergraduate programme.
I came back from the AMC enthused about the potential opportunities for India to carve a distinct niche in management education. But to realise these, we may have to shift our attention from the creation of physical infrastructure to intellectual infrastructure. We also need to be more strategic in our efforts and direct our scarce resources to initiatives that will have enduring impact.
[The views expressed here are the individual views of the author.]