[Kaushik Roy (left) and Vishal Jindal, co-founders, Biryani by Kilo]
The atmosphere around the table at a restaurant in suburban Mumbai where I am seated lies on a spectrum someplace between optimism, nervous energy and tension.
Kaushik Roy, the founder of food startup Biryani by Kilo (BBK) thinks he could do with a stiff vodka. The 50-year-old has been on his feet all day in the sweltering Mumbai heat scouting for prospective locations near Chembur with his joint venture partners for the Western Region, Shashikant Shetty and Simon Abraham. They are looking to set up a new cloud kitchen—a kitchen from where food is delivered to people's homes; there is no dine-in facility.
I've had many conversations with the three of them over the last few weeks and am keen to meet Roy's 46-year-old co-founder Vishal Jindal and 40-year-old COO Ritesh Sinha.
When Jindal finally arrives, my gut suggests he is the kind who may not have time for niceties. That my gut is right will make itself evident as the evening passes. He deflects most of my questions with how his day was spent in South Mumbai, closeted in meetings with investors and real estate agents to negotiate rentals. He seems the kind who is in a tearing hurry and insists every minute must count and deliver some return on the time he invests.
Without him stating it in as many words, I can hear his mind measure me up even as he throws inane questions about my background. Perhaps, he's trying to figure out if the time he spends with me may be worth it. He seems a bit exasperated too as he settles for a whiskey. He would've liked a single malt. But they don't stock any at the restaurant we are seated at.
I think I understand why every minute matters to Jindal. He is the rainmaker at BBK. His days are spent crafting a narrative around the company to potential investors, partners, and potential buyers from every forum that matters. Come evening and he's got to ask tough questions of the others in the founding team and the partners he has signed up with. It's only reasonable that he does.
The market for biryanis is a hyper competitive one. And while BBK may have been among the first-off the blocks, it is unclear as yet if anyone is in the lead. While BBK has established its presence in North India and established a footprint in Western India, there are others such as Behrouz, Paradise, Karims, Ammis Biryani, Jafferbhai, Biryani Blues, O Biryani and Biryani Bliss to name just a few, competing furiously for investor and consumer attention.
Each of these brands, like BBK does, claims to have a compelling narrative and a market they cater to. Jindal would much rather think of how to deal with those narratives as opposed to exchange pleasantries with me.
Meanwhile, Sinha, who grew up in Patna, Bihar, is poring over the food on the table intensely and asks for the chef. When he comes over, Sinha tells him quietly there is a problem with the batter in the prawn tempura and that the Tom Yom soup is totally off. Out of most people's earshot, he tells the man how to resolve the issues. Having done that, Sinha calls the bartender and suggests a concoction as a cocktail for himself that is off-the-menu and a lemon-based mocktail, he promises, will refresh me and build an appetite.
I'm surprised he didn't throw a fuss about the food. When I ask him why, Sinha says, as a professional chef, he knows what it is like to be in the kitchen 24/7, how hot the stoves and ovens can get, how physically demanding the job is, and how difficult it is to get things right for the Indian palette.
"Indians are the most difficult people to cater to in the world. And Indian chefs are among the most abused professionals in a country where everyone thinks they are food critics because they write reviews on Zomato," he says, without raising his head or looking at me.
Roy, Jindal and Shetty aren't keen on his banter with me. There are other things to be discussed. Like I said earlier, the air over the table is heavy.
Oblivious to my presence, Jindal's stone-cold voice asks everyone else: "Where are the sales numbers for today from the West?"
As it is reeled out, his face turns colder still. He doesn't like the sound of it and the dialect changes to his native Hindi with a distinct twang that can originate only from someone who grew up in Delhi. "This isn't good enough. We've got to ramp up faster." He doesn't wait for an answer. Another barrage of questions follows.
"How long until the next kitchen is up and running? What is the radius of the area it can deliver to? Have you signed the lease for the properties you saw today?"
Sinha attempts an answer—that they are holding out to bring the rental down by Rs 50,000 or some such thing. Jindal thinks it a feeble answer and without stating it in as many words, looks at him condescendingly. "Remember this. Even as you haggle him down, we're losing time. We can make up the deficit by selling more biryanis. But we can't earn the time we lose."
Sinha goes back to poring over the texture of the food on his table. I think he can hear the merit in Jindal's argument. I can.
A silence lingers over the table because Jindal doesn't sound happy. Roy looks at the smoker's zone. I think of it as a quiet invitation and the both of us step out into the darkness of the patio outside. We smile, nervously, at each other.
This isn't what Kaushik Roy had imagined entrepreneurship would be like.
Kaushik's Story
Standing under the shade of the relentless sun near suburban Powai in Mumbai and taking breathers from supervising the setting up of a new kitchen, Roy remembers the one night he went sleepless. It was 2015 and he had just turned 46.
On the one hand, a voice suggested the hotel management graduate had done everything right. Professionally, he had done well. After putting in stints in senior roles at places such as Mars Hospitality and Britannia and having played a key role to create Pizza Express in India, he was now Group COO at Zoorpaa Foods, the investment arm of SAIF Partners focused on Quick Service Restaurants (QSR). He thought he knew the business of food inside out and had well-wishers across the sector.
On a personal note, his extended family and network of friends thought highly of him and his presence at every event was much sought after. Comfortably ensconced at his home in Gurugram, Haryana, the wife and children were happy with all the creature comforts he offered them.
Then on the other hand, a voice in his head argued he would die unhappy with status quo. It told him to reimagine himself and plunge into entrepreneurship. It was a thought parked at the back of his mind for four years. But he hadn't moved.
He knew no one would approve at home if he did. What he did know was that he had enough funds to sustain the family's current lifestyle for two years. What he also knew was that if he took the plunge and failed, there would be no second coming. "You see, in industries such as this, age is not on my side."
How physically taxing a kitchen can get is unfamiliar to people outside the food business. Undeterred, between the savings he had managed and a pitch he crafted to a few friends asking that they "indulge" him, he raised an initial corpus.
He sold them the idea of a cloud kitchen—this was before it had captured popular imagination and snowballed into the investor phenomenon it is now. If he could create cloud kitchens, he told them, focused on offering only biryanis, and if he could position it well and offer it as an in-home dining experience, it will take off in urban India.
After much research into the nitty-gritties of what comprises a biryani really, with Sinha who was with him from Day One, Roy crafted a narrative for Biryani by Kilo. The rice, for instance, is a premium basmati variant and is offered only at select five-star hotels such as ITC Maratha. This is difficult to cook and needs very skilled chefs.
Every other biryani place, Sinha claims, uses a cheaper variant called sella that is easier to cook and is more filling because of the carbohydrate content. The spices that go into it are sourced from VKL Spice, India's premium supplier of spices in Kochi in Kerala. The clay pots the biryanis are shipped in are made at a specific kiln on the outskirts of Delhi. To zero in on this specific kiln, Roy and Sinha tried working with many potteries to understand whose pot may work best in the ovens they planned to use. Apparently, that is what imparts the biryanis they ship their unique flavour.
To get to work full-time on this, Roy had to quit his day job. No one at home, however, knew this is what Roy was at once he headed out of the door. "My mother may have been petrified if she had gotten to know," says Roy. "I couldn't talk to my wife either about this."
He had moved out of the plush office he was once a part of and had rented a small apartment to operate out of. After much experimentation with Sinha in their kitchen on how to get the biryani right, when it was time to ship the first tranche of biryanis to potential customers in a Delhi neighbourhood, a phone number was created to contact the BBK "call centre".
But Roy was the only person in this so-called call centre. He lights up a cigarette and recalls how he waited nervously by the phone.
When the first call came, he picked up the phone, changed his voice, and attempted to sound like a call centre executive. After listening in, to sound professional, Roy recalls telling the caller he'll transfer the call to the concerned department right away. He put the call on hold very briefly, and came back online with his usual voice to answer the query and take feedback. It was good. It would only be a matter of time before business took off and orders started to come in.
But Sinha and he were "burning the candle at both ends".
Word started to get around as well that Roy was no longer a high-flier on the corporate ladder—but a wannabe entrepreneur. Overnight, his standing in the social circuit he thought he knew intimately dropped. Those who seemed familiar suddenly made themselves unfamiliar. It started to get terribly lonely. The business had to scale. He couldn't fail. Roy and Sinha needed help. They needed somebody who understands what it means to be an entrepreneur, be unreasonable, and go places they had imagined they could go.
Vishal's Story
And so six months after BBK started out, Roy reached out to Vishal Jindal. Both had worked together in the past. Jindal was familiar with the entrepreneurial ecosystem and was now invested as a venture capitalist. Used to asking tough questions, he thought there may be merit in the idea and agreed to come on board as a co-founder.
From Day One, Jindal was clear if BBK does not scale, however good the biryani be or the intent of the promoters, the idea will remain an also-ran. On scanning the ecosystem, he could see the many issues. Capital was needed, partners had to be roped in, the business had to gain visibility if more customers have to buy in, and it had to align with food aggregator platforms such as Zomato and Swiggy. That is how those in food retail grow.
There was another problem with the "freshly-cooked-biryani" narrative. While it sounds seductive, there are few people in urban India willing to wait 90 minutes for food to arrive. And in an ironical twist, BBK's value proposition of fresh biryani was exactly what was keeping it out of the by now all-pervasive and ubiquitous food-ordering and delivery platforms such as Swiggy which promise its patrons deliveries within 60-minutes.
In Roy's mental model though, if Swiggy and Zomato were to be viewed as a mall, they are only as good or as bad as the anchor tenants they have. So, even if BBK stayed out of these malls, but remained true to their stated value proposition and continued to craft something unique, customers will seek them out.
The answer, Roy imagined, would be to create their own platform—which includes a delivery ecosystem and an online ordering app and a loyalty programme.
It isn't an argument Jindal was willing to buy. The thought reinforced itself as he engaged with investors for capital. The one question that would inevitably crop up was how does BBK plan to scale? The significance of being on food aggregator platforms was evident to him.
This is when Jindal started to place what was first thought of as an unreasonable demand. Think up some way to deliver fresh food within 60 minutes. While the contradiction was obvious, he placed the primary onus on Sinha.
A hands-on character, Sinha had grown through the ranks and led large teams at in-flight kitchens and QSR chains such as Barista. He could be trusted to experiment without compromising.
One of the first things he did was to work with Roy and the data analytics team at Swiggy and Zomato to understand how people order and what they prefer across different geographies in the country. Basis this, he could work with those at the kitchens BBK was setting up to anticipate demand. People in these kitchens could then get to work before the orders begin to come in.
He thought up some new dishes as well, such as kebabs that can be freshly cooked and delivered in 60 minutes. This was top-of-mind for Jindal. He wanted the BBK brand to be visible across Swiggy and Zomato.
To get this done efficiently, he pushed Roy and Sinha harder still to engineer the kitchens such that they are optimised for the most minor details. For instance, the locations they zero in on be such that vans with the ingredients for the food can come in at one end of the kitchen for unloading. Representatives from food aggregator platforms wait at another end of the kitchen so they don't run into the vans and waste each other's time. If this means paying a premium to get the place, so be it.
Every minute counts for Jindal. Because that matters to aggregators. The more an aggregator delivers, the more revenues it garners. That is how they scale, compete for dominance and show progress to investors. Jindal knew why it matters. Not scaling means status quo.
But scaling up isn't easy. When I ask Sinha why not, turns out, there are not enough people to be found. While there are 600 people who work at the many kitchens BBK now has, and while he has standardised operations to the extent possible, on average, he trusts only 18-20% of them to treat the rice the right way so it does not break while cooking or in transport. Attrition is high as well.
Jindal remains unperturbed though and leaves all of that for Roy to manage. As he dug deeper, there were other trends he could see: On paper, cloud kitchens are a good idea to keep costs low. But there are intangible benefits to having a restaurant too.
There are times people like to dine out. And the largest spenders on food are not in Tier I Indian cities such as Delhi, Mumbai, Bengaluru and Chennai, but in Tier II cities. "They are more educated, affluent and more aware of the nuances," he says when pushed hard.
This suggested they set up restaurants. It wasn't part of Roy's original plan. The first restaurant opened in Delhi. The others are in places such as Chandigarh and Ludhiana. They are now scouting for more places.
What Jindal is betting on is that in a hyper competitive space where everyone has a story to tell, a restaurant offers patrons an assurance that this brand is a real one. And in Tier II cities with limited dining-out options, when a premium dining destination is offered, it cements the brand visibility further.
But this is hard work of the kind Roy hadn't imagined would come this late in his career. He thought he was done with being nice to people at a restaurant in the early part of his career as a hotel management graduate.
When investors listen to these details as presented by Jindal, they hear much merit and see more potential. Like I said earlier, Jindal knows how to deflect questions and come up with trite answers. In response to a question on what are the current revenues, he said BBK is in a recession-proof business because no matter what happens, people will feel hungry and insist on food. He is right. He offers no answer. Instead, all he says is what is known in the public domain—that BBK wants to be a Rs 500 crore brand by 2022.
What is also known in the public domain is that BBK raised between $6-8 million in Series A funding and is still expanding.
Shashikant and Simon's Story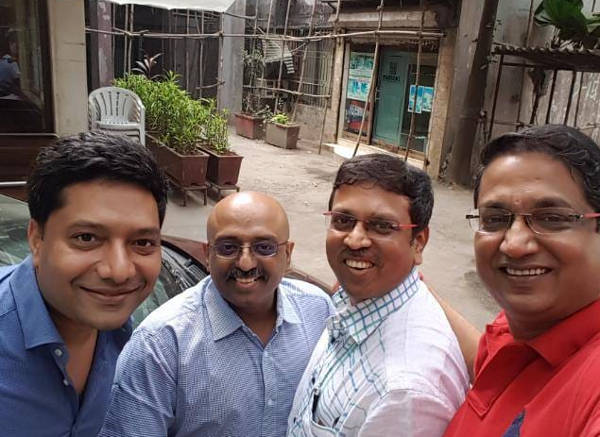 [From left: Vishal Jindal, Simon Abraham, Shashikant Shetty, and Kaushik Roy after the first cloud kitchen was set up in Mumbai. Abraham and Shetty are the joint venture partners for the Western region.]
"As an investor, my biggest problem with Indian entrepreneurs is that they tell you one story and implement an altogether different strategy," the partner at a large private equity firm told me.
When I asked Roy if he thinks there is merit in this statement, he looked away and said his problem is investors only see scale. "What they don't understand is that it takes nine months for a baby to come to term."
"What is life like for you now?" I ask.
"As the CEO at established firms, I used to sleep nine hours a day. I'm glad if I get seven hours now," he shrugs.
That was when the dichotomies in the many narratives Jindal is staring at make themselves evident. His job isn't an easy one and insists he must stay stone cold.
If he doesn't infuse capital into BBK, the business won't get too far. Then on the other hand, if his co-founder who is passionate about food isn't pushed harder, the business will either flounder or get overtaken by competitors. Jindal must walk a thin line to manage investor expectations and his co-founder's passion to stay invested in the food business for the long term.
And if that means combining sweet-talk and arm-twisting his joint venture partner Shashikant Shetty in Mumbai to place more money on the table earlier than he had agreed upon, Jindal will do it.
Shetty is a 46-year-old hotel management graduate who inherited his father's restaurant business. In his head though, he has outgrown the business. On exchanging notes with his friend and co-conspirator Simon Abraham, a hotel management graduate like him, both agreed they aspire to something that stretches them outside their comfort zone. Abraham now runs a placement business that generates cash like Shetty does from his restaurant business.
When Jindal read the Riot Act to Roy about why they need to expand into Western India, one of the many people Roy reached out to was Abraham in Mumbai to ask if he may be interested in partnering. To Shetty and Abraham, it sounded like the opportunity they were waiting for. And Roy sounded reasonable.
The early days were good and were fronted by Roy. It was all about setting up the kitchen and getting the food right. They were doing the kind of things they enjoyed and were also at work to build a big brand. Par for course for anyone with a degree in hotel management. What they hadn't factored in was how unreasonable Jindal can be and how hard he can push them. Not par for course for anyone unfamiliar with how private equity works.
It is one thing to set up a kitchen and get the food right. It is another thing to acquire more kitchens and get the food equally right at all of these places, with no compromise. This isn't ground Shetty or Abraham have been on before. But this is what Jindal was pushing them to do. He wants them to iterate. Iterate quick. Fail if need be. But fail fast. And scale fast because competition in Western India is heating up.
I get the feeling Shetty and Abraham are uncomfortable with how hard Jindal is pushing for fresh terms. It is late in the evening and everyone has had a long day. Me included. I get the feeling a round of brutal negotiation is about to begin.
Sinha continues to dissect his food. Roy looks uncomfortable and stares at the smoker's patio once again. I nod. The both of us step out. This time around, we stare into the night. He goes back in while I stay where I am. It isn't appropriate that I be at the table while they talk. I wait it out.
When done, I see everyone step out, smile, shake hands, bid good bye for the night, and promise to meet at 7 am to scout a location for a new kitchen. Whatever they may have discussed, I'm reasonably sure Jindal got his way. He always does.
As we step into the car, I ask Shetty, whom I've known from my growing up years, if all is well.
"Yeah! There was nothing personal. Just business."