[Photo by Mike Erskine on Unsplash]
Good morning,
In The Storytelling Animal: How Stories Make Us Human, Jonathan Gottschall argued that for ages stories have brought society together. A story binds society "by reinforcing a set of common values and strengthening the ties of common culture."
A story enculturates the youth, Gottschall writes. "It defines the people. It tells us what is laudable and what is contemptible. It subtly and constantly encourages us to be decent instead of decadent. Story is the grease and glue of society: by encouraging us to behave well, story reduces social friction while uniting people around common values. Story homogenises us; it makes us one. This is part of what Marshall McLuhan had in mind with his idea of the global village. Technology has saturated widely dispersed people with the same media and made them into citizens of a village that spans the world."
Cut to the present. Other than the fact that coronavirus has hit every country in the world, there is no sign that we live in a global village. Even villages seem to be divided, polarised. Different groups—right and left, east and west—seem to believe in completely different stories with no set of common values.
Many seem to believe that if only they can convince others that their story is better, then all will be well. This leads to competition, and everyone ends up being entrenched firmly in their earlier positions. What we need is a larger story that encompasses multiple narratives. The grand narrative that great unifiers like Nelson Mandela grasped intuitively. When they saw people fighting over this or that, they could say "why not both?"
In this issue
Pranab Mukherjee's key role in the launch of Aadhaar
Ashish Dhawan on why the social sector and government can work together
What you see is who you are
Have a lovely day!
Pranab Mukherjee's key role in the launch of Aadhaar
Pranab Mukherjee, former President of India, is no more.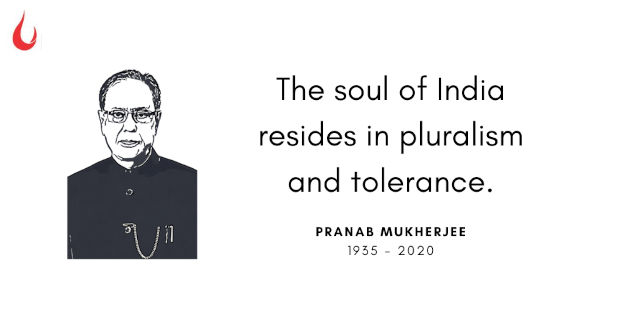 Nandan Nilekani, who led Aadhaar, India's digital identity programme, told Charles Assisi and NS Ramnath during an interview for The Aadhaar Effect that if anyone deserved the title 'The Father of Aadhaar' it was Pranab Mukherjee. As a finance minister, Mukherjee was quick to grasp the potential of a digital platform like Aadhaar, championed it among his colleagues and gave his full support to the effort in an environment which was described by an insider as "clearly not safe for anyone to meet anyone else in a dark alley."
While a meeting with Pranab Mukherjee never took place despite our best efforts, he features in the book in the key moments. Those references reveal something about the world of politics, and the influence the veteran politician wielded in that world.
"'I think Nandan did not want to be in a situation where he was seen as close to one politician and against another, but the opposition from the Home ministry made him move closer to Pranab Mukherjee,' a senior bureaucrat said. Mukherjee was the Finance minister then and the most senior cabinet minister in the government; and by some accounts, he was practically in charge of most cabinet meetings. In the early days of Aadhaar, he had invited Nilekani to dinner and signalled to him that Nilekani should just do his job, and he would watch his back. He did."
The fight between UIDAI, which was a part of the Planning Commission, and the Home Ministry, headed by P Chidambaram was nasty. Some of the toughest battles were played behind closed doors, by those who had spent years navigating the corridors of power. It would have been impossible for any outsider to survive. But, Mukherjee, by many accounts, was convinced of the project and therefore he gave his air cover to Nandan Nilekani and his team. But some accounts, though, the fight between Mukherjee and Chidambaram was going on, and UIDAI merely happened to get into the crossfire.
In his book, The Coalition Years, Mukherjee had only this to say about the conflict. "The Aadhaar platform was now ready to support the payments of MGNREGA; old age, widow and disability pensions; and scholarships directly to the beneficiary accounts in selected areas. However, my colleague P. Chidambaram, the then Home Minister, had strong reservations about this project. He was opposed to the idea of the UIDAI headed by Nandan Nilekani to be the sole in-charge of the Aadhaar enrolment. He wanted the Registrar General of India to be made responsible for this exercise. Despite these challenges, the project was very close to my heart and we made good progress."
Ashish Dhawan on why the social sector and government can work together
Ashish Dhawan, Founder and CEO, Central Square Foundation and a co-founder of Ashoka University, makes a case for stronger collaboration between government and social sector organisations in an essay in India Development Review.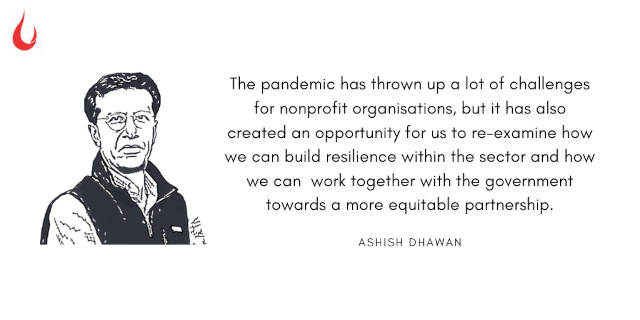 He writes: "Coming out of this crisis, the government needs to think closely about what it needs to do. For me, the first area to think about is how the government can develop a more trusting partnership with civil society organisations.
"Historically, the relationship between the two has been fraught, in large part due to the Licence Raj that operates with regards to the social sector, the onerous reporting requirements, and the uncertainty around whether certain applications for registration will be approved or not. The government has also maintained a largely transactional relationship with nonprofits, where it seeks their support on a one-off basis. Instead, the government needs to move away from these approaches towards a more collaborative model, recognising that the social sector has proven experience and evidence about what works and what doesn't."
Dig Deeper
What you see is who you are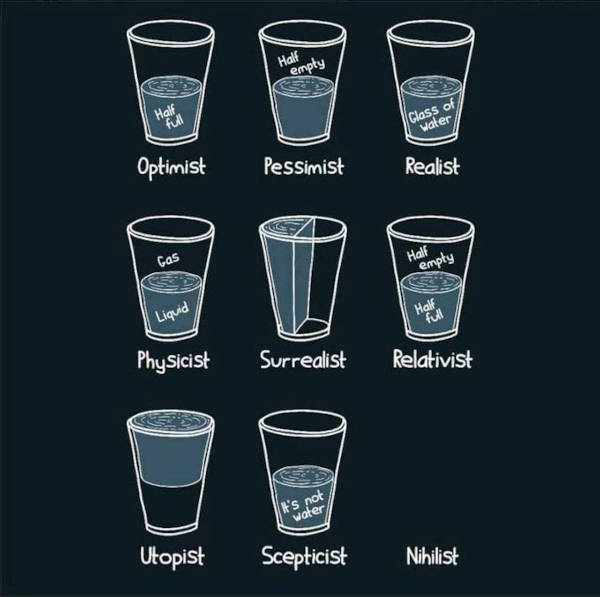 How optimistic are you these days? Share your thoughts with us. Head to our Slack channel.
And if you missed previous editions of this newsletter, they're all archived here.
Bookmark Founding Fuel's special section on Thriving in Volatile Times. All our stories on how individuals and businesses are responding to the pandemic until now are posted there.
Warm regards,
Team Founding Fuel