[Photo by Jeff Sheldon on Unsplash. Cropped from orginal.]
By Rachita Kapoor and Sanjeev Kapoor
Food and I have a deep and loving relationship. That shouldn't be a surprise given that master chef Sanjeev Kapoor is my father.
I've always been a foodie. As a child, I'd obediently finish my meals—even ghar ka khana (home food)—and diligently query my father every time a new flavour profile popped up in a meal. My father's influence has undoubtedly fostered a never-ending zeal to experience new things—and food is at the top of that list.
But does this love for food mean a love for the kitchen? I guess not—until recently.
Because 'kitchen' has always meant ordinary, everyday food—yes, even in the home of a celebrity chef. For my friends and I, cooking feels like a chore. We crave the exotic, and convenience.
When I was in school, I used to take my lunch dabba from home; very rarely would I get permission to eat in the canteen. (And no, Sanjeev Kapoor didn't make my lunch every day!)
As kids, my sister Kriti and I used to look forward to social gatherings at home. Like in every other home, they were a welcome change from the routine. If you've watched my dad on television, nothing compares to watching the magic live and up close. The aroma would move the party from the hall to the kitchen. While the big pots were bubbling away, my dad would be at the open kitchen counter, making pasta or stir-fries to order for our guests. My sister and I were designated "sous chefs" and would serve, and of course, sneak in bites—of biryani fit for a nawab, chicken dumplings, and scrumptious desserts.
Now, even after working alongside my father, I still at times succumb to the perception that home food can be boring. It brings to mind dal, rice, roti, sabzi. Even home-made pizza, burger, chop suey, don't evoke the same feeling that you get when you order them in a restaurant. (My dad says, that's because food served at restaurants usually contains additional flavouring, oil, butter and sugar to ensure that the dish stands out.)
And it's not just fancy continental food that tastes better outside. Take a simple dish like malai toast. My dad always raved about it, whereas Kriti and I run in the other direction when we hear 'malai'! But then, a few years ago, during a visit to Varanasi, we went to the popular Lakshmi Chai Wala. Kriti and I enjoyed the malai toast there so much that we took second servings. My dad just watched us in disbelief! Was it the way it was made, or the vibe of the place? Whatever it was, that was the first and only time we enjoyed malai toast. (We tried making it at home, but it wasn't the same.)
Though I have to admit that certain home foods evoke nostalgia—my Dadi's rajma-chawal, Nani's muthiya, mom's dosa, or dad's mutton biryani. Now these home foods I relish, but they are made once in a while.
Our experiences shaped our outlook
Perhaps some of these differences in what we like has to do with my parents' and my life experiences.
Before my dad earned his merits, he had quit his well-paying job at Centaur hotel in Mumbai to do something on his own. My mom and he barely had any money and no house either—all this with one-year-old me tagging along. They stayed at a friend's house and took each day as it came. And then Khana Khazana happened. The rest is history!
But if you ask him if he faced any challenges or hardships to get to where he is now, he will say there are never any challenges, only learnings. No matter the situation, he's faced them head on.
Another incident that comes to mind is his time in Varanasi where he was made the head chef at Ashok Hotel at the young age of 21. He had an entire kitchen team working under him, most of whom were older than him. He had to figure out a way to work with them, earn their respect, and supervise them, and also learn from them since they were senior in experience. The fact that he managed to balance the situation with ease and confidence is a great learning for us.
It's interesting to see how for him it was always about breaking the norms and doing something out of the ordinary, unlike a lot of people from his generation who went on to pursue safer, stable 9-5 jobs. Of course, there were many hardships back then and it was difficult for him to take such extreme steps as there was so much at stake—unlike for us sisters where we've had a cushioned life.
We've also travelled more at a much younger age. Travel, I feel, plays an important role in shaping our outlook. It exposes the world to us—the rich histories, and cultures. Naturally, getting to taste different cuisines is a big part of this exposure. I have been lucky to travel to quite a few countries and experience their culture and food. Be it Italy, Thailand, Spain or Australia, each country has something unique to offer—and yet there are traditions that seem familiar.
Recently we went to the UK for my sister's graduation. Loughborough, where her university is, is a small town. When we went out to get something for dinner, everything was shut by 9:30 pm—unlike Mumbai, where our dinner reservations start then!
Whereas in Sweden, Fika—which is basically a coffee break where you sit with your coffee, slow down to take a breather, and catch up with your colleagues, friends, or maybe just yourself—felt so much like our evening chai time.
On another trip to Norway we were hosted by a local family for dinner one night. Since it was a Friday night, the entire extended family was present. Everyone gathered at a long table and ate together, very similar to how we do it here in India.
I've also noticed that my generation and I are far more open to trying local cuisine, than the older generation—perhaps not my parents' generation, but certainly my grandparents' generation.
Be it escargot in France, egg coffee in Vietnam, or sushi in Japan, Kriti and I are always open to new experiences (though, since childhood, I've been brought up to eat everything handed to me no questions asked!). But our grandmother prefers to eat something that tastes familiar.
Cook at home? I'd rather eat out!
When it was time to decide my higher education, my parents didn't pressure me into taking any specific field. I ended up studying at a law school in Pune.
Leaving the comforts of my home for the first time I had to learn how to manage everything on my own. With back-to-back assignments and an active social life, there was little time to cook. In college my cooking gas cylinder used to last for months. It was so much easier to eat in the canteen or order something.
I've observed that it's the same with other 20-somethings. In these fast-paced times with high demanding jobs, food is often just "fuel" for the body. You don't overthink on the kind of fuel or where you're getting it from—the closest outlet on your way back from work will do.
Though I wouldn't be so quick to paint food with a single brush as a bland and basic human necessity. It is indeed fuel during a busy work week, but on weekends it's the centrepiece of social gatherings—the big difference between my parents and us is of course, that we'd rather meet up over food at a restaurant, than over a feast cooked at home.
And who can blame us really? New restaurants offering novel experiences seem to spring up in Mumbai every day. Whether it's a tapas bar offering you a "night in Spain", or a completely eccentric dining experience in the dark, or even just dining with a view, there's always something new to try.
Who wants the hassle of prepping and cooking when all of it can be so easily outsourced?
Like I said before, cooking as part of a routine can easily turn monotonous. There are the occasional feel-good drives when you want to try something unusual or try your hand at baking bread, but let's be honest, the mess and the stress can outweigh the sense of accomplishment one expects to feel.
Covid-19, night ins, and discovering our culinary skills
Though Covid-19 is changing some of that.
Just the other day, I was catching up with a cousin on a video call and I learnt that she has taken up cooking as an "indulgence". Because she suddenly found herself with more free time and nowhere to go. She was enjoying her attempts at making khow suey, tandoori chicken and pizza. But ask her to make a roti or boil some rice or make regular moong dal, and she'll draw a blank. Because who wants to make these things, they are boring!
With the pandemic, going out to eat and to socialise has obviously come to a grinding halt. So, what do millennials do? We do Zoom parties. These "night ins" are usually post-dinner, when everyone is done with their chores for the day. We sit with a drink of our choice and catch up with each other. Though we've planned that everyone will order pizza one day and eat it together on call, that has not happened yet.
The nationwide lockdown also left us no option but to cook our meals at home. Suddenly there was a spike in food content consumption—a surge in YouTube searches, multiple social media trends around food (Dalgona coffee, banana bread…), and many food memes started circulating. One of the most popular ones was 'Lockdown matlab apne andar ke Sanjeev Kapoor ko bahar nikalna' [Lockdown means bringing out your inner Sanjeev Kapoor].
At the beginning of the lockdown my friends and I started cooking because we realised that it can be fun too and not necessarily a chore. One day we were making triple choco-chip cookies; the next day we were trying our hand at Indonesian curry laksa.
But the novelty soon wore off. We realised that this is something to be made once in a while, not every day.
In time, we realised that we also need to cook regular, everyday food—dal, rice, roti, sabzi. One of my friends who didn't know how to even boil rice properly, now prepares all the meals for her family. (Yes, parents, this is a big achievement for us!)
I think this behaviour change has stemmed from the fact that we are spending so much more time at home that we are realising that cooking plays such an essential role in maintaining a household. Could me hurtling towards my late 20s be behind this reasoning? Perhaps we are starting to realise our responsibilities as adults and there's now a need to settle down. Being able to make your own meals gives you this sense of accomplishment that you can fend for yourself and manage a household, while still working your dream job.
Still seeking convenience
And yet, the long and short of it is, for my generation, in a world of instant coffee, ramen and cakes, creating wonders in the kitchen from scratch can seem rather pointless.
Food entrepreneurs like my dad are aware that millennials will enter the kitchen only if they can cook with the least amount of input. Because, work smarter not harder.
One of the ways to make us fall in love with cooking are meal kits, where the prep work is already done and we only need to cook it. (My father has launched his line of meal kits with Amazon, called KitFresh.)
Apart from this, a lot of appliances have eased the stress of cooking while also offering healthier alternatives than traditional cooking. We've noticed this trend at Wonderchef (my dad's line of cookware and appliances). Appliances such as the air fryer, Nutriblend and Nutripot are in high demand. The air fryer lets us whip up some of our favourite snacks without deep frying. Our latest endeavour was samosas and I must say they turned out amazing. The Nutriblend is totally a device of convenience. Apart from the regular grinding, it also makes amazing smoothies to keep the millennial in me happy! Coming to the Nutripot, it's a device for amateur cooks. You just add the ingredients as per the provided recipes, select the preset (there's dal, rajma, biryani, to name a few) and voila! The device makes the dish for you.
Another device that's one of my favourites is the turbo chopper. You just add large chunks for whichever vegetable you want (onions, I'm looking at you) and you get chopped/sliced vegetables in a jiffy.
Necessity is the mother of all invention. All these devices are to improve upon conventional cooking techniques to save us time and effort—which, given our fast-paced lives, is the never-ending need of the hour.
One more innovation is the convenience of voice activation. When looking up a recipe, first there was a shift from the desktop to the mobile, and now it's to a completely hands-free experience with the Alexas and Googles of the world. Sanjeev Kapoor Recipes is now a skill on both Alexa and Google home devices. Along with these, we've also done two shows with Amazon Audible Suno. All of which just shows that there's a need and market for voice-driven content. Slowly but surely, we are moving towards it.
All in all, Covid-19 forced us to enter the kitchen and some of us have even started doing it more often now. We're slowly realising that the kitchen is not that scary a place. With all this time on our hands and being confined to our homes, we've begun to realise the importance of home-cooked meals, be it for reasons of health, economics, or simply growing up.
Spending all this time at home also makes me appreciate that so much goes into running a home and a lot of it has to do with the kitchen—be it planning, prepping and finally cooking meals. And how I am inching closer to the day when I'll have to do it on my own without the help of my parents.
"Home-cooked meal was both a necessity and a luxury for us": Sanjeev Kapoor
"We had to find luxury in the necessity that was created for us," says Sanjeev Kapoor in this 10-minute audiogram. "There was charm and excitement in the limited choices that were there."
"We were not spending on any other entertainment—we were not going out for movies, not spending on travel, there was hardly any other expense but food. So our entertainment was food, that too at home."
And eating well does not mean expensive, fancy meals. It means eating the freshest of foods, he says.
When there's a lack of choice, you learn to create excitement with what you have.
Today's generation has much more to choose from. "I think the excitement somewhere is diluted," he says.
Also, being adventurous with food is not a generational thing, but more to with who you are as a person.
"Rachita has grown up to be very adventurous with her food. Her travels have contributed a lot there. But that was not the case with our younger daughter."
And what does he make of millennials "discovering" the kitchen in the lockdown?
"I don't think it's the need that brought them to the kitchen. I think the distractions were less. And so, food became more important," he says.
Join them on Saturday, Sept 26 at 7.30 pm, for Season 2, Episode 1 of Talkin' 'Bout My Generation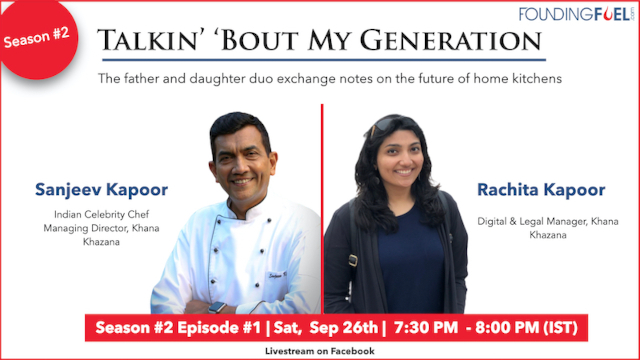 If you haven't registered to watch the show already, register here: https://bit.ly/FFTAMG
In the meantime, here's a playlist of Season 1, E01-07.
Bookmark the series. (The show is supported by a column on Founding Fuel, and an ongoing conversation with the Founding Fuel community on our Slack channel.)
Still Curious?