[From Unsplash]
Good morning,
One of the biggest trends of the last couple of decades has been how digital goods have been replacing physical products. We read books on Kindle, share photos on Instagram, and in the last two years, meet people on Zoom. Software has literally been eating the devices.
This gif (h/t Vala Afshar) captures the trend beautifully.
However, for many of us who grew up using mostly physical products, witnessing the exponential growth with awe over the last several years, the immediate instinct is not to go for digital first. We follow the trend, rather than lead it. There is virtue in doing that. However, as digital immigrants, we also lose out because of this instinct to find answers first in physical objects.
The list our team has put together for this edition is by no means exhaustive. This is meant to nudge us to deliberately look for answers in the digital world first. There are two reasons for this. One, it's often the more cost effective option, and two, digital by its very nature gives us far more flexibility than the physical world can. As they say about the Indian tech services industry, you come to it for the cost it saves, but stick to it for value.
Dump your physical documents
- Anmol Shrivastava
I am a huge fan of the India Stack story. And while I had heard a lot about DigiLocker, the Government of India's digital wallet for citizens to store documents, I had never really gotten down to using it.
The first time I used it was when I got the first dose of a Covid vaccine. The certificate was automatically stored in DigiLocker. The excitement of accessing it led me to experiment with the app and explore its features beyond the vaccine certificate.
And there's only one word I can use to describe the experience: magical.
For example, all I had to do was enter my driving license number. Within seconds I had the digital copy of it. So next time I am at the airport, I can just show it (along with the ticket which is usually on email) instead of the effort of pulling it out from my physical wallet.
Similarly, just a week back I had applied for renewing my passport. The process mandates that before one visits the appointment centre, we upload proof of date of birth and address. Normally, I would have to photocopy my Aadhaar, scan it and upload it—or at least click a photo and upload it.
With DigiLocker, all I needed to do was give my consent, and a few clicks later, the passport office had direct access to the relevant documents. While I will still have to carry the physical documents on the day, the first part felt seamless, akin to an experience crafted by a Big Tech company.
You must experience it yourself.
Add controls to your webcam
- NS Ramnath
In February this year, we covered webcams in FF Recommends. FF Recommends | Set up your Zoom like a billionaire (without spending billions). Anmol wrote about getting superior results using the right DSLR camera and setting up lighting. I wrote about lower end, plug and play versions with inputs from our colleague Kavi Arasu.
While both the plug and play cameras (Logitech C920S HD Pro, Rs 12,000) and (HP W300 Webcam, Rs 3,500) come with colour correction, brightness and autofocus, there is nothing much we can do if we want to adjust colour correction, brightness or zoom. Colour correction becomes crucial especially when you use a green screen, because while the camera might correct for the green colour, it might not go well with the background you choose. Similarly, the only way to adjust zoom is to move the camera up and down.
I recently installed an application, iGlass, which took care of all these problems. The image below shows various adjustments you can make. And the most useful feature is the digital zoom feature. Once you have effectively cropped the image, you can adjust the composition using your mouse.
Fix your wet phone
- AS
Once in a while, many of us accidentally let water enter our phones. It might range from complete immersion to partial spillage to even just moisture entering the phone.
Even though many of the new generation phones are water-resistant (not waterproof), this might sometimes result in muffled speaker voice and other challenges.
The traditional way is to put it in a jar of rice but that takes several hours at the least. And while it may be needed when significant water has entered the phone, for partial spillage, the process really tests your patience.
Sonic is an interesting app which plays a high-frequency sound that helps eject water in a matter of minutes. Make sure you don't have your headphones on or dogs nearby. I have personally seen it work once when I had suspected moisture build-up in my speakers.
I hope you never have to try it out, though!
Get it
Penny pincher's guide to buying a new keyboard
- NSR
Don't buy a new one.
The Mac gives very few options to re-assign keys on your keyboard. You might feel the need for many reasons—including when a single key conks off.
That's exactly what happened to me recently. The Up key stopped working. I tried every solution that people suggested on the net. Nothing worked. My trusty neighbourhood service guy gave up on it too.
Instead of going for a new keyboard, I installed an app—Karabiner-Elements (h/t Sujay) and assigned the right control key to do the job. It took surprisingly less time to adjust, and I continue to use my good old keyboard (which has been serving me well since 2012).
Bye bye binary switches
- NSR
In a March edition of FF Recommends, we shared some tips to get better sleep. There I wrote about how installing a smart bulb significantly improved my sleep.
"Two things changed since I installed it, and both had a significant impact on my sleep.
One, instead of jumping from 12W LED light to total darkness (save what came through the window), I started reducing the brightness of the lamp as I wound down, and for the last 15-20 minutes changed the colour to dark purple. I could still walk around, identify objects, but it also created a cool, relaxing ambience.
Two, I scheduled the light to go off at 11pm. At one level, there is some kind of pleasure in seeing the light switch off by itself. But, it also acted as a nudge to not touch my mobile any longer. I guess being in the cool, relaxing, dim light the previous 20 minutes had something to do with it, but it has been much easier to keep the mobile away. In fact, for a couple of days I was fast asleep even before the light went off."
If you notice, what happened here is that I replaced the regular physical switch with an app. Contrast the on/off switch with the thousands of options below.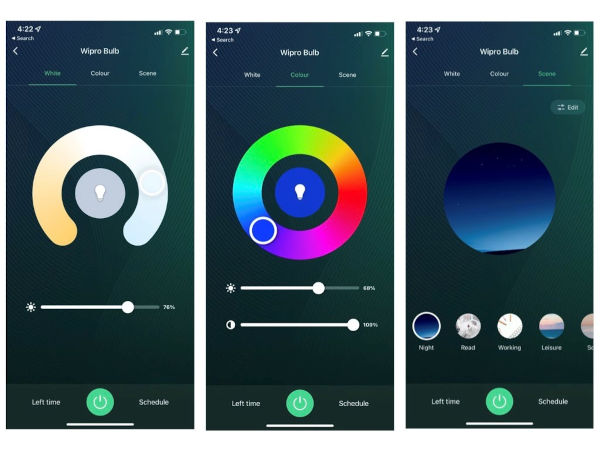 You don't even need to open an app to do all this, and have it all set up in your home screen. This is a cropped screenshot from Anmol's mobile phone.