[By Public.Resource.Org, CC BY 2.0. Via Flickr]
Good morning,
The electoral campaign in Bihar has gained momentum. The significance of the Bihari and why the Bihar elections matter to India are questions we had explored with the New Delhi-based Sankarshan Thakur, National Affairs Editor at The Telegraph. Why an election matters is something Thakur had articulated in great detail. But, How to win an Indian election? That is the theme and name of Shivam Shankar Singh's book. There's this part in there where he speaks about what drives a politician.
"The primary goal of a politician is always to win elections.
"It used to surprise me to observe the lifestyles of some politicians known to have amassed crores from alleged corruption and crony capitalism. A vast majority of them lived deceptively simple lives, wearing cheap kurta–pajamas or shirts, avoiding anything extravagant. There are obviously exceptions to every rule, and there are politicians who live lavish lifestyles funded by money that comes from unknown sources, but in my experience, the ones who have accumulated ill-gotten wealth and yet live simply far outnumber the ones who have built mansions and are seen holidaying in foreign countries wearing clothes that cost more than an average Indian's annual salary.
"A lot of what politicians do and say are inexplicable, especially when you've met them and know of their personal opinions. I have often met politicians who support Hindutva but have no animosity towards any other religion. They only want to strengthen our own culture and religion. However, these are the same politicians who deliver hate-filled speeches against Muslims during election campaigns. Similarly, politicians who weren't the least bit casteist in their dealings and interactions with people would appear to be embodiments of caste pride when on a public platform. Even the money that many are reported to have made through scams isn't funding a lavish lifestyle for most of them. They're all instruments utilized by politicians and parties to garner votes, and often have little to do with what a politician personally believes in.
"As I met people who had been in politics for decades, I came to realize how they viewed the world differently from the average person. Several of them strongly believed that the end justified the means, but more than anything, they understood the rules of the game. They understood exactly what rising up in politics entailed and believed that if they didn't play the game the way it needed to be played, then someone else would and that person would win. One of the most important things I learnt wasn't about caste, religion or money, though. It was about respect, and sometimes, about sycophancy."
In this issue.
TAMG: How women see the future
India's leap into aviation safety
What are virtual meetings really?
TAMG: How women see the future
Until now, those of you who have tuned in to Talkin' 'Bout My Generation on Saturday evenings, have listened in to parents and children exchange notes on various themes. In a departure from the familiar, this weekend, we'll get a daughter-in-law and mother-in-law duo to talk about what life looks like when examined from their eyes.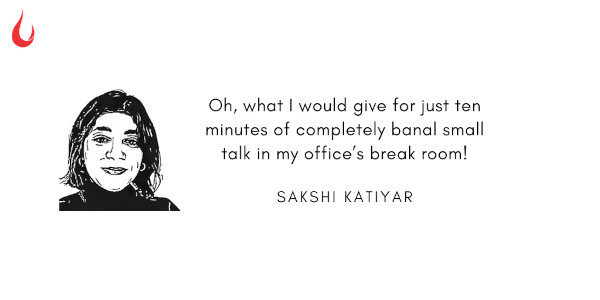 Sakshi Katiyar is a technology consultant based in New York and Sangeeta Mall is a novelist and curator who lives in Mumbai.
As a precursor to their conversation, Katiyar has written an essay that places what life looks like for her now.
"While many, mostly men, are celebrating the new post-pandemic workplace—an uber-efficient, virtual, untethered new era of work, they would have you believe—I am far more wary. For many women like me, work, and the routine it created, served as neat lines that helped us compartmentalize our daily lives. My commute, much like Clark Kent's telephone booth, was my space to transform from the domestic wife and daughter into the professional tech analyst and consultant. In my office, I felt empowered by a corporate culture that valued my talent and opinions. The gym was my solace from other people, a space of my own to burn away my frustration and get stronger. I looked forward to my train rides back home where I would listen to my favourite podcast or catch up on some reading, uninterrupted."
Her mother-in-law Sangeeta Mall couldn't agree more in an audiogram that accompanies the essay. "While men revel in the relief of saving on endless commutes, and taking quick breaks to catch up on the latest sports tournaments in between meetings, women are caught between the rock of office work and the hard place of childcare, kitchen duties and overall homemaking."
Dig Deeper
India's leap into aviation safety
Beginning the late eighties and through until the mid-nineties, Indian air space had earned a reputation for being one of the worst places to fly over. Narratives of systemic inefficiencies, pilot strikes, hijackings and plane crashes had made global headlines. And then in 1996, Indian aviation made the headlines once again—for all the wrong reasons. The Chakri Dadri disaster. This was reported as one of the world's deadliest mid-air collisions when a flight from Saudi Arabia to Delhi collided mid-air with another IL-76 from Kazakhstan to Delhi. 349 people died. A meticulously reported story on fiftytwo.in pieces together all of what transpired in the cockpit. It also paints in much detail the characters who led the investigation and their actions that compelled Indian authorities to give aviation safety a makeover. That is why we fly safe.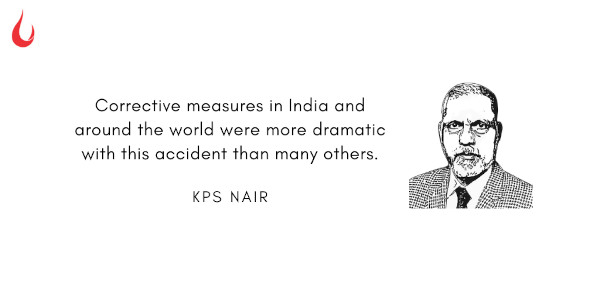 This snippet from the report offers a glimpse of what happened inside the cockpit.
At 6.36pm, SV 763 reports on the same radio channel: "Approaching FL 100."
Dutta allows them to climb to 14,000.
At 6.38pm, SV 763 touches 14,000 and seeks permission to climb higher.
Dutta tells them to stay put.
The cockpit acknowledges this. This would have been audible to the Kazakh crew through the radio, and should have alerted them to another aircraft in the vicinity.
Nine seconds later, still at 6.38pm, Repp tells Dutta they have reached 15,000 feet. But as the FDR later shows, Repp has got it wrong. At that moment, the Kazakh aircraft is at 16,348 feet. Repp is mistaken, perhaps because he doesn't have his own instruments and hasn't got a clear view of the panel. He may be misinterpreting the difference between 'reached' and 'approaching'.
Now, Dutta tells him to stay at 15,000 feet. There is traffic up ahead that will likely cross them in about five miles. Repp takes a while to absorb this and then acknowledges there will be oncoming aircraft: 'Now looking.'
During this exchange, the pilot Cherepanov and co-pilot are chatting to each other about traffic. Are they aware they are supposed to be at 15,000? Here the report assumes the co-pilot continues to descend below that, despite being explicitly told there is a flight at 14,000 feet. Has he misunderstood that he has been cleared to 14,000?
"'Just before (Charkhi Dadri), there were no real official regulations,' said Jennifer Roberts, Aviation English Specialist at the College of Aeronautics, Embry-Riddle Aeronautical University, US.
"'It was just assumed that English was the language of aviation but no pilot or controller was tested using global standards.'…
"In September-October 1998, India joined more than a 100 countries at the ICAO general assembly in Montreal with a proposal. It was simple, focused not on machines and technical specifications but the most primitive component of aviation operations: speech.
"India claimed that ATC instructions were often disregarded or misinterpreted, resulting in situations where flight levels were mixed up, wrong run-ways were approached and wrong radials steered. The assembly accepted India's working paper proposal to include language proficiency standards as part of licensing, and set in motion a long process to lay down the specifics…
"Would the requirements have come in if the crash hadn't happened? 'No. It was India that took the initiative to bring it to the ICAO assembly,' said Captain Enrique Valdes on a Zoom call from the US. Valdes, a former American pilot and air crash investigator, was a member of the language proficiency study group. 'India was the one that put it on the floor and was able to get the resolution to pass.'"
Dig Deeper
What are virtual meetings really?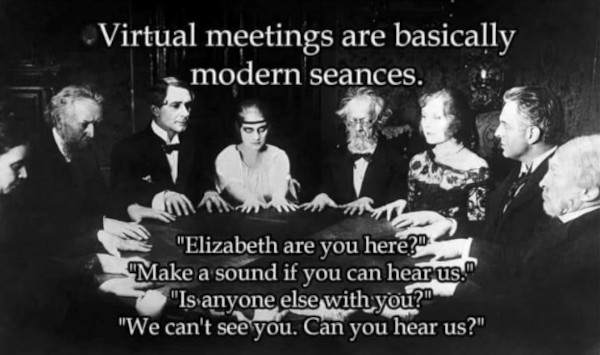 (Via WhatsApp)
Tell us what you think and find noteworthy. Head over to our Slack channel.
And if you missed previous editions of this newsletter, they're all archived here.
Bookmark Founding Fuel's special section on Thriving in Volatile Times. All our stories on how individuals and businesses are responding to the pandemic until now are posted there.
Warm regards,
Team Founding Fuel