[Image by PublicDomainPictures from Pixabay]
Good morning,
A lovely essay on The need to touch published in the Aeon Magazine got our attention. "What happens when touch becomes taboo?" is a question Laura Crucianelli, a research fellow in neuroscience at the Karolinska Institute in Stockholm, attempts to address here. "Touch is the first sense by which we encounter the world, and the final one to leave us as we approach death's edge," she writes.
However, "The 2020 pandemic served to make touch the ultimate taboo, next to coughing and sneezing in public. While people suffering from Covid-19 can lose the sense of smell and taste, touch is the sense that has been diminished for almost all of us, test-positive or not, symptomatic or not, hospitalised or not. Touch is the sense that has paid the highest price."
Ironically, Crucianelli points out, before this pandemic made its impact felt, us humans had started to revolt against touch. "The #MeToo movement exposed how women are expected to acquiesce to inappropriate touch as the cost of gaining access to certain kinds of opportunities. Meanwhile, doctors, nurses, teachers and salespeople are all guided against being too hands-on."
Call it an upside of the pandemic, if you will. But almost overnight, there is tacit acknowledgment that to touch is a human need. How to fulfill this need is something around which questions are being asked. "Some researchers have suggested that technology could enhance our physical connection with others, prompting new kinds of interpersonal tactile connections via hug blankets, kissing screens and caressing devices. For example, a project based at University College London is exploring how digital practices such as 'Likes' and emojis—signals that communicate emotional states and social feedback—could extend to the remote manipulation of textures and materials…
"There's a lot of potential for these devices, especially for touch-deprived people such as the elderly, people who live alone, or children in orphanages. Consider that 15% of people worldwide live alone, often far away from loved ones, and that statistics are suggesting that more and more people die alone, too. What a difference it would make to have the possibility of being physically close, even when far apart."
Have a good day.
In this issue
What will Biden do?
Learning how to learn from professional sports
Who knows?
What will Biden do?
It ain't over till the fat lady sings. While the chances of Joe Biden becoming the next President of the United States are looking more and more realistic, the threat of a legal challenge to the results in key battleground states from the Trump campaign still looms large. And that might delay the inevitable. In a recent column in The Economic Times, Dr Frank-Jurgen Richter, founder and chairman, Horasis: The Global Visions Community and the former Asia director of the World Economic Forum (WEF), explains what a post-Trump US might look like. He writes, "the most consequential foreign policy matter hanging in the balance is the volatile relationship between the US and China". How different is Biden from Donald Trump on this?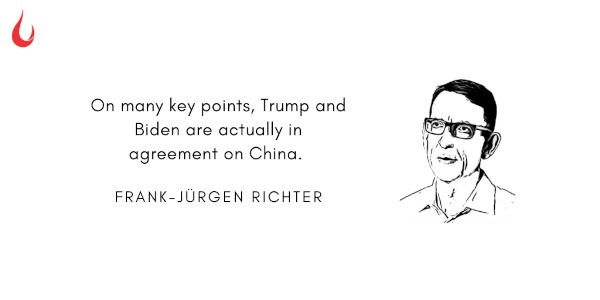 Richter writes: "If Trump is reelected, he is likely to continue down the path of economic and political decoupling with China. But we'd be wrong to expect that a Biden victory would trigger a much less confrontational stance towards China. Biden has been vocal on China's persecution of its Uighur Muslim population, unfair economic practices and intellectual property (IP) theft. Pressure to be tough on China has also been mounting within the Democratic Party.
"On many key points, Trump and Biden are actually in agreement on China. As President, Biden may well keep some existing penalties against Beijing in place, restrict Chinese imports or even use Trump's tariffs as leverage against China. But even in this context, Biden's tactics are likely to be far more multilateral in nature. We can expect him to look to allies for cooperation in jointly pressing China, while simultaneously cooperating with Beijing on vital matters such as climate change and global health security."
We have invited Richter and Sundeep Waslekar, president of international think tank Strategic Foresight Group (and a familiar name for our Founding Fuel community) for a special edition of Masterclass on Tuesday, November 24 from 6:30 PM - 8 PM IST. The theme for the conversation: The World in 2021. By the time, Waslekar and Richter team up for our Masterclass, the dust would have hopefully settled on the US elections. In conversation with Indrajit Gupta, co-founder, Founding Fuel, they will review the year 2020—and spell out the key economic, social and geopolitical challenges facing the world next year. Don't miss this one.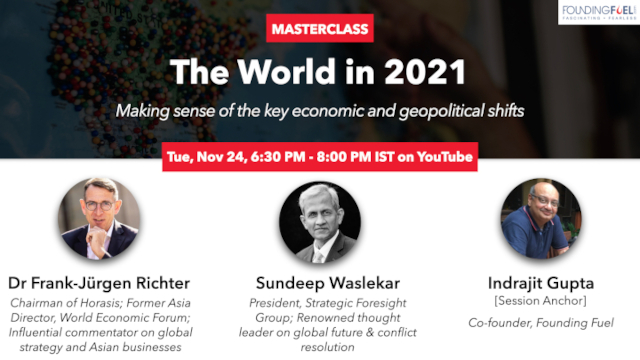 Click here to register for the Masterclass
Learning how to learn from professional sports
Carmine Gallo, author and communications coach, shares a key insight from Netflix founders' new book No Rules Rule. He writes: "Reed Hastings compares the Netflix culture to a professional sports team. Team members demand excellence from themselves and from one another. They train to win and celebrate victories together. But every player—even the team's superstar athlete—has to compete for their role with every new season."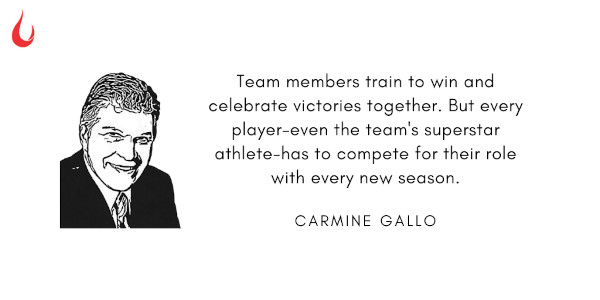 Gallo shares three things he follows to keep his skills sharp and relevant:
Read: "I read at least 50 books a year, mostly nonfiction and business books from entrepreneurs and leaders who can give me a new way of looking at the world."
Seek out people with new skills: "I constantly keep my eye out for employees and contractors who bring fresh ideas to my personal platform. If I don't have the skills required to fulfill a particular task, I find someone who does."
Keep learning: "I challenge myself every quarter to learn new skills that complement my work. For example, during the quarantine period I took online classes in writing and video production."
Dig Deeper
Who knows?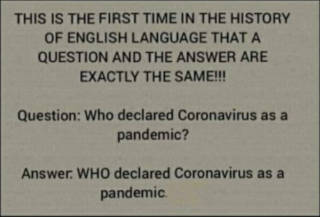 (Via WhatsApp)
What else do you think can be sorted over a cup of chai? Let us know on our Slack channel.
And if you missed previous editions of this newsletter, they're all archived here.
Bookmark Founding Fuel's special section on Thriving in Volatile Times. All our stories on how individuals and businesses are responding to the pandemic until now are posted there.
Warm regards,
Team Founding Fuel