[Photo by National Cancer Institute on Unsplash]
Good morning,
Dissenting Diagnosis, by Dr. Arun Gadre and Dr Abhay Shukla, contains insights and narratives we like to revisit every once a while. "How to choose a good doctor" always sets us thinking. "The most important asymmetry between a doctor and patient is the asymmetry of knowledge… Hence when we choose a doctor, one of the most important considerations we may keep in mind besides technical skills, is the doctor's willingness to talk, explain and offer reasonable options… One case from Dr Arun Gadre's experience is quite illustrative of the importance of these attributes in a doctor."
They go on to share an anecdote that sounds all-too-familiar.
A ninety-year-old man was admitted at midnight into a reputed nursing home, with heart failure and severe breathlessness. The relatives were anxious, since even though they knew that age was catching up with Grandpa, his present suffering was unbearable. The physician came and prescribed something; he was not ready to entertain any questions. His blunt response was: 'What can we do for a person at the age of ninety with such severe heart failure?' When the patient's son tried to inquire about how to lessen the old man's suffering, the rude answer came, 'Do not argue with me, I have no time to answer silly questions.'
Grandpa was shifted to another hospital, because his grandson was a surgeon, who reached home from another city in a timely manner, and intervened in the management. Now another physician was consulted, who patiently answered all the questions and elaborated upon the nearly hopeless long-term prognosis for the elderly man, but agreed to perform a small procedure to remove the liquid that had collected around his lungs, and thus to relieve him of his severe suffering due to breathlessness. The simple process of dialogue between the patient's caregivers and the doctor made a huge difference.
The message is simple—whenever there is a choice between two doctors with similar years of experience and qualifications, opt for the doctor who is willing to talk with you and explain things. Having placed this in perspective, they then describe various kinds of doctor-patient relationships. The most common in India is paternalistic. Informative, interpretive and deliberative are the other kinds. We think the deliberative kind is compelling because you don't discuss just the illness and line of treatment, but your value systems as well. What do you think?
In this issue.
Trump goes golfing during a key Covid-19 meeting
What happens when you Swiggy it
Tracking communication capabilities
Have a great day!
Note: Founding Fuel earns commissions for purchases made through the Amazon links in this article.
Trump goes golfing during a key Covid-19 meeting
When the US president-elect Joe Biden announced that he will nominate Antony Blinken as US secretary of state, there was a collective sigh of relief in diplomatic circles across the world. Blinken is known for his multilateralism, in sharp contrast to the approach taken by the current US President Donald Trump. Consider this paragraph from a report in The New York Times, about the G20 Summit.
"During the global financial crisis, 'George W. Bush convened the first G20 leaders' summit to chart the course for repair and reform of the world economy,' said Daniel M. Price, a former adviser to Mr. Bush who was responsible for international trade and investment. 'When that forum met yesterday to address the Covid-19 crisis, Donald Trump chose to play golf, underscoring the task facing President-elect Biden to restore the trust and confidence in US leadership so depleted by his predecessor.'"
The clincher, really was the following paragraph, which went: "In a statement on Sunday afternoon, the White House summarised Mr. Trump's participation in the weekend summit and seemed to suggest that he would be involved in the G20 next year, when Italy will host."
At one level, the statement captures the uncertainty that seems to have defined this year. How will the next year be?
We have invited Dr Frank-Jurgen Richter, founder and chairman, Horasis: The Global Visions Community and the former Asia director of the World Economic Forum (WEF), and Sundeep Waslekar, president of international think tank Strategic Foresight Group (and a familiar name for our Founding Fuel community) for a special conversation. Our conversation will start with a review of 2020, make sense of the emerging geopolitical and economic shifts and discuss what they signal for the world in 2021.
We have also invited Niranjan Rajadhyaksha, research director and senior fellow at IDFC Institute and G Venkat Raman, associate professor and a China expert at IIM Indore to be a part of the discussion.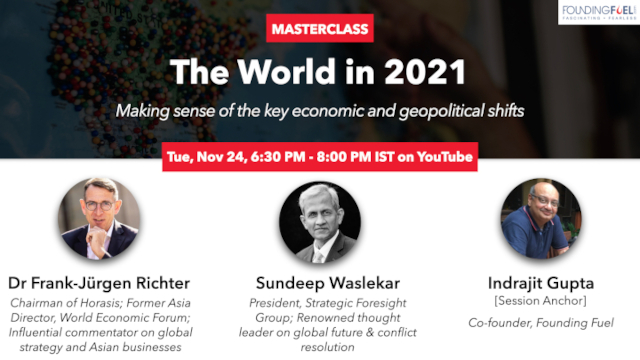 The masterclass will be livestreamed on YouTube today, Tuesday, November 24, 2020, 6.30 pm – 8.00 pm, and you will have an opportunity to engage with the conversation through digital tools.
If you haven't registered yet, here's the link: http://bit.ly/FFWORLD2021
Dig Deeper
What happens when you Swiggy it
In a recent conversation with Haresh Chawla, partner, True North, and the author of the Trendspotting series on Founding Fuel, Kunal Shah, founder of Cred, asked him how he does it. Chawla shared some of his secrets.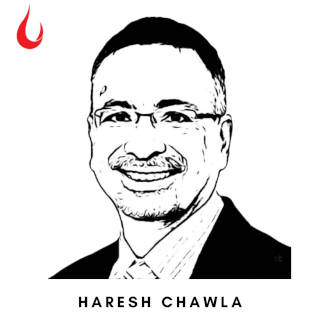 "You have to be curious about things at a slightly deeper level."
He said, "One of the biggest challenges we face as human beings and as professionals is as you become more successful, or even as you grow in experience, your mind starts narrowing the areas it tries to apply itself on, just to reduce the effort and the cognitive load it wants to take.
"So one core thing is to challenge yourself to keep your mind flexible. Mind is the ultimate tool that nature has created. If I say the word moon, your mind has reached the moon. It's faster than light and it's flexible. You can write the same thing or say the same thing with humour, you can say it with anger. It's amazing. But unfortunately it also gives us a lot of biases that actually limit your thinking. I don't have an easy answer to it but I think constantly reminding yourself not to go down the same path, and giving yourself some space to think and allowing bad thinking to happen helps.
"You have to be curious about things at a slightly deeper level. I teach at a B-school and I tell them that this little instrument, our smartphone, has almost 200-300 billion dollars worth of ideas passing through it, available to you for free. So [don't just] use the apps. Think about what's happening behind it. Don't think of Swiggy to order a burger. Think about the millions of deliveries happening every day without failure. How does a system or a company manage to connect a rider with a restaurant with a customer, do it millions of times a day, do it error-free? What does that orient the company to do? What's the internal orientation of the firm? That's a deeper level of curiosity."
Dig Deeper
Tracking communication capabilities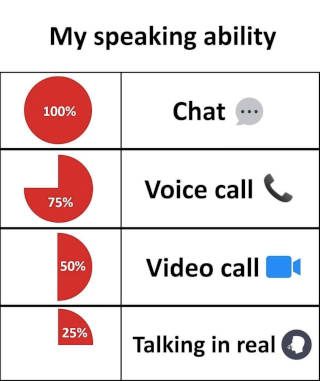 (Via WhatsApp)
What are your communication capabilities like? Let us know on our Slack channel.
And if you missed previous editions of this newsletter, they're all archived here.
Bookmark Founding Fuel's special section on Thriving in Volatile Times. All our stories on how individuals and businesses are responding to the pandemic until now are posted there.
Warm regards,
Team Founding Fuel