[Image by Thomas Ulrich from Pixabay. (Modified)]
Good morning,
One of the finest masterclasses on Abraham Lincoln some of us on the team have received was during the course of a conversation with K Ramkumar, founder and CEO of The Leadership Centre. Ram delved deep into the mind of Lincoln and impressed upon us why it is important that those in leadership roles must understand and appreciate what Lincoln managed to accomplish—and how. And a book he insisted all of us must read was Team of Rivals: The Political Genius of Abraham Lincoln by Doris Kearns Goodwin.
The book is incredible. Because of where America stands now, we thought it important to revisit some highlights. History finds ways to repeat itself. And history contains pointers to where the answers may lie.
"To Lincoln's mind, the battle to save the Union contained an even larger purpose than ending slavery, which was after all sanctioned by the very Constitution he was sworn to uphold. 'I consider the central idea pervading this struggle… is the necessity that is upon us, of proving that popular government is not an absurdity. We must settle this question now, whether in a free government the minority have the right to break up the government whenever they choose. If we fail it will go far to prove the incapability of the people to govern themselves.'...
"From the opposite point of view, a member of the British nobility expressed the hope that with 'the dissolution of the Union,' men would 'live to see an aristocracy established in America.'
"In his Farewell Address, George Washington had given voice to this transcendent idea of Union. 'It is of infinite moment,' George Washington said, 'that you should properly estimate the immense value of your national union to your collective and individual happiness; that you should cherish a cordial, habitual, and immovable attachment to it; accustoming yourselves to think and speak of it as of the palladium of your political safety and prosperity.' Foreseeing the potential for dissension, Washington advised vigilance against 'the first dawning of every attempt to alienate any portion of our country from the rest or to enfeeble the sacred ties which now link together the various parts.'
"It was this mystical idea of popular government and democracy that propelled Abraham Lincoln to call forth the thousands of soldiers who would rise up to defend the sacred Union created by the Founding Fathers… In the days before the troops arrived, rumours spread that the White House would be targeted for a direct attack."
How Lincoln prevailed eventually is worth investing time in. Have a lovely week.
In this issue
What should you do with your WhatsApp?
All Things Digital: A conversation between Nandan Nilekani and Haresh Chawla
The downside of transparency
What should you do with your WhatsApp?
WhatsApp has announced that it is changing its terms of use, which users must agree to or they won't be able to use the app. The changes essentially relate to sharing of data with Facebook. This has spooked several users who are exploring other options, primarily Signal and Telegram, in that order.
Three things to keep in mind.
WhatsApp is not sharing your chat with Facebook. The messages are encrypted end-to-end, which means even WhatsApp can't read the content.
The change in rules apply to people-to-business chats, and WhatsApp insists, it "does not change WhatsApp's data sharing practices with Facebook. It does not impact how people communicate privately with friends or family wherever they are in the world."
If you don't accept the new terms of use, you will not be able to access the app, once the new terms and privacy policy comes into effect on 8th February.
We spoke with three experts to understand the nuances. Here's what we learnt.

1. The data collected from WhatsApp and Facebook will be massive.
Abraham C Mathews, an advocate practicing in Delhi, points out that while WhatsApp still can't read your chat (it's encrypted end to end), it can collect a whole range of information around it: your contacts, status, who you speak to, how often, how long, and so on. "The data they collect is massive. When you juxtapose that with Facebook data (they know ALL of your activity on Facebook) they can make pretty good predictions even without reading your chats." So, we have to look at the change in the rules in the context of Facebook's data collection machinery.
2. We have legal options to challenge Facebook.
NS Nappinai, Supreme Court advocate and founder of Cyber Saathi, said: "Everyone seems to assume that until the personal data protection bill is passed, India doesn't have a law to protect personal data. That is a fallacy. We can evaluate the actions of WhatsApp in the light of existing provisions in The Information Technology Act and Rules framed thereunder. Section 43A of the IT Act is more like a negative covenant, which makes a company liable for negligence in the handling of sensitive personal data. However the Rules framed thereunder also effectively capture the data principles (similar to what the UK and the EU had in the 90s). The concepts of consent, retention, usage, transfer, dissemination, limitation of purpose etc., are very well covered.
"For years, WhatsApp used the promise of privacy to make people come to its platform, created a substantial monopoly, and then it changed the terms of engagement to the detriment of the user. Now one could argue that WhatsApp is therefore resorting to unconscionable terms by giving a Hobson's choice to users—ie., that they could either agree to the unilateral modification of terms that gravely impacts privacy or opt out of the platform. Existing provisions can therefore be invoked to contest such modification and there is precedent from US courts to strike down such untenable terms. Given the explicit affirmations on the fundamental right of privacy in the Puttaswamy Judgments of the Supreme Court such arguments may have a strong basis to sustain them.
"We are awaiting the outcome of earlier cases pending before the Supreme Court on an earlier change WhatsApp did with respect to sharing data with Facebook. We also have cases in the US, where the argument is that the mere fact that you've got somebody's acceptance on a standard form contract does not mean that it can be enforced. If the contract is unconscionable, it can be struck down by court. When you're changing the terms to the detriment of a user, and there is no effective alternative platform now for the users, Indian courts may also hold in similar fashion.
"The problem is that we are still leaving it for the courts to decide. Ideally, my suggestion is for the regulators to intervene and give sufficient clarifications including in terms of the Rules framed under S. 43A IT Act to ensure that not only WhatsApp, but no platform can conduct itself in such an unconscionable manner. This is a speedy remedy available but this has to be undertaken by the government authorities."
3. Be careful irrespective of which platforms you are in.
Amit Ranjan, who is co-founder, SlideShare, architect @ DigiLocker Project, government of India, and an angel investor, offers these two tips.
Always assume your chat is already hacked. What would you not like to emerge out of it, that should just go into voice calls and not chat at all.
Cloud account credentials should have two factor authentication. Also enable two factor authentication on the mobile chat app itself (if it's supported). Mobile OTP two factor authentication is fine.
Dig deeper
All Things Digital: A conversation between Nandan Nilekani and Haresh Chawla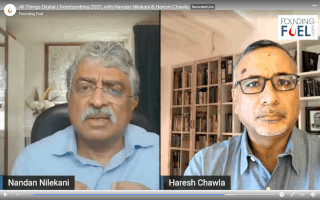 The much-anticipated conversation between Haresh Chawla and Nandan Nilekani to discuss All Things Digital was streamed live on Friday evening at 6:30 pm (IST). No one quite knows how 45 minutes went by. But what everyone who had logged in knew was that after reading Chawla's TrendSpotting 2021 published on Founding Fuel last week, a blockbuster conversation was on the way. And it happened when they both got talking.
Chawla set the ball rolling by sharing two anecdotes from his professional and personal life on how the pandemic has reset his life and asked Nilekani to share his narrative until now. Having done that, they both agreed that this is a transformational time for all of us. They then did a deep dive on three themes.
The pandemic has reset the world. While much has been written about how this may mean the end of the road for the India story, that is only one side of the coin. There are massive upsides as well that are being ignored.
For companies and leaders, while it is true the pandemic has taken its toll, there is no reason for the narrative to be all doom and gloom. New startups are emerging and India is the vaccine capital of the world.
While many countries are still grappling with how to deal with Big Tech and its monopoly, Indian regulators appear to have thought it through.
Dig deeper
The downside of transparency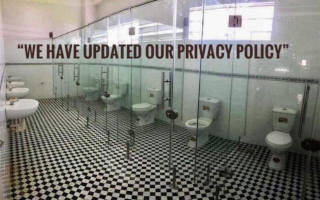 (Via WhatsApp)
Tell us what you think and find noteworthy. Head over to our our Slack channel.
And if you missed previous editions of this newsletter, they're all archived here.
Bookmark Founding Fuel's special section on Thriving in Volatile Times. All our stories on how individuals and businesses are responding to the pandemic until now are posted there.
Warm regards,
Team Founding Fuel
(Note: Founding Fuel may earn commissions for purchases made through the Amazon affiliate links in this article.)