[Image by Free-Photos from Pixabay]
Good morning,
If anyone asserts meritocracy must be rewarded, conventional wisdom is all for it. But Michael Sandel questions convention in his most recent book The Tyranny of Merit. Over the years, the Harvard University Law School Professor has earned a reputation for asking questions that may otherwise not occur to most of us.
"Morally, it is unclear why the talented deserve the outsize rewards that market-driven societies lavish on the successful. Central to the case for the meritocratic ethic is the idea that we do not deserve to be rewarded, or held back, based on factors beyond our control. But is having (or lacking) certain talents really our own doing? If not, it is hard to see why those who rise thanks to their talents deserve greater rewards than those who may be equally hard working but less endowed with the gifts a market society happens to prize.
"Those who celebrate the meritocratic ideal and make it the centre of their political project overlook this moral question. They also ignore something more politically potent: the morally unattractive attitudes the meritocratic ethic promotes, among the winners and also among the losers. Among the winners, it generates hubris; among the losers, humiliation and resentment. These moral sentiments are at the heart of the populist uprising against elites. More than a protest against immigrants and outsourcing, the populist complaint is about the tyranny of merit. And the complaint is justified.
"The relentless emphasis on creating a fair meritocracy, in which social positions reflect effort and talent, has a corrosive effect on the way we interpret our success (or the lack of it). The notion that the system rewards talent and hard work encourages the winners to consider their success their own doing, a measure of their virtue—and to look down upon those less fortunate than themselves.
"Meritocratic hubris reflects the tendency of winners to inhale too deeply of their success, to forget the luck and good fortune that helped them on their way. It is the smug conviction of those who land on top that they deserve their fate, and that those on the bottom deserve theirs, too. This attitude is the moral companion of technocratic politics.
"A lively sense of the contingency of our lot conduces to a certain humility: 'There, but for the grace of God, or the accident of fortune, go I.' But a perfect meritocracy banishes all sense of gift or grace. It diminishes our capacity to see ourselves as sharing a common fate. It leaves little room for the solidarity that can arise when we reflect on the contingency of our talents and fortunes. This is what makes merit a kind of tyranny, or unjust rule."
Let us know what you think.
Dr V Shanta, an oncologist who contributed hugely to cancer care in India, an inspiring leader who shaped The Cancer Institute, Chennai, and a fine human being whose love, empathy and professionalism made the lives of so many better, died on Tuesday. She was 93.
In this issue
The Biden Agenda
#INDVsAUS What a win!
The Washington Paradox
Have a good day.
The Biden Agenda
All of us at Founding Fuel are watching much interest the developments as they unfold in Washington. Joe Biden will be inaugurated as the 46th President of the United States of America later today (10:30 pm IST). What does his immediate agenda look like from this part of the world? A few things stand out.
1. The Stimulus Package: The Biden administration has announced an infusion of $1.9 trillion by way of a stimulus to kickstart the US economy now teetering on the brink of collapse. While this money is expected to support those who find themselves unemployed by the pandemic, it is also expected to benefit small and mid-sized businesses that suffered. "That is good news for sectors like Information Technology, healthcare and auto ancillaries; that still rely heavily on US markets for sustaining their business models," IIFL Securities wrote in a recent report. This explains the current bull run in the Indian stock markets. It is expected that this infusion of funds into India may drive up inflation and to curb it, the RBI may raise interest rates soon.
2. Regulating Big Tech: When Biden was on the campaign trail, his team published "Our Open Letter to Facebook". Addressed to "Dear Mark Zuckerberg", they wrote that the company's platform be used "to improve American democracy rather than as a tool to spread disinformation that undermines our elections." With Biden assuming office, Silicon Valley must brace for tougher regulations is something Vivek Wadhwa, entrepreneur and investor, believes. He wrote about why he thinks so in the December 2020 edition of Foreign Policy magazine. "[T]he traditionally cozy relationship between the Democratic Party and Big Tech is on the brink of turning much more contentious."
What lessons will leaders in India and other parts of the world—where data protection laws are still being framed—draw from Biden's moves? It will be interesting to watch.
3. Biden's China Policy: As things are, it is wait-and-watch for India. Under Donald Trump, US relationships with China deteriorated dramatically. In the run-up to the campaign, Biden offered very little on how his administration plans to interact with the world's second largest economy—one which the US is hugely dependent upon.
Dig Deeper
#INDVsAUS What a win!
As the last day of the final test progressed, it was clear that all our hearts were beating as one. The win cheered everyone from Rishad Premji, to Sanjay Subrahmanian to Sundar Pichai.



A special victory
For Indians, the taste of the victory was special, especially because it didn't come easy. Jarrod Kimber captured it beautifully in his newsletter.
"Rishabh Pant is on the ground and watching the ball. The one he just pulled from the best bowler in the world. Who was delivering it at the Gabba, where Australia does not lose. And he keeps watching it, onto the bat, down through fine leg, even as he falls, then rolls. He has his eye on it from flat on his back in the dirt as the ball goes into the rope.
"Pant scored a boundary while lying in the dirt.
"India lost their star bowler before the series. India lost their opening batsman for the first two games. India lost their captain after one Test. India lost their all rounder before the match. India lose their star bowler to a broken arm in the first Test. And India lose 10 wickets for 36 runs.
"They were hit again and again. The tour had barely started, and it looked like India had already lost."
Yet, India won.
Watch the winning moment: https://twitter.com/ICC/status/1351438046101610498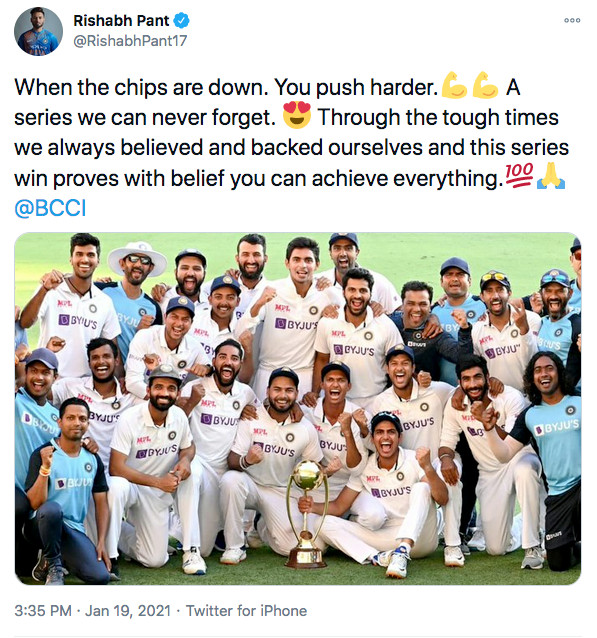 The victory smelt sweeter also because of youngsters who defeated all odds to get where they were. Take for example, Mohammed Siraj. His father Mohammed Ghaus brought him up earning his living as an auto driver. Ghaus passed away just a few days before Siraj played his first test match.
Or Washington Sundar, with a delightful history behind his name. He was named after a retired army man, PD Washington, who was his father's mentor.
A season of excitement
It was not just this specific match, but the entire series had its own drama, partly coming from the setting, and partly from the characters.
Here's an unflattering portrait of Australian audience by Sharda Ugra in Sydney Morning Herald:
"For decades, Australia was viewed from afar as the 'tough guy' of the cricket tour. Hyper-masculine. Spectators with beer cans, banners and flags. What did players experience around Australian crowds? Cricketers say they get abused all over the world but Australia is ground zero, its crowds around the boundary the most hostile and abusive. Not perpetually racist but constantly hostile. Like nowhere else. From among many accounts cricketers who'd toured Australia came a somewhat bizarre story of kids aged about 10, shouting at the touring cricketers as they walked through the crowds to the middle, giving childish imitations of adult sledges. (That story chilled the bone because it reminded me of the Adam Goodes incident, the horrific culmination of adult thought expressed through a young voice.)
"At Australian grounds, the touring team's boundary riders are usually targeted by a small, vociferous group egged on by the supportive laughter of others around them. Unsurprisingly, post-lunch beers play a key role. Visitors ignore the hecklers as best they can."
Here's Prem Panicker in his blog in response to a tweet by Ashwin and his wife Preethi: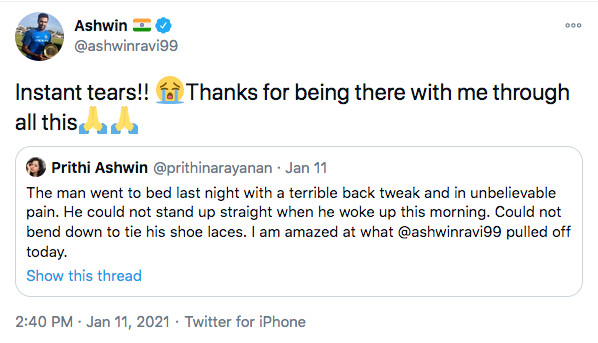 "I longed to reach out to Prithi Ashwin and to tell her, don't worry about the packing. When the physio and the medical staff examine your husband this evening, they will find out what ails his back, and they will fix it. And in the process, they will also find something none of us—not you, not us the fans who have often accused him of not putting in an honest effort—never suspected: a spine of cold steel."
The slow music
There are no overnight success stories in sports. It takes years and years of practice, and early influences matter a lot. And for a number of youngsters in the team, it came from one of India's best cricketers ever—Rahul Dravid.
Here's Harsha Bhogle on Dravid's contribution: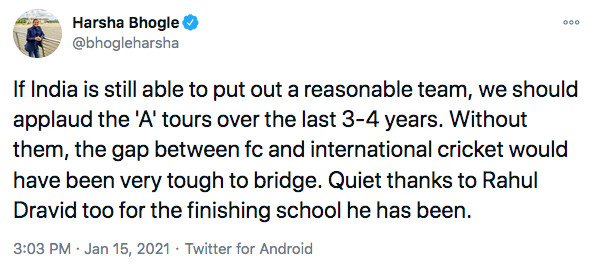 The series was many things to many people. It was also a tribute to the joys and thrills of the test format itself. As Rohit Brijnath wrote in Mint recently before the Brisbane test:
"If you wanted to remember why we love Tests, then this series is evidence, in its lurching, stoic, edgy beauty, its revealing of character, its slippery fingers, its Hazlewood spell, its triumph even in a draw, its 128 balls that India lasted in the second innings of the first Test, which is precisely how many Ashwin played in Sydney.
"Brisbane has begun. We will talk later.
"These teams are not great but what they are doing is."
The Washington Paradox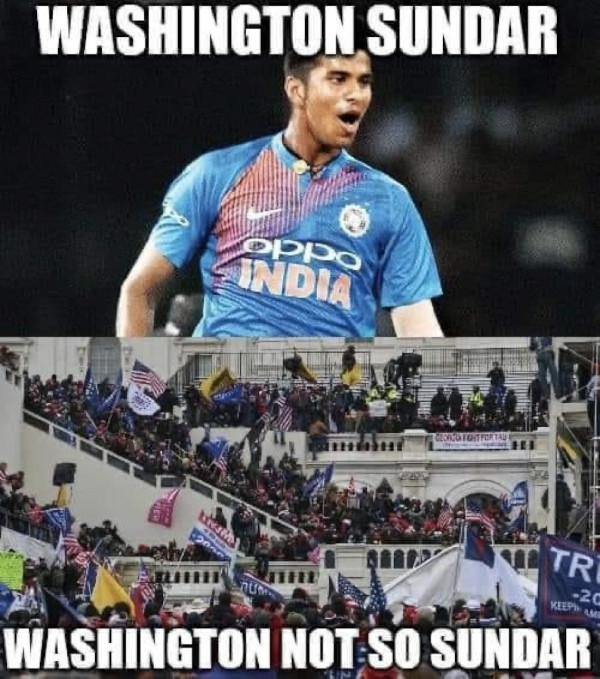 (Via WhatsApp)
Tell us what you think and find noteworthy. Head over to our our Slack channel.
And if you missed previous editions of this newsletter, they're all archived here.
Bookmark Founding Fuel's special section on Thriving in Volatile Times. All our stories on how individuals and businesses are responding to the pandemic until now are posted there.
Warm regards,
Team Founding Fuel
(Note: Founding Fuel may earn commissions for purchases made through the Amazon affiliate links in this article.)