[Photo by Museums Victoria on Unsplash]
In Black Box Thinking: Why Most People Never Learn from Their Mistakes—But Some Do, Matthew Syed tells a fascinating story from World War II. It's about a mathematician Abraham Wald, whom the military approached to solve a crucial problem. In Europe, Bomber aircrafts were getting shot down by the enemies, and military leaders wanted to reinforce them to take on the bullets. But if they reinforced the entire surface, the aircraft would become too heavy. So, they wanted to focus on areas that needed the armour most. They had the data, and had visualised the hotspots. This is how it looked.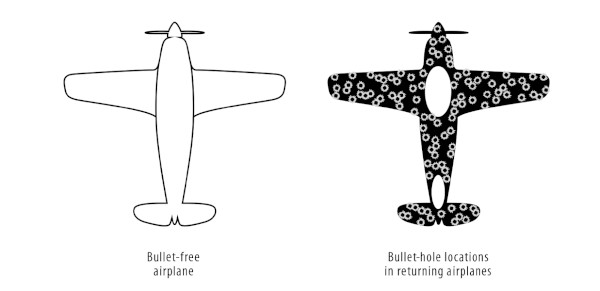 The military command's plan was simple. Reinforce the parts that had the most bullet holes.
Syed writes, "But Wald disagreed. He realized that the chiefs had neglected to take into account some key data. They were only considering the planes that had returned. They were not taking into account the planes that had not returned (i.e., the planes that had been shot down). The observable bullet holes suggested that the area around the cockpit and tail didn't need reinforcing because it was never hit. In fact, the planes that were hit in these places were crashing because this is where they were most vulnerable.
"In effect, the holes in the returning aircraft represented areas where a bomber could take damage and still return home safely. They had survived precisely because they had not been hit in the cockpit and tail. The pattern of holes, far from indicating where the armour needed to be added to the aircraft, was actually revealing the areas where it did not."
Wald's insight turned out to be hugely important for the Allied Forces' war efforts. Syed points out that it's important for everyone. To learn from failure demands, "careful thought and a willingness to pierce through the surface assumptions. Often, it means looking beyond the obvious data to glimpse the underlying lessons."
In this issue
Why India should pay more attention to labour issues
How to argue on the internet
Commuting in times of corona
Have a great day.
Why India should pay more attention to labour issues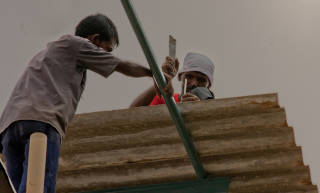 [Image by PDPics from Pixabay]
In an essay in India Development Review, Aaditeshwar Seth, co-founder of Gram Vaani and an associate professor at IIT Delhi, points out that labourers continue to face problems. For some time many companies were desperate to get back their workers, and even flew them back to factory locations. However, that was a temporary phenomenon.
Seth writes: "Of the 372 migrant workers we surveyed during October-November 2020, through our voice-based community media platform Saajha Manch, 60 percent reported that they were out of work. Of the remaining, 65 percent reported that they were getting only erratic work, for hardly three to four days in a week. Companies have no new orders, our volunteers told us, and are shutting down one branch after the next.
"Up until August 2020, it seemed that companies needed workers desperately to complete their pending orders. Not enough work is available now, and companies ask the workers to go on leave for a few days, then give another day of work. Anil, a worker who returned to Gurgaon from his village around this time says he has been walking from company to company, looking for work. 'Just another few days,' he says, 'If I don't find anything then I will go back.'"
Dig deeper
How to argue on the internet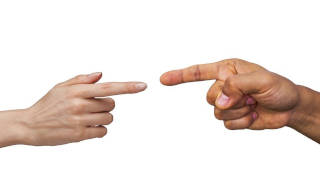 [Image by Tumisu from Pixabay]
In a New York Times column, Kristin Wong offers a number of practical tips to engage on the internet even on contentious topics, but without losing our head. Here are two that we found particularly useful.
Stop if you're in a bad mood: Before you hit send, take a second to check your emotional state.
"When in a bad mood, refrain from posting," Dr. Jure Leskovec (a Stanford professor who studies online trolling) suggested. "Breathe in and breathe out." He added that it's important to stop when you can see that the argument has become toxic, because it will only get worse from there. "Prevent downward spirals. Don't participate in toxic discussions. Nothing good will come out of it," he said.
Take your time: "We're in a society where we don't take time to look at the other person," Mr. Ribble (co-author of The Digital Citizenship Handbook for School Leaders) said. "And too often it's about speed — how quickly I can get something posted — without considering who that other person is."
In his book, Mr. Ribble recommends a four-part process: Stop and take a breath before posting anything, think about whether what you're saying is true and helpful, empathize with the person on the other end, and finally, post if you've gone through that process and deem your comment appropriate.
Dig deeper
Commuting in times of corona
As we wait for the railways and metros to restart, here's a map that continues to hold good.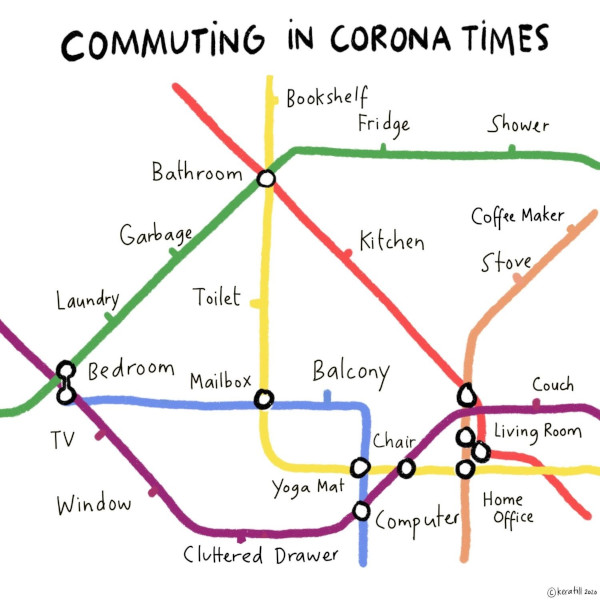 (Via WhatsApp)
Tell us what you think and find noteworthy. Head over to our our Slack channel.
And if you missed previous editions of this newsletter, they're all archived here.
Bookmark Founding Fuel's special section on Thriving in Volatile Times. All our stories on how individuals and businesses are responding to the pandemic until now are posted there.
Warm regards,
Team Founding Fuel
(Note: Founding Fuel may earn commissions for purchases made through the Amazon affiliate links in this article.)