[Photo by Matias North on Unsplash]
Good morning,
In this edition we would like to present to you two stories from Anthony de Mello's profound book, The Song of the Bird.
Nasruddin was taking a load of salt to the market. His donkey waded through the river and the salt dissolved. When it reached the opposite bank the animal ran around in circles, overjoyed that its load had been lightened. But Nasruddin was annoyed.
On the next market day he packed the panniers with cotton. The ass nearly drowned with the increased weight of the cotton soaked in the river water.
"There!" said Nasruddin gleefully. "That will teach you to think that each time you go through water you stand to gain!"
Two persons walked into religion. One came alive, the other drowned.
--
The Seeker approached the Disciple and asked respectfully, "What is the meaning of human life?"
The Disciple consulted the Works of his Master and confidently replied: "Human life is nothing but the expression of God's exuberance. "
When the Seeker addressed the same question to the Master himself, the Master said, "I do not know."
More than the stories, we would like to point to the three ways that de Mello says we can approach them. He writes
1. Read a story once. Then move on to another. This manner of reading will give you entertainment.
2. Read a story twice. Reflect on it. Apply it to your life. That will give you a taste of theology. This sort of thing can be fruitfully done in a group where the members share their reflections on the story. You then have a theological circle.
3. Read the story again, after you have reflected on it. Create a silence within you and let the story reveal to you its inner depth and meaning: something beyond words and reflections. This will give you a feel for the mystical.
In this issue
Why real-world stories help
A geriatric millennial
Aasai mugam by Vidya & Vandana
Stay safe and have a good week.
Why real-world stories help
Last year, Harvard Business School moved its famous case study methodology online in the wake of the pandemic. In a conversation in a HBR Cold Call podcast, Srikant Datar, now the dean of the business school, explained why the case study method works. He said, "the case almost always has three or four decision points that managers use already the knowledge that they have, but then exercise judgment. And students come into class, having read the case, debate, discuss, but more importantly, listen to alternative points of views, and shape their thinking and deepen their thinking based on the arguments that are made."
It's one of the reasons why in designing the month-long learning programme on Gig Mindset along with Jane McConnell, a global researcher, analyst and thought leader based in France, we included real world case studies. If you are a part of the programme, you would have a) read the powerful essay by Jane McConnell that explores what lies behind the Gig Mindset phenomenon—and how leaders must encourage gig-mindsetters inside their firms, and b) listened to the live, interactive conversation between Kavi Arasu, Founding Fuel's Director — Learning & Change and Jane, exploring the idea further on Clubhouse. Now is the time for a real-world example.
Jane will be in conversation with two gig-mindsetters, Sophie Criquelion, catalyst for diversity and inclusion at Decathlon Belgium and Ravi Sinha, HR manager, Decathlon India. On Clubhouse, May 19, 8 PM. Here, you will understand Gig Mindset in practice—and the leaders' role in enabling it.
Join us in the learning journey.
Dig deeper
A geriatric millennial
Because "hybrid" is a word we hear often from thought leaders often, an essay by Erica Dhawan on Medium got our attention right away. "I consider myself a geriatric millennial… I remember the year AOL Instant Messenger was created, and signing up for Facebook when it expanded to a handful of college campuses beyond Harvard; I also remember punch cards, bulky answering machines, and calling collect to have my mom pick me up. By the time social networking rocked the internet, I'd already spent years mastering the physical body language cues and signals I'd learned from face-to-face interactions."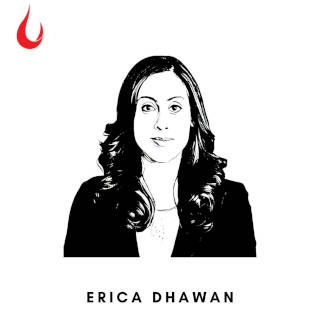 "Geriatric millennials can teach traditional communication skills to younger employees and 'Digital Body Language' to older team members"
Then it begins to get more interesting. "Geriatric millennials can read the subtext of an SMS just as well as they can pick up on a client's hesitation in their facial expressions during an in-person meeting. They are neither ignorant of technology nor so engrossed in it that a voicemail inspires fear."
Think about it for a moment: How do you read the mood in a room when working from home? Let us know?
Dig deeper
Aasai mugam by Vidya & Vandana
Do you miss seeing, not on Zoom, but face to face, your loved ones, grandparents, parents, brothers, sisters, nephews, nieces, friends during the pandemic? Do you sometimes wonder if you have forgotten the joys of physical proximity? The feeling is not new. Subramanya Bharathi captured that feeling in his song which goes, "I have forgotten the affectionate face, whom shall I share this grief with. My heart hasn't forgotten the love, but the face has faded from my memory." Musician Shankar Tucker and singers Vidya and Vandana recreate that experience for us in this song.
What's helping you get through these tough times? Send us the song, poem, quote that is your balm now. And we will share it through this newsletter.
And if you missed previous editions of this newsletter, they're all archived here.
Bookmark Founding Fuel's special section on Thriving in Volatile Times. All our stories on how individuals and businesses are responding to the pandemic until now are posted there.
Warm regards,
Team Founding Fuel
(Note: Founding Fuel may earn commissions for purchases made through the Amazon affiliate links in this article.)