[Photo by National Cancer Institute on Unsplash]
Good morning,
Much is written and spoken nowadays about how even resident doctors must go out of their way to put themselves in the line of duty. But just what do they feel? Perspective emerges from the pages of Complications: Notes from the Life of a Young Surgeon by Atul Gawande.
"I am in my seventh year of training. Only now has a simple slice through skin begun to seem like nothing, the mere start of a case. When I'm inside, the struggle remains…
"We find it hard, in medicine, to talk about this with patients. The moral burden of practicing on people is always with us, but for the most part unspoken. Before each operation, I go over to the pre-operative building area in my scrubs and introduce myself to the patient. I do it the same way every time. 'Hello, I'm Dr. Gawande, I'm one of the surgical residents, and I'll be assisting your surgeon.' That is pretty much all I say on the subject… We chat. I answer questions. Very occasionally, patients are taken aback. 'No resident is doing my surgery' they say. I try to reassure (them)… 'The attending surgeon is always in charge.'
"None of this is exactly a lie. The attending is in charge, and a resident knows better than to forget that… Yet to say I just assisted remains a kind of subterfuge. I wasn't merely an extra pair of hands, after all… I was there to help, yes, but I was there to practice, too…
"In medicine, we have long faced a conflict between the imperatives to give patients the best possible care and the need to provide novices with experience. Residencies attempt to mitigate potential harm through supervision and graduated responsibility. And there is reason to think patients actually benefit from teaching. Studies generally find teaching hospitals have better outcomes than non-teaching hospitals. Residents may be amateurs, but having them around checking on patients, asking questions, and keeping faculty on their toes seems to help."
Now that we think about it, there's an insight embedded here. It emerged when Jane McConnell, Ravi Venkatesan and Santosh Desai engaged in a conversation facilitated by Kavi Arasu on Monday evening around Founding Fuel's Masterclass on A Bold New Breed around the Gig Mindset. "The real distinction is whether you value the minds of people, or do you want people to do as they are told."
A recording of the plenary and a summary would have landed in the inboxes of all those who had registered. Let us know what you think. Have a good day and stay safe.
In this issue
The invention of an empire
The hybrid work paradox
Justice Explained [Image]
The invention of an empire
It is with much interest that we tuned into two conversations featuring Brad Stone, author of Amazon Unbound: Jeff Bezos and the Invention of a Global Empire. Stone heads global technology coverage at Bloomberg Businessweek and we are familiar with an earlier book on Amazon, The Everything Store. One of the questions on our mind was, what was he hoping to accomplish by writing another book on Amazon?
That was a question Stone answered right away. That earlier book documented the first 15 years of Amazon and took us through its ride to near bankruptcy and rise through the dotcom years. Around 2017 though, "the Kindle company became the Alexa company." It was now on its way to take over our lives. Questions were being asked about the disproportionate power it wields over our lives. When did this happen? How must this entity be viewed?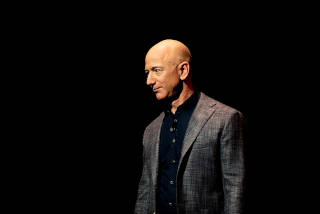 [Daniel Oberhaus, CC BY 4.0, via Wikimedia Commons]
"He could find a mathematical error in the appendix of a file, rip the file and throw it away. That was Bezos 1.0"
And above all else, what do critics get right and wrong about entities such as Amazon and Big Tech? "[W]hat they get right is Amazon's use of private labels, use of data and those are things I want to understand better as a journalist. They are opaque about it." But Stone declines to buy the argument that Amazon controls the customer. "Critics don't understand the internet."
And then there is Jeff Bezos himself. He recounts there is a version of Bezos who was deeply involved in everything to the consternation of his managers. But now, he has learnt to pull back and hold himself in check. Having said that, Bezos does keep an eye on certain businesses in Amazon's portfolio such as healthcare and keeps scanning the horizon for the next big opportunity.
Stone makes the point that Amazon has grown to a point that it is time regulatory authorities think about how technology companies such as Amazon must be thought about. The conversation is a provocative one and his book sounds compelling. We plan to read it soon.
Dig deeper
The hybrid work paradox
Because everybody is grappling with how to go about the hybrid work culture, Satya Nadella's post on LinkedIn on the theme got our attention. We culled some snippets from his post.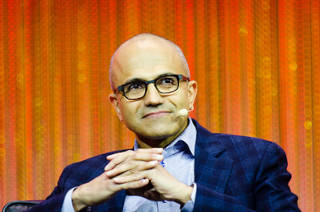 [By Heisenberg Media, CC BY 2.0, via Flickr]
"Hybrid work represents the biggest shift to how we work in our generation."
"According to our research, the vast majority of employees say they want more flexible remote work options, but at the same time also say they want more in-person collaboration, post-pandemic. This is the hybrid work paradox.
"When it comes to preparing our employees for hybrid work, we are prioritizing three things: social capital, knowledge capital, and human capital.
"On social capital, every business must be world class at all forms of synchronous and asynchronous communications, to sustain culture across the organization… Employees now expect all meeting information—whether that's recordings, transcripts, or highlights—to be available on demand, and at double speed, at a time that works for them.
"We're working to help employees pick up knowledge and credentials so that others can find them and build upon their expertise. It's why we're providing personalized training content to employees and also centralizing company wide training, all within the flow of work.
"We're also using analytics to help employees improve work habits and help managers proactively engage teams at risk of burnout."
Where does your organization stand on this? What are your thoughts? Let us know.
Dig deeper
Justice, explained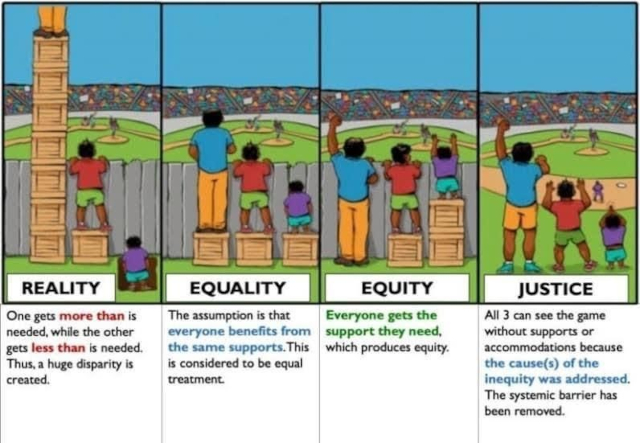 (Via WhatsApp)
What's helping you get through these tough times? Send us the song, poem, quote that is your balm now. And we will share it through this newsletter.
And if you missed previous editions of this newsletter, they're all archived here.
Bookmark Founding Fuel's special section on Thriving in Volatile Times. All our stories on how individuals and businesses are responding to the pandemic until now are posted there.
Warm regards,
Team Founding Fuel
(Note: Founding Fuel may earn commissions for purchases made through the Amazon affiliate links in this article.)