[Photo by Wyron A on Unsplash]
Good morning
In today's newsletter, we will look at an interesting incident that took place in the world of chess. The public reaction to the event involving Zerodha's co-founder Nikhil Kamath underlines the seriousness with which society looks at ethics. An even more important question is around how it has changed the perception of Zerodha which has been in many ways a darling of the startup ecosystem.
In Know-How: The 8 Skills that Separate People Who Perform from those Who Don't, Ram Charan points out how today's leaders have to look at the whole question of legal and ethical issues.
He writes, "Laws and the courts are a lagging indicator of society's evolving values and expectations, and a leader who focuses exclusively on parsing what is legal and illegal according to the law books is putting the company at risk. It is increasingly evident that juries are less than skilled at understanding complex business cases. In many foreign venues courts routinely succumb to societal pressures and expectations and reach decisions that clearly are not warranted by legal technicalities.
"Societal trends tend to start in small ways that aren't readily noticed at the level of corporate leaders. Only when those trends have taken on a momentum all their own and are becoming popular topics in the media do they begin to become apparent. By that time it is often too late to do anything proactive and leaders are forced to go on the defensive. Rachel Carson's 1962 book Silent Spring, an indictment of the widespread use of pesticides, touched off the environmental movement and Ralph Nader's 1965 book Unsafe at Any Speed sparked a demand for safer automobiles. In retrospect it is very difficult to argue against protecting the environment or against seat belts and airbags, but at the time the industries under attack vilified both authors and resisted making changes until new laws forced them to do so."
Clearly, operating within the boundaries of law is necessary, but not sufficient. Leaders should look at the problems they face using an ethical lens—in their professional, personal and social lives.
Ram Charan writes, "Many companies employ skilled legal talent that might be able to fend off such attacks on strictly legal grounds. But in the wake of recent corporate scandals, most notably Enron and WorldCom, public opinion has shifted against the business community, creating a deepening sense that companies are obligated not just to follow the letter of the law, but its spirit as well."
In this issue
What Vishy Anand really means
Twitter: India & Nigeria
[Song] It's Okay
What Vishy Anand really means
Sunday evening had most people shaking their heads in disbelief when Nikhil Kamath, the co-founder of Zerodha, beat Viswanathan (Vishy) Anand at a charity event organised by Chess.com to raise funds for people impacted by Covid-19. The disbelief turned into anger as aficionados examined the game closely. It didn't take them long to figure Kamath had cheated and his account was promptly suspended. (Read Chess.com's statement here). Even as Kamath morphed from superstar to the butt of jokes overnight, we turned our attention to an interview with Vishy Anand earlier this year on what makes him tick.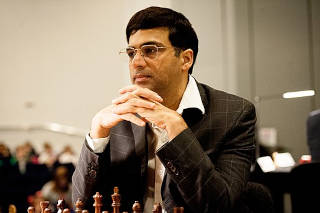 [By Wolfgang Jekel, CC BY 2.0, via Wikimedia Commons]
In response to a question on whether chess players are more intelligent than most other people, he was straightforward.
"For me, the most important thing is to get better. Chess players are mostly intelligent. It's a specialised intelligence. But if you spend 20 hours playing chess, you get really good at it. Just like you would become a better mathematician if you spend all your time on it."
And in the seventies and eighties when he was growing up, chess was a career option for people who lived in the Soviet Bloc. But all that changed with the emergence of that genius Bobby Fischer. Doors started to open up for everyone. In the India that Vishy was growing up in though, career options were limited.
To stay invested in the game and earn a living, "You had to find a job in the government or a PSU Bank and pursue chess," he says. But as reforms started to be unleashed, computerisation started to percolate, the telecom infrastructure started to ramp up, and its impact could be felt on how chess was played in India, Vishy recalls. That is when, he says, things started to change and career options in the game started to open up. By then, he had started to earn a reputation for himself.
He goes on to share an anecdote from his growing up years about a well meaning older man on a train, who didn't know him personally. On seeing the young boy, he asked Vishy what he does. When he said he plays chess, the man said, this isn't something he must pursue as a career option in the longer run—unless he is in the class of Viswanathan Anand.
That Vishy said it with a poker face is why we love him as much.
Dig deeper
Twitter: India & Nigeria
There's an old adage that says if you are doing something right, you are pissing off everyone. The problem is, if you are pissing off everyone, you could be doing something wrong too. It's not clear if Twitter is doing something right or wrong, but a lot of people in India seem to be angry at Twitter. They are turning their faces away from irony, and using the platform to express their outrage.
It might be a good time to compare notes with Nigeria, which suspended Twitter 11 days ago. The rest of the World has an interesting story on what's behind the decision. RoW reports:
"There is a growing consensus within the government, calling on Twitter to establish a local presence in order to grasp local context. The concern was exacerbated in April when Twitter announced it was opening its first African office in neighbouring Ghana. Some in the Nigerian government saw that as a snub, given Nigeria's much larger economy and thriving tech scene. Although the jobs advertised were based in Accra, several of the key roles were focused on covering Nigeria.
"'There is the general feeling at the fact that they [Twitter] have so many users in Nigeria, their users can sway opinions and lead to carnage, but they do not have a local presence that gives them context,'" said one of the presidency sources, who spoke on the condition of anonymity.
"'They [Twitter] want to flag a tweet, but then they want some random person in Silicon Valley to decide whether that tweet violates [Twitter's policy] or not. [But this person] doesn't know anything; he doesn't understand the context; he doesn't understand the feeling; he doesn't understand the history.'
"Now, Mohammed, through the NBC, is mandating that Twitter, and other platforms, hires a local team and secures a license to remain accessible within the country."
Dig deeper
Still curious?
When machines beat men, they make us seriously think about our place in a technologically advanced world and we tend to overestimate machines and underestimate men, writes NS Ramnath. Read: AlphaGo vs. Lee Se-dol: Why a win for AI is not a lose for humanity
AI systems may be making important decisions that will fundamentally affect the lives of Indians. For AI to be truly transformative though, its ethical biases need to be rooted out, writes N Dayasindhu. Read: Not AI alone but AI + ethics
[Song] It's Okay
This song went viral last week after Jane Marczewski made her debut on America's Got Talent. It was shared with us by a visibly moved Sonali Kelkar. On listening to it, we knew why.
What's helping you get through these tough times? Send us the song, poem, quote that is your balm now. And we will share it through this newsletter.
And if you missed previous editions of this newsletter, they're all archived here.
Bookmark Founding Fuel's special section on Thriving in Volatile Times. All our stories on how individuals and businesses are responding to the pandemic until now are posted there.
Warm regards,
Team Founding Fuel
(Note: Founding Fuel may earn commissions for purchases made through the Amazon affiliate links in this article.)