[Satyajit Ray with Ravi Shankar recording for Pather Panchali. By Unknown author - Scanned from Sandip Ray's book Satyajit Ray's Ravi Shankar: An Unfilmed Visual Script, Public Domain]
Good morning,
As we celebrate Satyajit Ray's centenary year debating whether the Netflix series Ray is a worthy enough tribute, here are two interesting anecdotes from film producer and director Suresh Jindal's My Adventures with Satyajit Ray: The Making of Shatranj Ke Khilari.
Jindal writes: "While working on my first film I heard a legend about Ray from our director Basu Chatterjee. When Ray was sent for training to the London head office of the advertising firm of which he was the creative director in Calcutta, he watched almost hundred films in his three months there. And before he went to see a film based on a literary classic, he would write his own screenplay and compare it to what he later saw. There was nothing in the world of cinema that he didn't seem to know. He was a veritable encyclopaedia on the topic. He never refused to see films by struggling film-makers. At film festivals, he and Sandip usually saw three to four films a day!"
Talent and hardwork alone weren't enough. Ray had to fight the prejudices of that time.
Jindal goes on to write: "Even Ray had run-ins of this sort early on in his international career. When he was invited to be on the jury of the Cannes Film Festival, only one invite was sent to him. Never one to ask for anything, he inquired if he could bring his wife along, since he knew this was a matter of policy for those invited. The festival coordinator reluctantly agreed and sent him two economy-class tickets. Since economy seats were extremely uncomfortable for him, he made further enquiries and found out that the festival always sent first-class tickets along with five-star hotel accommodation, as is the norm even now. Rather than raise a fuss, he declined the invitation and didn't attend the festival."
In this issue
The Great Billionaire Crackdown
Creator economy's mental health problem
Vaccine inequity
The Great Billionaire Crackdown
We all know about the story of Jack Ma, the billionaire who lost his sheen just before what was supposed to be one of the world's biggest IPOs. In the turmoil that followed, he lost billions of dollars in wealth. He is not the only one. Bloomberg reports, "Even as the world's 10 wealthiest people added $209 billion to their net worth in the first half of 2021, China's richest tycoons in the Bloomberg Billionaires Index saw their combined fortunes shrink by $16 billion."
Here's a chart that captures the fall.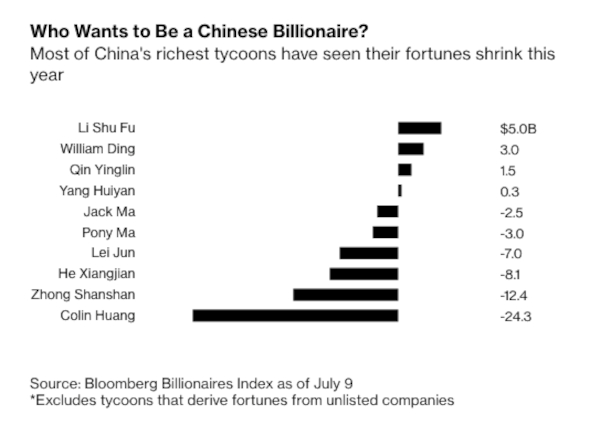 Bloomberg explains: "Behind the losses is a crackdown that has only intensified since November, when Ma's Ant Group Co. was forced to pull its blockbuster initial public offering at the last minute. Policy makers are tightening regulations on some of the most important facets of Asia's largest economy, from financial services to internet platforms and the data that underpins most big businesses in modern China… Beijing's motivations for the crackdown are varied. They include concerns about anticompetitive behaviour in the tech industry, risks to financial stability from lightly regulated lending platforms and the rapid proliferation of sensitive personal information in the hands of large corporations. But another undercurrent running through many of the government's latest initiatives is a not-so-secret desire to rein in the power of China's tycoons, some of whom have amassed an enormous amount of influence over the $14 trillion economy."
Dig deeper
Creator economy's mental health problem
Globally, the creator economy is a multi-billion-dollar industry which is set to grow bigger in the coming years. However, there is a growing concern around its impact on the millions of creators, who are often young. A report in The New York Times, which highlights some of the problems faced by young TikTokers, also points out it's not a new phenomenon.
NYTimes reports: "Burnout has affected generations of social media creators. In 2017, Instagram influencers began leaving the platform, saying they were feeling depressed and discouraged. 'No one seems to be having any fun anymore on Instagram,' a contributor to the blog This Is Glamorous wrote at the time.
"In 2018, Josh Ostrovsky, an Instagram creator known as The Fat Jew, who had also spoken about burnout, echoed those sentiments. 'Eventually there will be too many influencers, the market will be too saturated,' Mr. Ostrovsky said.
"That same year, many large YouTube creators began stepping away from the platform, citing mental health issues. Their critiques centered on YouTube's algorithm, which favoured longer videos and those who posted on a near-daily basis, a pace that creators said was almost impossible to meet. YouTube product managers and executives addressed creators' concerns and promised a solution.
"But problems with burnout in the creator community are endemic. 'If you slow down, you might disappear,' the YouTuber Olga Kay told Fast Company in 2014."
Tiktok, which was popular in India too before it was banned, turned out to be no different. What can a platform do about it?
The NYTimes story goes on: "'We care deeply about our creators' wellbeing, and take their concerns seriously,' a TikTok spokesperson wrote in an email statement. 'We're focused on understanding their individual content goals and experiences, and our teams continue to work to provide resources, support, and an open door for feedback.'
"But even the most helpful platforms can't alleviate the precarity that's inherent to a creator's job, or the pressure many creators put on themselves. 'It feels like I personally am failing and may never recover if a video flops,' he said."
Dig deeper
Still curious?
Vaccine inequity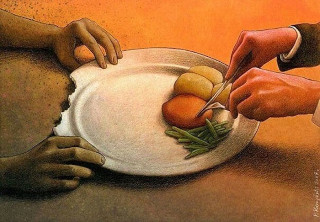 (Via Wackojaco)
Found anything interesting and noteworthy? Send it to us and we will share it through this newsletter.
And if you missed previous editions of this newsletter, they're all archived here.
Bookmark Founding Fuel's special section on Thriving in Volatile Times. All our stories on how individuals and businesses are responding to the pandemic until now are posted there.
Warm regards,
Team Founding Fuel
(Note: Founding Fuel may earn commissions for purchases made through the Amazon affiliate links in this article.)