[Photo by Mick Haupt on Unsplash]
Good morning,
In The Making of a Manager: What to Do When Everyone Looks to You, Julie Zhuo, co-founder of Sundial and earlier vice president of product design at Facebook, talks about the importance of learning how to learn in the context of being a great manager, and dealing with a demon that faces everyone at one time or the other—imposter syndrome.
Zhuo writes: "I first learned the term imposter syndrome during my junior year of college. A professor studying gender differences stood in front of a packed lecture hall, citing example after example that gave me shivers. Yes! This describes exactly how I feel! I don't deserve to be here in this auditorium, at this dazzling institution, with so many brilliant students. I must have gotten here by error or luck or the grace of the stars. When are they going to figure out that I got good grades because I have a good memory, not because I'm actually smart?
"As a new manager, I've felt this way countless times as well. Rebekah made a terrible mistake—I have no idea what I'm doing, my inner voice would whisper every time I fumbled an interaction or struggled to make a decision.
"But over the years, I have learned a secret that bears repeating: Every manager feels like an imposter sometimes. Every manager was once new, stumbling through interviews and 1:1s and awkward conversations. It's so common that instead of pretending like we are all ducks gliding effortlessly on the surface of the water, we should own up to the furious paddling that is happening beneath."
How does one deal with it? Zhuo offers a number of ways, but these two paragraphs capture the crux of it.
She writes: "Managers so often think of the role as being in service to something else—the mission of the organization, the goals of the team, the needs of others—that it's easy to forget about the most important character in your management journey: you.
"Learning how to be a great leader means learning about your superpowers and flaws, learning how to navigate the obstacles in your head, and learning how to learn. With these tools comes the confidence that you're meant to be here just as you are—no masks or pretenses needed—and that you're ready for whatever challenges lie ahead."
In this issue
Preparing yourself for the future
Reading the tea leaves on the third wave
When you are not in the ring
Have a great day.
Preparing yourself for the future
In an exclusive excerpt from Kiran Karnik's new book, Decisive Decade, the former president of Nasscom argues that the importance of knowledge will increase manifold as technology becomes ubiquitous in day-to-day living, and its role in the economy grows. Interestingly, that will create demand for greater humanization.
Karnik writes: "Technology, cost, efficiency and reliability will drive automation, resulting in devices and software that replace humans in a variety of functions. Quite apart from industrial automation, we see human-replacing devices being used far more extensively even in the home (a trend that has been accelerated after the COVID-induced lockdown). One example is the cleaning robot, replacing the floor-sweeping function in households. These robots are likely to become ubiquitous in middle-class households, being less bulky, more efficient and cheaper than a vacuum cleaner, which was a rarity in countries like India. Similarly, new versions of washing machines and dishwashers will increasingly replace human labour (and househelp). At the same time, there is growing automation in the workplace too. Unskilled workers, employed in lifting and shifting materials, have been replaced by fork-lift trucks; robots have replaced humans in many assembly operations and skilled technicians have given way to digitally driven machines for tasks like metal-cutting. This growing level of automation in both workplace and home is likely to generate a backlash, with people longing for human interaction. An early indication of this is the number of people who recognize the ease and efficiency of an interactive voice response system (IVRS), but yet hanker for a human being at the other end. While Alexa may answer all your queries efficiently and correctly, it is not an adequate replacement for a person-to-person conversation."
Dig deeper
Reading the tea leaves on the third wave
When someone asked Dr Mathew Varghese, one of the clearest explainers of Covid-19, for his views on the third wave, he said predicting the third wave belongs to the realm of astrology. While there is a broad consensus that there will be a third wave, no one clearly knows the details on when it will hit, or how severe it will be. There is a concern that we might be closer to a third wave because Kerala and Maharashtra account for most of the cases today, as the two states did right at the beginning of the second wave.
Is it the same? IndiaSpend digs deeper into the Kerala numbers to conclude that at least with respect to Kerala, it's different. Here's an excerpt from the story.
"The Indian Council of Medical Research has projected, in some scenarios, that India's third wave could begin as early as August. Could the rise in Kerala then be heralding the start of the third wave in India?
"Unlikely, say health experts, pointing to the absence of a steep rise in infections. Cases are increasing at a slow rate in Kerala, despite the relaxation of lockdown restrictions and the rise of the more transmissible Delta variant in the state, they tell us. 'Mobility is up, people are mixing and with Delta [variant dominating], the numbers should be shooting up, not stabilising,' Rajeev Sadanandan, the chief executive of Health Systems Transformation Platform (HSTP), a New Delhi-based nonprofit, and Kerala's former additional chief secretary of health, told IndiaSpend.
"Kerala had about half as many people with Covid-19 antibodies compared to the national average, ahead of the second wave, per health ministry data. 'Hitherto uninfected pockets of people getting infected are sustaining the current high numbers,' Gautam Menon, professor of physics and biology at Ashoka University, Sonepat, told IndiaSpend, adding that these are not increasing substantially."
Dig deeper
Still curious?
When you are not in the ring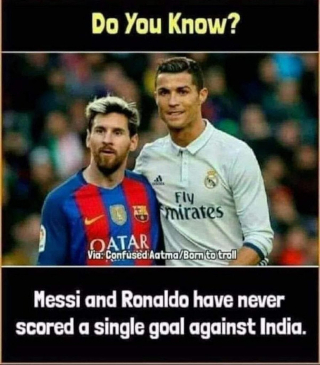 (via Rajesh Mukherjea)
Found anything interesting and noteworthy? Send it to us and we will share it through this newsletter.
And if you missed previous editions of this newsletter, they're all archived here.
Bookmark Founding Fuel's special section on Thriving in Volatile Times. All our stories on how individuals and businesses are responding to the pandemic until now are posted there.
Warm regards,
Team Founding Fuel
(Note: Founding Fuel may earn commissions for purchases made through the Amazon affiliate links in this article.)