[Photo by Vince Fleming on Unsplash]
Good morning,
In Anthro-Vision: How Anthropology Can Explain Business and Life, Gillian Tett makes a strong argument for why technocrats and scientists should shed their tunnel vision, and adopt a lateral vision, giving importance to human beings, and how they behave individually, and as a group. Now, it might seem that businesses have already adopted this approach—and disciplines such as design thinking have reinforced it. One of the key insights from Tett, who is chair of the editorial board at FT, US, is that they have to turn the lens on themselves, on their own organisations.
Towards the end of the book, she reflects on what could be the implications. She writes, "economists would broaden their lens beyond money and markets, to consider a wider range of exchanges, and pay more attention to issues once labeled as 'externalities,' such as the environment. The economic profession would see how the tribal patterns in their own discipline have encouraged tunnel vision. (Some economists are trying to do that, and I salute them; but not enough.)
"Similarly, if corporate executives adopted anthro-vision, they would pay more attention to social dynamics inside companies and recognize that social interactions, symbols, and rituals matter, even if they are not con panio. They would see that it is a mistake for human resources departments to only hire candidates that are a 'good cultural fit' (i.e., the same as everyone else already there) and realize instead that embracing a diversity of mindsets creates dynamism. Corporate executives with anthro-vision would also pay more attention to the social and environmental footprint of a company on the world, and think about the consequence of what companies do, for good and bad."
In an earlier book, Tett, who also holds a PhD in anthropology, explained how this tunnel vision led to the financial crisis of 2008. In this book, besides finance, she also looks at technology companies.
She writes, "many tech companies have hired anthropologists to study their customers in recent decades. This is laudable. But there is now an urgent need for techies to flip the lens and study themselves, to see how they (like bankers) have slipped into a mental frame that can seem amoral to others, with its reverence for efficiency, innovation, and Darwinian competition, and a tendency to borrow the language and imagery of computing to talk about people (say, by using phrases such as 'the social graph' or 'social nodes')."
On a different note, here's an important update: On Saturday at 8 PM, Founding Fuel will host a special conversation on Clubhouse. The theme: Making diversity and inclusion agendas work for India Inc. Aparajita 'Opu' Bhattacharyya will be in conversation with Parmesh Shahani, Kalpana Tatavarti and Swati Jena. Do block your calendar. Here's the link to the Clubhouse chat. Do join.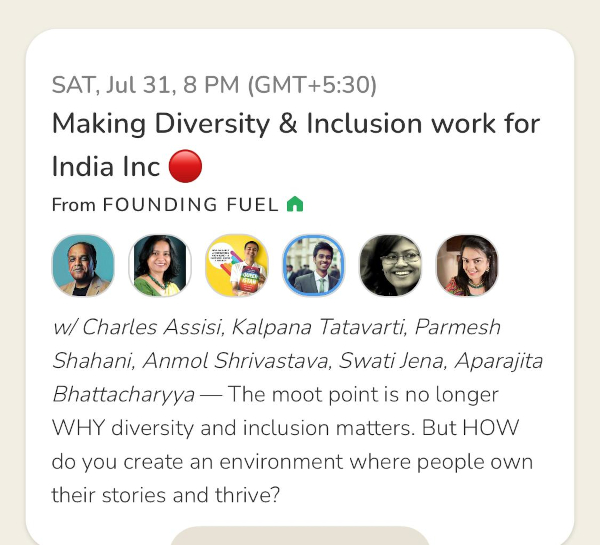 In this issue
Are we building back better?
The business of disinformation
When Tendulkar met Federer
Have a good day.
Are we building back better?
One of the assumptions we make about the economy is that GDP is good. As P Chidambaram, former finance minister, says, "Growth is the best antidote to poverty." However, that assumption has been called to question over the last several years—leading to protests and inclusive politics. As we look at the headline numbers to see if India is recovering from the pandemic, it is key to keep that question in mind.
In a column in The Indian Express, Mrinalini Jha and Rosa Abraham, who teach at Azim Premji University, ask if growth in a sector translates to benefits to its workers. They write:
"To get a sense of how workers employed by the sector benefited from this growth in GVA [gross value added], we look at the 'labour share'. The labour share is a rough estimate of the share of value added that accrues to the workers, in effect through wages and salaries. In the last quarter of 2019-20, of the roughly Rs 2.75 lakh crore GVA, labour share was 21% based on official estimates of GVA and CMIE-CPHS estimates of employment. A year later, despite the same sector having grown by twice the rate, labour share actually fell to 18%. This fall in labour share is indicative of a corresponding rise in the profits made in the sector.
"The growth that this sector has experienced has not 'trickled down' to the workers employed in it. In fact, we find a negative relationship between GVA and labour share of the sector—an increase in GVA accompanied by a decrease in labour share, pointing to a further worsening of the relative position of workers even as they go back to work after braving the economically harsh months of the pandemic and lockdowns last year."
DIg deeper
The business of disinformation
That social media is used to disseminate disinformation is well documented. But just how deep the rot is, the shadowy creatures that power this economy and how far they have gone is a theme The New York Times investigated. And India figured prominently.
Max Fisher, a columnist for the newspaper writes: "Private firms, straddling traditional marketing and the shadow world of geopolitical influence operations, are selling services once conducted principally by intelligence agencies.
"They sow discord, meddle in elections, seed false narratives and push viral conspiracies, mostly on social media. And they offer clients something precious: deniability.
"'Disinfo-for-hire actors being employed by government or government-adjacent actors is growing and serious,' said Graham Brookie, director of the Atlantic Council's Digital Forensic Research Lab, calling it 'a boom industry.'
"Similar campaigns have been recently found promoting India's ruling party, Egyptian foreign policy aims and political figures in Bolivia and Venezuela."
Fisher's investigations revealed that "In India, dozens of government-run Twitter accounts have shared posts from India Vs Disinformation, a website and set of social media feeds that purport to fact-check news stories on India."
However, "India Vs Disinformation is, in reality, the product of a Canadian communications firm called Press Monitor."
Dig deeper
An 'ideas factory'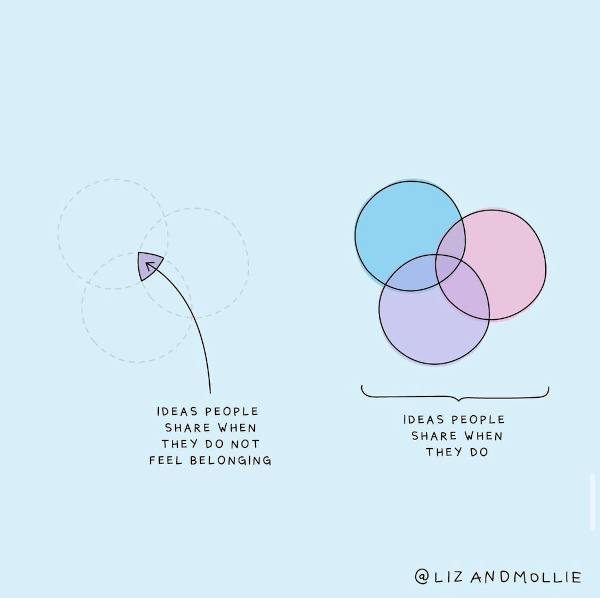 Found anything interesting and noteworthy? Send it to us and we will share it through this newsletter.
And if you missed previous editions of this newsletter, they're all archived here.
Bookmark Founding Fuel's special section on Thriving in Volatile Times. All our stories on how individuals and businesses are responding to the pandemic until now are posted there.
Warm regards,
Team Founding Fuel
(Note: Founding Fuel may earn commissions for purchases made through the Amazon affiliate links in this article.)