[Image by Comfreak from Pixabay]
Good morning,
The test of a first-rate intelligence, Scott Fitzgerald wrote, "is the ability to hold two opposing ideas in mind at the same time and still retain the ability to function." It's also important for making the world a better place.
In Manifesto for a Moral Revolution: Practices to Build a Better World, Jacqueline Novogratz, founder and CEO of Acumen, a non-profit global venture capital fund, writes that "most of our solutions lie in the truths or partial truths on each side, 'out beyond ideas of wrongdoing and rightdoing.'"
However, reaching out to people on the other side of the wall is not easy. She gives an example from her own work as a 'non-profit' 'venture capitalist' two ideas that might not sit well inside the heads of most of us.
She writes, "Because Acumen bridges both the nonprofit and for-profit sectors, co-investors have phoned me more than once to demand that Acumen make a grant to help an ailing company we were both supporting. One memorable call came from an irate co-investor in Africa who reached me on a Saturday morning at my home in New York City. He was unhappy with my team's insistence that all co-investors work with the troubled company on the same financial terms. The investor believed that Acumen alone should bail out the company, which was navigating treacherous financial waters.
"'Why us alone?' I asked. 'Why wouldn't you also support the company?'
"'You are patient capital,' he responded. 'You can afford to help.'
"I almost laughed out loud, for he represented a much larger and richer institution, one that could presumably take much more financial risk than Acumen.
"'We can be generous, yes,' I said, 'but equally, we focus on accountability. If you are interested in the future of the company, we'll work through how best to do it together—and take equal risk in doing so.'
"My response triggered a powerful reaction. 'You get on stages and talk about love,' this investor said, 'but when it comes down to it, you're just like everyone else.'
"I was taken aback. 'I'm sorry, but our focus is patient capital. It is not stupid capital,' I said, deliberately using language that I thought would resonate with him."
In this issue
Dealing with hybrid work
How to fix kids' addiction to smartphones?
The Senility Prayer
Have a good day
Dealing with hybrid work
That the hybrid work culture is here to stay is one thing. But employers and employees are conflicted about how to deal with it. Axios reports that on their part, "Employers haven't been clear with their definition of what hybrid work means."
Does it imply that the "[w]orkforce is hybrid or the workweek is hybrid." In turn, it "[h]asn't allowed workers to make the big changes to their lifestyles that flexible work should allow."
There are implications of this lack of clarity on the definition because "A hybrid model that calls for a few days in the office won't let workers move too far away from the office because they'll have to live within commuting distance." It defeats the purpose of going hybrid. Other issues crop up as well. "The remote employees may feel excluded and even get overlooked when assignments or promotions are handed out."
To understand this in an Indian context, in April this year, we hosted a Masterclass that culminated in a conversation between Bhargav Dasgupta, MD & CEO of ICICI Lombard and Tsedal Neeley, professor at Harvard Business School and author of Remote Work Revolution. Some compelling takeaways emerged.
The pandemic has upended the routines of even those who are used to remote work
How to stay productive is top of mind for most people
Building trust when working remotely insists that leaders think in altogether different ways
The culture of your organization as you've always known it is gone!
Leaders don't need to be experts, but continuous learners.
Dig deeper
How to fix kids' addiction to smartphones
There is no doubt that smartphones have been good for us on many counts. But, they also can cause harm. The harm they do to youngsters has been well documented. In a recent column in The New York Times, Jonathan Haidt and Jean M. Twenge discussed how to deal with it. They write:
"We can't turn back time to the pre-smartphone era, nor would we want to, given the many benefits of the technology. But we can take some reasonable steps to help teens get more of what they need.
"One important step is to give kids a long period each day when they are not distracted by their devices: the school day. Phones may be useful for getting to and from school, but they should be locked up during the school day so students can practice the lost art of paying full attention to the people around them—including their teachers.
"A second important step is to delay entry into social media, ideally keeping it entirely out of elementary and middle schools. At present, many 10- and 11-year-olds simply lie about their age to open accounts, and once that happens, other kids don't want to be excluded, so they feel pressured to do the same.
"The platforms should—at a minimum—be held legally responsible for enforcing their stated minimum age of 13. Since social media platforms have failed to do so using post-hoc detection methods, they should be required to implement age and identity verification for all new accounts, as many other industries have done. Verified users could still post under pseudonyms, and the verification could be done by reliable third parties rather than by the platforms themselves."
Dig deeper
The Senility Prayer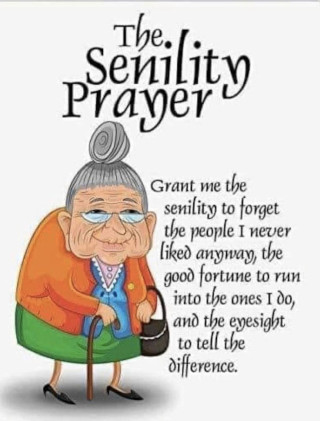 (Via WhatsApp)
Found anything interesting and noteworthy? Send it to us and we will share it through this newsletter.
And if you missed previous editions of this newsletter, they're all archived here.
Bookmark Founding Fuel's special section on Thriving in Volatile Times. All our stories on how individuals and businesses are responding to the pandemic until now are posted there.
Warm regards,
Team Founding Fuel
(Note: Founding Fuel may earn commissions for purchases made through the Amazon affiliate links in this article.)