[By Philippe Giabbanelli, CC BY-SA 3.0, via Wikimedia Commons]
Good morning,
Beauty and the meaning of life can be found in the unlikeliest of places—such as the periodic table, if you look closely. That's a thought that Oliver Sacks, one of our favourite writers, makes in this extract from Gratitude.
"When I was sent away to a boarding school as a child of six, at the outset of the Second World War, numbers became my friends; when I returned to London at ten, the elements and the periodic table became my companions. Times of stress throughout my life have led me to turn, or return, to the physical sciences, a world where there is no life, but also no death.
"And now, at this juncture, when death is no longer an abstract concept, but a presence—an all-too-close, not-to-be-denied presence—I am again surrounding myself, as I did when I was a boy, with metals and minerals, little emblems of eternity. At one end of my writing table, I have element 81 in a charming box, sent to me by element-friends in England: It says, 'Happy Thallium Birthday,' a souvenir of my eighty-first birthday last July; then, a realm devoted to lead, element 82, for my just celebrated eighty-second birthday earlier this month. Here too is a little lead casket, containing element 90, thorium, crystalline thorium, as beautiful as diamonds, and, of course, radioactive—hence the lead casket…
"Next to the circle of lead on my table is the land of bismuth: naturally occurring bismuth from Australia; little limousine-shaped ingots of bismuth from a mine in Bolivia; bismuth slowly cooled from a melt to form beautiful iridescent crystals terraced like a Hopi village; and, in a nod to Euclid and the beauty of geometry, a cylinder and a sphere made of bismuth.
"Bismuth is element 83. I do not think I will see my eighty-third birthday, but I feel there is something hopeful, something encouraging, about having '83' around. Moreover, I have a spot for Bismuth, a modest grey metal, often unregarded, ignored, even by metal lovers. My feeling as a doctor for the mistreated or the marginalized extends into the inorganic world and finds a parallel in my feelings for bismuth.
"I almost certainly will not see my polonium (eighty-fourth) birthday, nor would I want any polonium around with its intense, murderous radioactivity. But then, at the other end of my table—my periodic table—I have a beautifully machined piece of beryllium (element 4) to remind me of my childhood, and of how long ago my soon-to-end life began."
Stay safe and have a good day!
In this issue
Why India needs data protection laws now
Tim Cook's successor
Abbey Road (2021 edition)
Why India needs data protection laws now
Last week, when India's Account Aggregator system went live, many were quick to note how revolutionary it could be in sharing data.
As Bloomberg explained: "Regulators agreed to allow banks, pension funds, tax authorities, insurers and other finance firms to pool together customer information—once the user consents—to make transactions smoother. If the system works, firms will be able to access large amounts of data within seconds to assess the creditworthiness of a small business, recommend a wealth management product for an individual, or tailor an insurance policy for a family."
However, that's only one part of the story. Rahul Matthan highlighted why the other part—having a legal system in place—is important. In his latest Ex Machina column he wrote:
"As much as I have sung praises of DEPA in this column, I am acutely aware that it too suffers from infirmities that could threaten its success. India still does not have a data protection regulation and implementing a technological solution for data transfers in the absence of a legal framework could bring with it a whole host of problems we could do without.
The fact is that when it comes to regulating technology, you simply cannot have one without the other. Technology businesses are most effectively regulated through a judicious mix of law and technology—strong, principle-based laws to provide the regulatory foundation, with protocol-based technology guardrails to ensure compliance."
Dig deeper
Tim Cook's successor
When Tim Cook took over as CEO of Apple Inc from Steve Jobs in August 2011, many were sceptical, if not downright cynical. Slipping into Jobs's shoes was a tall ask, indeed. But as Mark Gurman writes in Bloomberg, "Cook has grown Apple's stock more than 1,000%, turned the company into an operations powerhouse, went all-in on custom technologies, and expanded the product portfolio with new services, wearables and a wider array of screen sizes." Gurman has followed Apple's trajectory very closely over the years and writes on consumer technology.
A question on many people's minds now is, who can step into Cook's shoes when the board of directors may have to look for someone to succeed him in 2025. Gurman attempts to answer this by examining Cook's options and the candidates that Apple Inc can look at. He reckons if Cook decides to stay on for longer, the board will be delighted.
"But there are signs that's not likely," he writes. "The belief inside Apple is that Cook just wants to stick around for one more major new product category, which is likely to be augmented reality glasses rather than a car—something that's even further out. He also understands that running a Silicon Valley company is typically a young person's game, and he's not going to stay far beyond his prime."
Dig deeper
Abbey Road (2021 edition)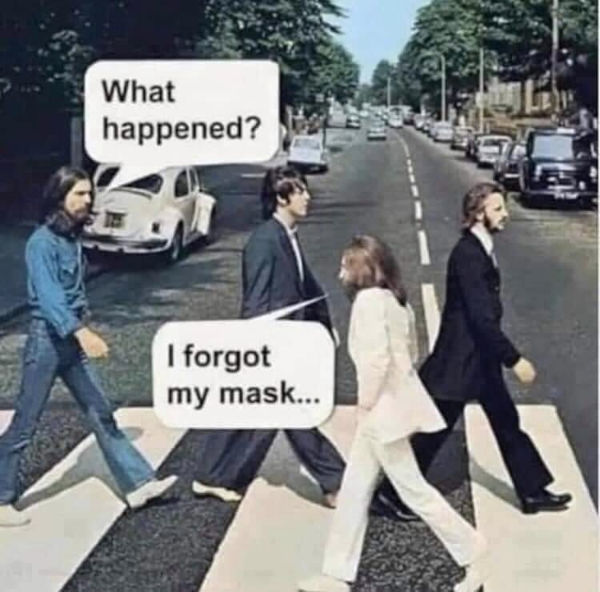 (Via WhatsApp)
Found anything interesting and noteworthy? Send it to us and we will share it through this newsletter.
And if you missed previous editions of this newsletter, they're all archived here.
Bookmark Founding Fuel's special section on Thriving in Volatile Times. All our stories on how individuals and businesses are responding to the pandemic until now are posted there.
Warm regards,
Team Founding Fuel
(Note: Founding Fuel may earn commissions for purchases made through the Amazon affiliate links in this article.)