[Photo by EMILE SEGUIN CA on Unsplash]
Good morning,
In The Art of Self Improvement, Anna Katharina Schaffner, professor of cultural history at the University of Kent, walks us through the history of some of the key ideas behind successful self-improvement practices. One of the ten timeless ideas she talks about is the one that exhorts us to 'simplify'. She writes that "the interest in simpler ways of living, working, and being has surged in recent years."
The global pandemic has only accelerated—and complicated—that need. She writes, "the rapid growth in minimalism- and back-to-basics-inspired self-help in recent years suggests that the more complex our social, economic, and technological environments become, the more we crave simplicity in our lives. It is likely that the trend will continue, perhaps even intensify, in the post-Covid-19 world.
"In the pre-Covid-19 world, technology's promise to simplify our lives had backfired. It did not just introduce significant new stressors, but reshaped our cognitive patterns, diminished our capability to be present in the here and now, and impoverished our ability deeply to connect with people. Above all, it made us lonelier than ever before, while also, paradoxically, wiping out our restorative moments of solitude. The full story of the role of technology in the post-Covid-19 world still remains to be written. It is, however, very likely that many of these challenges will only be exacerbated…
"Our opportunities for socializing, traveling, and leisure activities may well shrink for good, or else take another form. The more we are forced to conduct our public and private lives online, the more complex a task it will become to control our interactions with technology. Our quest for simplicity, then, may well have been rendered much more difficult by the events of 2020–21."
In this issue,
A deep dive into the State Vs Big Tech. Part 2 - Europe.
The pursuit of happiness
The importance of doing research
Founding Fuel Exclusive: A deep dive into the State Vs Big Tech. Part 2 - Europe
In part 1 of this 4-part series on the global moves to rein in Big Tech, G Venkat Raman, Associate Professor, Humanities and Social Sciences at IIM Indore, explored the political, economic and social motivations of the Chinese state in clipping the wings of its consumer-tech giants. In part 2, he takes a deep dive into State Vs Big Tech in Europe.
Europe's GDPR is considered the gold standard in extensive tech regulation. However, there are challenges, he writes.
To begin with, owing to the prohibitive compliance costs of GDPR, smaller companies, especially the local ones, have found it very difficult to compete on an even keel. In other words, ironically, such measures have strengthened the dominance of Big Tech and are likely to reinforce their monopolistic tendencies.
Second, there is a lack of clarity regarding the rules governing emerging technologies in fields like AI, Blockchain, and IoT.
Third, there's no consistency among member states in the way their regulatory authorities interpret the EU law. They enforce it by mapping certain rules to specific tech domains. This has compounded the problem of uniform implementation across the EU region.
Dig deeper
The pursuit of happiness
How do we pick jobs that make us happy? This is a question most of us grapple with every once a while. That is why this essay in The Atlantic by Arthur C Brooks, professor of management at the Harvard Business School, got our attention.
"Researchers who have looked for clear relationships between job satisfaction and the actual type of job one holds have overwhelmingly struck out. CareerBliss, a company dedicated to helping people find greater happiness at work, has published survey results of the 'happiest jobs' and the 'unhappiest jobs,' as rated by those who hold them. Its most recent rankings, from 2018, show the happiest jobs to be quite disparate: teaching assistant, quality-assurance analyst, net developer, marketing specialist. The unhappiest jobs are similarly grab-baggy, and fairly unrelated to education and income: accountant, security guard, cashier, supervisor…
"[s]atisfaction can be found in all sorts of vocations. After all, how many kids say, 'When I grow up, I'm going to be a quality-assurance analyst'? Rather than relentlessly pursuing a 'perfect match' career that they're sure will make them happy, a better approach is to remain flexible on the exact job, while searching for the values and culture that fit with theirs.
"Whatever job they end up in, finding a sense of accomplishment within it is crucial for job satisfaction. It helps to set goals in one's work, such as increasing skills or responsibility. Some goals lead to more happiness than others, however. While pay increases push up satisfaction temporarily, money as a career goal does not. Volumes of research show that pursuing extrinsic rewards for work, such as money, actually hurts your interest in that work. For real satisfaction, you should pursue intrinsic goals—two in particular."
Dig deeper
The importance of doing research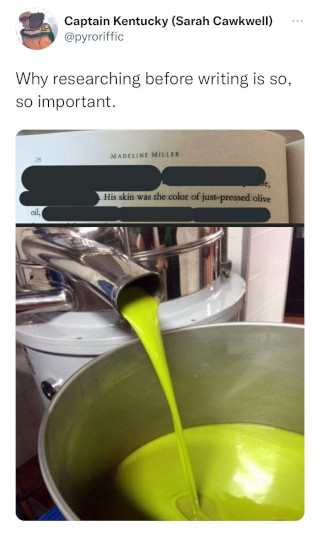 (Via Twitter)
Found anything interesting and noteworthy? Send it to us and we will share it through this newsletter.
And if you missed previous editions of this newsletter, they're all archived here.
Bookmark Founding Fuel's special section on Thriving in Volatile Times. All our stories on how individuals and businesses are responding to the pandemic until now are posted there.
Warm regards,
Team Founding Fuel
(Note: Founding Fuel may earn commissions for purchases made through the Amazon affiliate links in this article.)