[From Unsplash]
Good morning,
How life pans out depends on which part of the world you are born in. This is a pointer that emerges through this extract from Being Mortal by Atul Gawande, one of our favourite writers. This is where he talks about the time his grandfather Sitaram had grown old and was very unwell.
"My grandfather could perform only some of the basic measures of independence, and few of the more complex ones. But in India, this was not of any dire consequence. His situation prompted no family crisis meeting, no anguished debates over what to do with him. It was clear that the family would ensure my grandfather could continue to live as he desired. One of my uncles and his family lived with him, and with a small herd of children, grandchildren, nieces, and nephews nearby, he never lacked for help…
"His father had lost all but two mortgaged acres and two emaciated bulls to a moneylender when the harvest failed one year. He then died, leaving Sitaram, his eldest son, with the debts. Just eighteen years old and newly married, Sitaram was forced to enter into indentured labour on the family's two remaining acres. At one point, the only food he and his bride could afford was bread and salt. They were starving to death. But he prayed and stayed at the plow, and his prayers were answered. The harvest was spectacular. He was able to not only put food on the table but also pay off his debts. In subsequent years, he expanded his two acres to more than two hundred. He became one of the richest landowners in the village and a moneylender himself… Throughout his life, he awoke before sunrise and did not go to bed until he'd done a nighttime inspection of every acre of his fields by horse. Even when he was a hundred he would insist on doing this. My uncles were worried he'd fall—he was weak and unsteady—but they knew it was important to him. So they got him a smaller horse and made sure that someone always accompanied him. He made the rounds of his fields right up to the year he died.
"Had he lived in the West, this would have seemed absurd. It isn't safe, his doctor would say. If he persisted, then fell, and went to an emergency room with a broken hip, the hospital would not let him return home. They'd insist that he go to a nursing home. But in my grandfather's premodern world, how he wanted to live was his choice, and the family's role was to make it possible."
That's perspective. Talking about perspectives, what does the world look like from London? Do look up your inbox at 9 am for our latest offering from an analyst at the centre of it all who makes his debut today on Founding Fuel. He explains the global supply chain bottleneck and why China matters as much.
In this issue
India's gig economy
Are you a time millionaire?
Opinion's don't count
India's gig economy
A few years ago, who would have imagined that digital aggregators such as Zomato and Swiggy could emerge and employ gig workers in the hundreds of thousands? But they have. And how they treat workers is under intense scrutiny. Many allege such aggregators in the e-commerce space are unfair. But TN Hari, HR head of BigBasket argues in Mint that we look at it from a different perspective.
"India's gross domestic product (GDP) is nearly $3 trillion and assuming a realistic annual growth rate of 6%, it translates into a GDP expansion of $180 billion a year. It's a well-known fact that in India, the share of wages is around 50% of GDP. This amounts to $90 billion.
"If you divide this by the number of jobs that need to be created every year (20 million), the average wage rate per job is Rs 3.4 lakh per annum or roughly Rs 28,000 per month. And given the fact that the really well-paying jobs (roughly 10% of the total) account for approximately 50% of the wages, it's quite evident that a majority of jobs will pay significantly lower than the average of Rs 28,000.
"This is clearly borne out by data from the Central Statistics Office's (CSO) report on jobs dated 15 September 2016. If the average wage rate of these 20 million new jobs had to be say Rs 60,000 per month, the economy would have to be growing at a rate of 15% per annum. So, creating high paying jobs was never easy and will never be easy; and nor is it realistic that every one, or even a majority of the 20 million, will be employed in high paying jobs.
"According to CSO, only about 17% of India's workers are regular wage earners and less than 23% of Indian households have a regular wage earner. In other words, 77% of our households did not have a steady flow of income. Self-employed (46%) and casual labour (33%) together account for nearly 80% of the workforce and claimed to earn less than Rs 10,000 per month. These are the realities that cannot be ignored.
"Expecting a nascent industry to not only move the needle but also transform the conditions of the labour market overnight—by an order of magnitude—is both unrealistic as well as unfair.
"Anyone complaining about the quality of jobs being created by the e-commerce industry probably needs to spend some time understanding the history of job creation in India.
"So, where are these 17-20 million youth being absorbed every year currently? Clearly there is large-scale underemployment. And frankly what many of the new-age platforms have done is nothing short of a miracle both in terms of creating jobs as well as paying a fair wage."
Dig deeper
Are you a time millionaire?
Most of us might not sync well with the example right at the beginning of Sirin Kale's essay on Time Millionaires in The Guardian. It's about a man who essentially shirks work, because he finds no purpose in work.
However, think about the opposite—workaholics who end up destroying their family lives and themselves. Kale narrates the story of Samuel Binstead, a recovering alcoholic.
Kale writes, "Pre-pandemic, [Binstead] ran a 50-cover wine bar in central Sheffield. He would start work at 10am and leave at 1am, five days a week. On his days off, he would do paperwork. 'I don't think I realised how close I was to complete burnout,' he says. 'I was using work to cope with work. Being there seemed to be my only option.' His mother didn't bother inviting him to her 50th birthday, because she knew he would be busy. 'She was probably right,' he says. 'I wouldn't have been able to get the time off.'
"When the pandemic hit, the sensation of relief was overwhelming. 'It completely changed my relationship with money,' he says. 'Having the time at home was so much more valuable to me.' In September 2020, Binstead closed his wine bar and moved his business to a smaller unit. He sells coffee in the morning, and closes for the day at lunchtime. Turnover is down 75%. In the afternoons, Binstead practises photography, or sees friends. He has no career goals. 'I just want to do what I'm doing for now,' he says. 'Live a lot more presently.' He estimates that he is '100 times happier' than he was before."
Binstead is not alone. The essay quotes Charlie Warzel, co-author of the forthcoming book Out of Office: The Big Problem and Bigger Promise of Working from Home: "There's a movement here that feels pretty organic," says Warzel. "The pandemic was this massive controlled experiment in forcing people to embrace a different way of working. And what we saw was the opposite of what executives had been telling employees for decades: productivity and profits [rose]. Now, people are wondering what else employers were wrong about. What other ways of working have gotten out of sync?"
Dig deeper
Opinions don't count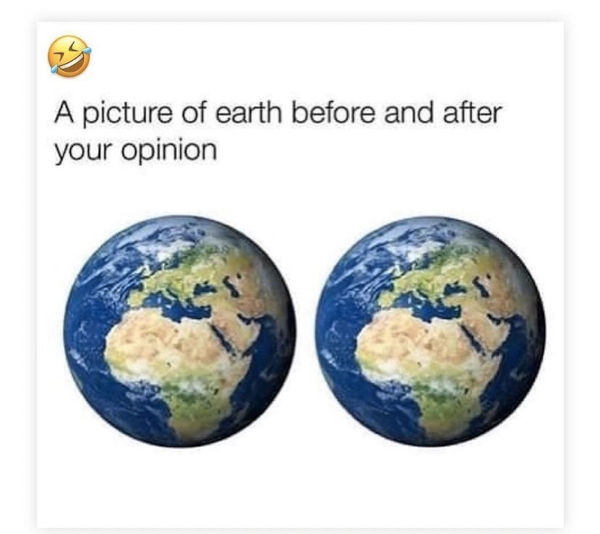 (Via WhatsApp)
Found anything interesting and noteworthy? Send it to us and we will share it through this newsletter.
And if you missed previous editions of this newsletter, they're all archived here.
Warm regards,
Team Founding Fuel
(Note: Founding Fuel may earn commissions for purchases made through the Amazon affiliate links in this article.)