[From Unsplash]
Good morning,
In Awareness: The Perils and Opportunities of Reality, Jesuit priest Anthony de Mello shares a fascinating experience from his counselling. It goes like this.
"A priest comes to me and says he's lazy; he wants to be more industrious, more active, but he is lazy. I ask him what 'lazy' means.
"In the old days I would have said to him, 'Let's see, why don't you make a list of things you want to do every day, and then every night you check them off, and it will give you a good feeling; build up habit that way.' Or I might say to him, 'Who is your ideal, your patron saint?' And if he says St. Francis Xavier, I would tell him, 'See how much Xavier worked. You must meditate on him and that will get you moving.' That's one way of going about it, but, I'm sorry to say, it's superficial. Making him use his willpower, effort, doesn't last very long. His behaviour may change, but he does not.
"So I now move in the other direction. I say to him, 'Lazy, what's that? There are a million types of laziness. Let's hear what your type of laziness is. Describe what you mean by lazy?' He says, 'Well, I never get anything done. I don't feel like doing anything.' I ask, 'You mean right from the moment you get up in the morning?' 'Yes,' he answers. 'I wake up in the morning and there's nothing worth getting up for.' 'You're depressed, then?' I ask. 'You could call it that,' he says. 'I have sort of withdrawn.' 'Have you always been like this?' I ask. 'Well, not always. When I was younger, I was more active. When I was in the seminary, I was full of life.' 'So when did this begin?' 'Oh, about three or four years ago.' I ask him if anything happened then. He thinks a while. I say, 'If you have to think so much, nothing very special could have happened four years ago. How about the year before that?' He says, 'Well, I was ordained that year.' 'Anything happen in your ordination year?' I ask. 'There was one little thing, the final examination in theology; I failed it. It was a bit of a disappointment, but I've gotten over it. The bishop was planning to send me to Rome, to eventually teach in the seminary. I rather liked the idea, but since I failed the examination, he changed his mind and sent me to this parish. Actually, there was some injustice because…'
"Now he's getting worked up; there's anger there that he hasn't gotten over. He's got to work through that disappointment. It's useless to preach him a sermon. It's useless to give him an idea. We've got to get him to face his anger and disappointment and to get some insight into all of that. When he's able to work through that, he's back into life again."
De Mello points out that working towards an ideal—of trying to be industrious in this case—can be quite counterproductive if the counsellor and the individual fails to see where the real problem lies.
He writes, "Ideals do a lot of damage. The whole time you're focusing on what should be instead of focusing on what is. And so you're imposing what should be on a present reality, never having understood what present reality is."
In this issue,
A post-pandemic wish list
Amitav Ghosh on unnoticed impacts of climate change
Corporate life
A post-pandemic wish list [Founding Fuel Exclusive]
The latest edition of Ground Realities, anchored by the team at Quipper Research, led by its co-founder Piyul Mukherjee, asked ordinary people from different walks of life what they plan to do once the pandemic is over.
The idea to capture these voices came from Dr Anil Khandelwal, the former chairman of Bank of Baroda and one of our loyal subscribers. The story, published on our site yesterday, received fantastic feedback.
Here's a sample of the answers the team (supported by Founding Fuel's Anmol Shrivastava) heard from them.
Devendra Tiwary and Chandrashekhar Shetty, drivers in Mumbai: "If the pandemic is really over, trains in India will be back to normal. That is what I am really, really waiting for. And we can go home when we want without Tatkaal and touts. And for as long as we want!"
Chandan Upadhyay, a security guard in Mumbai: My son's mundan ceremony will be at home at last. We will also do a Satyanarayan katha. This poojapath (prayer) is important. My son's life was at stake.
Dishari Banerjee, Age 11, a student who lives in Kolkata: During the pandemic I've missed my grandparents and cousins a lot and I am always planning to visit them, so that's another wish.
Dayanand Nikam, a farmer in Satara district, Maharashtra: We want to grow groundnut and extract oil from it. As Covid recedes, we believe restaurants and other outlets will open up and the demand for oil will increase. We will sell oil to them.
Dig deeper
Amitav Ghosh on unnoticed impacts of climate change
Starting Sunday, some of the world's top leaders are set to converge for COP26 in Glasgow, Scotland, to see if they can agree on ways to avert some of the worst impacts of climate change. In India, Uttarakhand and Kerala showed how unprepared we are to face disasters emerging out a warming planet. In an interview with NDTV, Amitav Ghosh, who has just published a book on the subject (The Nutmeg's Curse: Parables for a Planet in Crisis) points out that we are paying attention to them only because they are spectacular. We should also look at what's happening across the country.
He said, "the climate disaster unfolds in many different ways and one of the ways in which it unfolds most significantly is in relation to droughts and heat waves. We hardly ever talk about that but central India, Bundelkhand and so on have been devastated by long-standing droughts. These have destroyed the livelihoods of millions of farmers who ultimately migrate to the cities and become a kind of floating urban working class. Similarly salt water intrusion has destroyed the livelihoods of millions of people in the Sundarbans and they too have become essentially migrants who are eking out a living elsewhere.
"So the devastating rains, the Uttarakhand disasters that we've seen in this last year—those are spectacular disasters. So people pay attention to them. But in fact climate change is unfolding all around us. It's not a question of having been here now. It has been with us for 10-15 years which is why I've been writing about it for a long time. It's just that now the devastation is more evident."
Dig deeper
Corporate life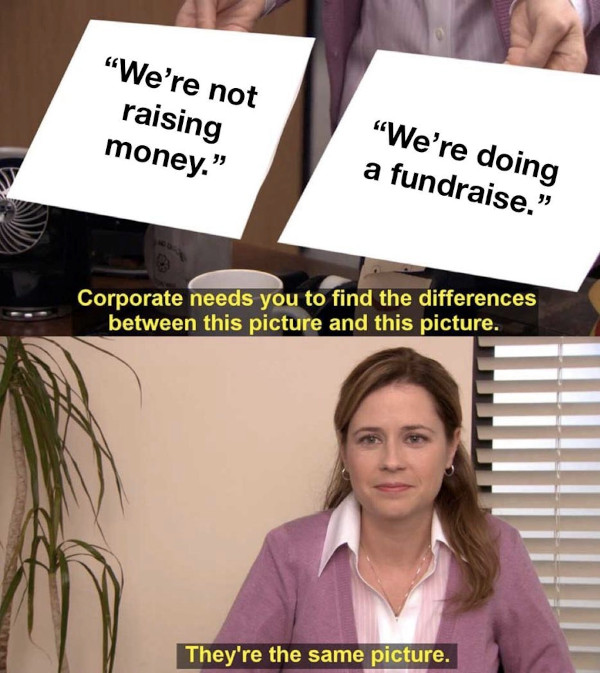 (Via WhatsApp)
Found anything interesting and noteworthy? Send it to us and we will share it through this newsletter.
And if you missed previous editions of this newsletter, they're all archived here.
Warm regards,
Team Founding Fuel
(Note: Founding Fuel may earn commissions for purchases made through the Amazon affiliate links in this article.)