[From Unsplash]
Good morning,
So, the story goes that the iconic Maharaja that represents Air India was modelled on Syed Wajid Ali, an industrialist from Pakistan and a good friend of Bobby Kooka, commercial director of Air India.
"Bobby Kooka joined the aviation department of the Tata Group in 1938, the same year in which the fledgling Tata Airlines, India's first commercial airline service, began to fly.
"Many years later, JRD Tata would fondly narrate the tale of how he first met the man. 'I don't know how many of you there are here tonight who were in Tata Airlines in May 1938—probably not many—when Mr. Kooka first burst upon an astonished air transport world which has never been the same since. On that fateful day in May, Mr. Kooka appeared in my office and, having pointed out the deficiencies in the Tata Organisation, explained how badly needed he was in Tatas to put them right … I decided that if there was any place for him in Tatas, it could only be in Tata Airlines.'
"'Furthermore, in those days, the chances of survival of Tata Airlines were pretty dim and so it was clear that by employing him there we would be taking little risk of making any permanent commitment.'
"After spending a few years as Secretary of Tata Airlines, Bobby Kooka decided to give the brand now re-christened Air India, with JRD as Chairman—a Human Face, that represented India with charm and dignity. At the first booking office of the Company, located in Churchgate in Mumbai, he created 'an oriental potentate, sitting on a magic carpet, smoking a bubble hookah.'
"This was the beginning of the Air India Maharajah, perhaps India's first advertising mascot who went on to win millions of hearts across the world."
In this issue
Scams and heists in the world of AI and remote working
Mark Zuckerberg on Metaverse
Stay quiet
Scams and heists in the world of AI and remote working
In a recent Twitter thread, Prosenjit Datta, a senior business journalist, former editor of Business World, and the co-author of an upcoming book on Cafe Coffee Day founder VG Siddhartha, detailed how he was taken in by fraudsters claiming to be Goibibo and lost Rs 5 lakh. It was a stark reminder of how scamsters are upgrading their tools and methods faster than we can keep up.
Forbes has a fascinating story of a fraudster using fake voice (thanks to AI) and fake emails to carry out a $35 million bank heist, by far the largest using deep voice tech. As in Datta's case, it also highlights how easy it is to fall for fake identities in the world of remote working.
The Forbes piece paints a picture of the industry landscape: "Once a technology confined to the realm of fictional capers like Mission: Impossible, voice cloning is now widely available. Various tech startups are working on increasingly sophisticated AI voice technologies, from London's Aflorithmic to Ukraine's Respeecher and Canada's Resemble.AI. The technology caused a stir in recent months with the revelation that the late Anthony Bourdain had his voice synthesized for a documentary on his life. Meanwhile, recognizing the potential for malicious use of the AI, a handful of companies, such as $900 million-valued security firm Pindrop, now claim they can detect synthesized voices and thereby prevent frauds."
Dig deeper
Mark Zuckerberg on the metaverse
Since the time Mark Zuckerberg made public the statement that Facebook will change its name to Meta to reflect its growing focus on the metaverse, the intent has been under intense scrutiny and the theme of many debates. But what is Zuckerberg thinking about? He opened up to Ben Thompson of Stratechery, we listened in carefully, and thought it most interesting because it reflects the principles that went into architecting Aadhaar and India Stack (the digital public infrastructure that enables people to authenticate identity, share documents, and make payments through UPI). This is something our colleagues NS Ramnath and Charles Assisi have documented in much detail in The Aadhaar Effect that was published in 2018 by Oxford University Press.
Zuckerberg's thinking around this emerges in response to a question by Thompson on how he sees the future of the metaverse: "do you see this really being a peer-to-peer thing, where there are other metaverses and those are also interoperable? What's your vision on how that plays out?"
To which, Zuckerberg says, "I think it's probably more peer-to-peer, and I think the vocabulary on this matters a little bit. We don't think about this as if different companies are going to build different metaverses. We think about it in terminology like the Mobile Internet. You wouldn't say that Facebook or Google are building their own internet and I don't think in the future it will make sense to say that we are building our own metaverse either. I think we're each building different infrastructure and components that go towards hopefully helping to build this out overall and I think that those pieces will need to work together in some ways…
"On phones today, the foundational element is an app, right? That's the organizing principle for kind of your phone and how you navigate it. But I would hope that in the future, the organizing principle will be you, your identity, your stuff, your digital goods, your connections, and then you'll be able to pretty seamlessly go between different experiences and different devices on that. I think that building that in upfront is going to be pretty important to maximizing the creative economy around this and making it so that somebody who's building one of these digital goods or experiences can make it as valuable as possible because it just works across a lot of different things."
Dig deeper
The price of speaking out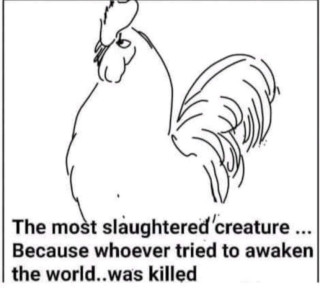 (Via WhatsApp)
Found anything interesting and noteworthy? Send it to us and we will share it through this newsletter.
And if you missed previous editions of this newsletter, they're all archived here.
Warm regards,
Team Founding Fuel
(Note: Founding Fuel may earn commissions for purchases made through the Amazon affiliate links in this article.)