[From Pixabay]
Good morning,
Given how the stock markets are behaving now, we thought this is as good a time as any to revisit Bulls, Bears and Other Beasts by Santosh Nair. So, we picked the 5th anniversary edition. It contains a foreword by Prof Sanjay Bakshi, adjunct professor at Flame University. The stories in the book are real ones told through the eyes of a fictional character. The lessons, however, are timeless. History repeats itself.
A narrative about Harshad Mehta is a particularly pertinent one. He was venerated in the early nineties as the Big Bull for his ability to move the markets, was later incarcerated for rigging, and eventually died 10 years ago, aged 47.
"To justify the absurd valuations that many of his favourite stocks were quoting at, Harshad advocated the 'replacement' cost theory, which held that a stock should not be valued on its current earnings potential, but on the basis of what it would cost to create a similar company. The concept caught on like wildfire in the stock market, sending the prices of even the most inefficient and mismanaged companies shooting through the roof.
"Even today, Harshad is credited with having come up with the 'replacement cost' theory, but that is not true. He may have propagated it, but it was not his original idea in any way. As I mentioned earlier, my brief stint as a library assistant helped me develop a lifelong love for reading. Many years later, when I read the full 1956 debate in the Rajya Sabha over the Securities and Contracts Regulation Act, I came across a passage in which P.D. Himatsingka, a member of parliament from West Bengal, had made an interesting argument. He justified the steep rise in the share price of the Indian Iron and Steel Company, saying it was cheaper for a buyer to purchase shares from the open market and take control of the company rather than to incur a much heavier expense setting up a new steel plant.
"ACC shares had by then climbed to Rs 3,000, having almost doubled since the beginning of the year… The sixfold rise in ACC over the previous year was proof to the market of what Harshad could do to the fortunes of a stock."
Nair goes on to document how the price of ACC went to caress Rs 10,000 in the frenzy that followed before the downfall of Mehta started. While some made fortunes, most went bankrupt. ACC now trades at around Rs 2,200 to Rs 2,300.
Stay safe and have a good day!
In this issue
Vaccine vs infection
The nature of venture capital
Black Friday revealed
Vaccine vs infection
The question is the same: "Which is better, immunity acquired via Covid infection or immunity acquired via vaccination?" But the reason why the question matters is different in India compared to the US.
In the US, it matters mainly because there is a national debate going on about vaccine mandates. In India, it's important in the context of a potential third wave amidst relatively lower vaccine coverage (India has fully vaccinated less than 32% of its population) and inadequate health infrastructure.
Back to the question, WSJ reports that there is growing evidence that infections provide as much protection as vaccines.
"One thing is clear: Vaccination is a far safer, more reliable strategy for acquiring immunity, given the risks of serious illness or death from infection. But viewpoints splinter about whether people who have had Covid-19 before need a full course of vaccination, and whether documented prior infection should count as proof of immunity—as is the case in some other countries, including much of Europe."
Here's an interesting comparison (against mRNA vaccines which are not available in India yet).
"The two forms of immunity appear to have different strengths. Vaccination with mRNA vaccines produced higher concentrations of neutralizing antibodies—the type that prevent the virus from entering cells—than infection, although levels waned in both groups, according to a recent paper published in the journal Nature by researchers at the Rockefeller University in New York.
"Immune memory, however, appears to be stronger following infection. The Rockefeller research group found in an earlier study, also published in Nature, that the antibodies produced by memory B cells—which quickly multiply in subsequent encounters with the virus—continued to evolve at least a year after infection. The study on vaccinated people found that the antibodies produced by their memory B cells didn't change much over time.
"One possible reason for the difference, they said, was that pieces of virus remain in the body for weeks after infection, whereas vaccine particles fade away faster. The upshot: The immune memory of people who have been infected is ready to produce a broader array of antibodies than of people who have been vaccinated."
Did deeper
The nature of venture capital
Most people struggle to comprehend how the venture capital and private equity circuits operate. That is why a post that broke it down, by Nathan Baschez in the Divinations newsletter, got our attention.
"Venture capital is more like Formula 1 racing, where the structural disparities between teams play a more active role in determining the results of each race. In F1, as in soccer, winning teams attract winning players, but there's also an additional important force: race performance depends on both the driver and the car. Even the best driver would rarely win if they were driving an average or below-average car. A huge part of the competition is not just between drivers, but between engineering teams.
"The thing is, it costs a ton of money to build a car capable of winning, and some teams have much more money than others. To illustrate the disparity: this year so far, Red Bull has won 7 races, Mercedes has won 4 races, and Alpine has won 1 race—but only because Red Bull's car was damaged and Mercedes made a rare mistake. There are 7 other teams in F1, but none have won a race yet this year."
Dig deeper
Black Friday revealed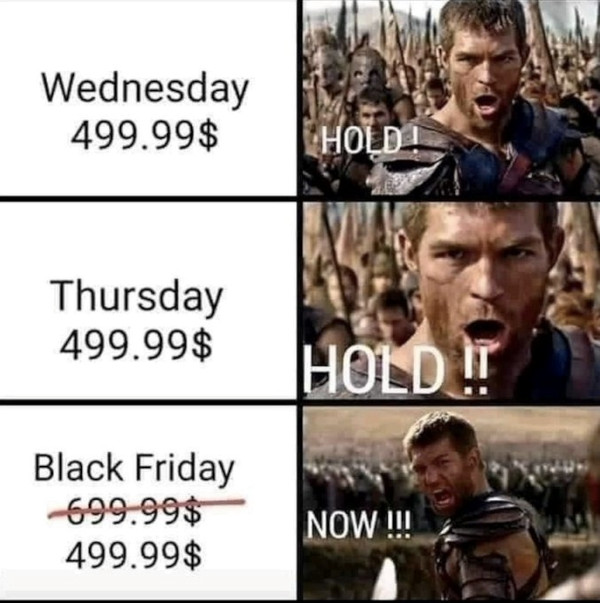 (Via WhatsApp)
Found anything interesting and noteworthy? Send it to us and we will share it through this newsletter.
And if you missed previous editions of this newsletter, they're all archived here.
Warm regards,
Team Founding Fuel
(Note: Founding Fuel may earn commissions for purchases made through the Amazon affiliate links in this article.)