[From Unsplash]
Good morning,
Letter to D: A Love Story is a 72-page letter written by Andre Gorz to his terminally ill wife of 45 years. The note was found by their cleaning lady when she arrived and found both of them dead. It was first published in French and went on to become a publishing sensation. While everyone likes a great love story, the reason we like this book is that in the turbulent times we live in, this note is a reminder of how two very different people can live and love together.
"By speaking to you in English, I made your language mine. I've continued to talk to you in English right up to this day, even when you answer me in French. For me, English, which I knew mainly through you and through books, was from the start like a private language that preserved our intimacy against the intrusion of the real world, and its prevailing social norms. I felt like I was building a protected and protective world with you.
"We could never have come together like this if you'd had a strong sense of belonging, of having roots deep in British culture. But you didn't. When it came to anything British, you kept a critical distance, though that didn't stop you feeling deeply connected to what was familiar to you from childhood. I used to say you were an 'export only', one of those products reserved for export that you can never find in Great Britain itself.
"We both became passionate about the outcome of the elections in Great Britain, but that was because what was at stake there was the future of socialism, not of the United Kingdom.
"The worst insult anyone could direct at you was to accuse you of taking Britain's side on anything out of a sense of patriotism. I'd have proof of this much later, during the invasion of the Falklands by Argentine forces. An illustrious visitor at the time tried to claim you were taking Britain's side out of patriotism. You retorted tartly that only a moron could fail to see what Argentina was up to. You said it was obviously conducting the war in a bid to restore the fortunes of the militaro-fascist dictatorship and that the victory of the British would finally bring about its collapse.
"I wanted you to tell me about your childhood down to the very last detail. I knew you'd grown up at your godfather's, in a house with a garden by the sea, with your dog, Jock, who used to bury his bones in the flowerbeds and could never find them again afterwards; that your godfather had a wireless set with batteries that had to be recharged every week. I knew you regularly broke the axle of your tricycle riding down the step onto the footpath; that at school you took hold of your pencil in your left hand and sat on both your hands in defiance of the schoolmistress who wanted to force you to write with your right hand. Your godfather, who was quite a powerful figure, told you the teacher was a cretin and went and had words with her. Hearing this story, I understood that seriousness and respect for authority were foreign to you and always would be."
Have a peaceful day!
An eye on renewable energy
Just why exactly are India's large conglomerates such as Reliance Industries (RIL) keeping a close eye on how the renewable energy business is evolving? Earlier this week, RIL paid $61 million to acquire the assets of cobalt-free lithium battery technology and manufacturing company Lithium Werks.
When the ecosystem is looked at closely, much change is happening and RIL is adapting. One indicator lies in how the two-wheeler industry is shifting. Before the pandemic hit, at 20 million units, India was the world's largest market. While India continues to be a large market, sales haven't recovered to those levels. The most recent news isn't encouraging either. "With global crude oil prices skyrocketing, it's only a matter of time before this price rise is passed on to the Indian consumer. Add to this the supply chain disruptions following the Ukrainian crisis and the challenges for India's two-wheeler market are just going to increase," Autocar India reports.
All eyes therefore have been on how demand for electric vehicles (EV) evolves. But here too, the near- to medium-term appears muddied because hostilities on the Russia-Ukraine border changes everything. "EV makers will also have to gear up for a host of challenges in the aftermath of the Russian invasion of Ukraine. 'The war,' Harshvardhan Sharma of Nomura Consulting tells Autocar India, 'will have an inflationary effect on battery metals and battery costs, as evident in the case of nickel prices, for instance, which recently touched a 11-year high of $25,575 per tonne on the London Metal Exchange.'
"The EV supply chain, which was already battling increasing prices (battery metal prices hiked the cost of nickel-manganese-cobalt batteries by 124% over the past 12 months), shortage of semiconductors and high energy input costs, is now also likely to face higher logistics challenges as well."
But India's transition to cleaner energy sources started before these hostilities broke out and policy makers have charted an ambitious plan to generate 50% of India's power requirements from renewable sources by 2030. If all goes to plan, this transition will create new lines of business and add 3.4 million new jobs to the economy. No conglomerate can afford to ignore this opportunity, can they?
Having said that, there are voices arguing some tough questions be asked because there is a rush to get into the electric two-wheeler space. "The expected cumulative capacity for electric two-wheelers by 2026 is set to exceed 30 million units a year… Would India need that much capacity even by 2030? Unlikely, even in the most optimistic scenario of all new two-wheelers going electric," writes Sumant Banerji in The Economic Times.
Dig deeper
The colour of money
Money flows wherever there are returns, and startups absorb money. But, the Russia - Ukraine war has come in the way of the flow of Russian money to venture capital firms and startups. Bloomberg writes:
"Individual startups have also been affected by shifting international rules. Israeli battery startup StoreDot Ltd. and New York-based transportation platform Via Transportation Inc. have both taken cash from funds backed by Roman Abramovich, a Russian oligarch who is now sanctioned in the UK. Representatives for StoreDot and Via declined to comment. Earlier this month, New York delivery startup Buyk, partly owned by Sberbank, furloughed its chief executive officer, along with 900 employees. Moscow's limits on fund transfers prohibited Buyk's Russian founders, which had been funding the company until its next financing, from wiring cash out of the country to the company."
This is not quite the way it used to happen in Silicon Valley.
"The morality of VC funding can be complex. Often, tech investment firms and startups believe that their first duty is to build great businesses, using whatever funds available—even though private funding has not been hard to come by in recent years. Patricia Cloherty, who pioneered post-Soviet Western investment in Russian companies via her roles at the US Russia Investment Fund and Delta Private Equity Partners, said venture firms typically obeyed the letter of the law, but not more. Now, of course, obeying the law could get more complicated as sanctions proliferate.
"'Most venture firms love anybody with money," she said. "It really doesn't matter what nationality you are.'"
Dig deeper
Management education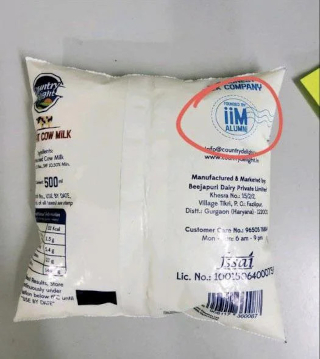 (Via WhatsApp)
Found anything interesting and noteworthy? Send it to us and we will share it through this newsletter.
And if you missed previous editions of this newsletter, they're all archived here.
Warm regards,
Team Founding Fuel