[Henry Ford with 1921 Model T. By cea + (CC BY 2.0), via Flickr]
Good morning,
In Sensemaking: The Power of the Humanities in the Age of the Algorithm, Christian Madsbjerg, founder of ReD Associates, an innovative strategy consulting company, shares an interesting insight from the story of Henry Ford.
He writes: "Today, it is easy to forget how unique Ford's vision for a 'universal horseless carriage' was back at the turn of the last century. At the time that he was tinkering with his various models, Detroit was filled with hundreds of other engineers and mechanics just like him, all chasing the same dream of developing the winning prototype for an automobile. In fact, Ford was by no means the most talented engineer, nor was he the most capable manager. Several of his early 'horseless carriage' start-ups went belly up because he couldn't deliver on time to his investors. What characterised Ford's unique vision—his creative breakthrough—was his awareness of the needs and desires of this emerging leisure class. Several of his wealthiest investors pressured him to create car models that were aimed at the luxury markets. Such vehicles would serve as mere novelties, showpieces for the elite. Ford, a committed populist, refused the needling of his shareholders. He only grew more determined to make a car that would open up mobility—and consumption—for all. Ford saw that in this new America, moving up and out 'would be a fundamental part of life—and the car would be instrumental in this.'
"To achieve his vision, he needed to find a less expensive system for assembling cars. Ford, like Eliot, saw what others around him did not. In passing by a slaughterhouse and watching workers on an assembly line cut up pigs into their component parts—he had a flash of insight. This same type of assembly line could work for building cars; it would be cheaper and much faster than making them piecemeal.
"When Ford introduced the Model T in 1908, there were only about 18,000 miles of paved road in the US. His cars were lightweight, easy to repair and maintain and, most importantly, affordable at around $825 each. His company sold 15 million Model Ts before they stopped production in 1927. It was the catalyst for an entirely new lifestyle in America, revolving around the twin values of mobility and consumption."
Have a great day!
Parle-G versus Udaan
A recent case that got our attention is that of the B2B retailer Udaan with $1.5 billion in funding taking Parle-G to the courts. This, because when Udaan tried to acquire the popular Parle-G biscuits directly from the manufacturers, the company declined supplies. Instead, it said Udaan should go and acquire the product from its distributor network.
Udaan complained to the Competition Commission of India (CCI) that Parle-G is abusing its dominant position because it controls an 83% market share of the "glucose biscuit" category. On its part, Parle-G argued it has built a distribution network over decades. And technically, the company's lawyers pointed out, that even if you did take the plunge and carved out a niche sub-category—say 'sweet biscuits', you'd see that Parle-G merely has a 16% share. They even went as far as saying that people could substitute biscuits for Samosas. So maybe the appropriate category to determine market dominance would have been 'snacks.'
Parle-G's lawyers went on to argue, "The services provided by its brick-and-mortar distributors cannot be effectively provided by Udaan who accumulate massive debts while making losses."
After hearing them out, the CCI sided with Parle-G and ruled in its favour.
Very interesting take here, what say? What do you think about this? Let us know.
Dig deeper
VC Money can't buy Parle-G biscuits. What? (Finshots)
Elon Musk's madness
That Elon Musk thinks big is now well known. Perhaps, so outlandishly big that it appears to be borderline madness. But is there a method to this madness? Andy Wu of Harvard Business School and Goran Calic of McMaster University argue in the Harvard Business Review that when looked at closely, there is some method.
"In 1980, Bill Gates famously articulated a bold, clear vision for 'a computer on every desk and in every home.' Each Musk-affiliated company has its own sense of that boldness and clarity: Tesla's is, 'to accelerate the world's transition to sustainable energy' and SpaceX's is to, 'make humanity interplanetary.' But to really understand Musk, we need to have a sense for the overall Musk vision that spans his many businesses as a whole.
"While we conventionally think of a vision as being in pursuit of a specific type of solution, Musk seems to take a different approach: he pursues a specific type of problem. Specifically, he seems drawn to problems that involve navigating scale and overcoming complexity.
"First, navigating scale means he selects problems that can only be solved through the commitment of massive fixed-cost investments. Consider Tesla's behemoth 'gigafactories.' The idea behind these factories is that mass producing electric vehicles at costs that make them viable for a broad commercial market requires massive scale. Giga Texas, the fifth Tesla Gigafactory, is the largest factory in the world by floor area.
"Second, overcoming a great deal of complexity—resolving dealing with multiple interdependent moving parts—requires the commitment of time and stamina for failure. Building reusable rockets, like Musk is focused on at SpaceX, is incredibly hard. For a rocket to be reusable, it must be able to slow from nearly 3,000 mph to a safe landing speed and nail a bullseye landing.
"These types of problems have a clear potential for a sustainable competitive advantage—if you can solve the problem… But solving these problems is not for the faint of heart: it requires taking big bets."
Dig deeper
Does Elon Musk have a strategy?
Summer explained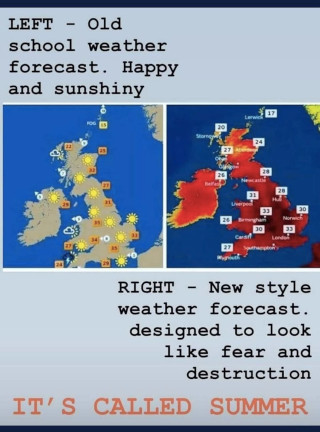 (Via Twitter)
Found anything interesting and noteworthy? Send it to us and we will share it through this newsletter.
And if you missed previous editions of this newsletter, they're all archived here.
Warm regards,
Team Founding Fuel