(The Roman Forum)
Before I travelled to Italy this September, my encounters with the country were through its food. As anyone who knows me will tell you, I live to eat and drink. And among the things I relish the most are lasagne, pastas, and pizzas. Of late, I'd also developed a liking for the negroni, that bittersweet concoction of gin, Campari and sweet vermouth, hailed by the late Anthony Bourdain as "the perfect cocktail". It was fitting therefore, that my first solo sojourn to Europe would be via Italy, a land of gastronomical, architectural, and artistic delight.
The reason I chose Italy was rather simple: it is abundant in wines, food, museums and history—all the things I love. The other holiday option was France but an uncle, who's a seasoned traveller, described it as dull, and made a rather convincing case for Italy. The food was as good (if not better), as were the wines and museums, he said. Plus, the Italians were much warmer and hospitable than the French, who could be a bit stand-offish. So towards the end of March, I started planning my holiday.
My first concern was the cost of this trip. Perhaps the only good thing to come out of the Covid-19 pandemic was that I saved up a sizable sum of money. The lockdowns in 2020 and 2021 meant that my discretionary spendings on food, shopping and electronics had reduced considerably. So I ended up with a healthier-than-expected bank balance that allowed me to indulge in a European vacation.
In Italy, I always knew I wanted to visit Florence, capital of the Tuscany region, famed for its fine wines, Renaissance art, and historical buildings. The initial plan was to spend just a couple of nights in the city and then head to the Amalfi coast. But the glamorous beachside destination was packed with tourists soaking in the summer sun and hotels and Airbnbs were fully booked. The ones that weren't, charged upwards of Rs 10,000 a night, making a trip there logistically and financially unviable. So, a two-day trip to Florence became a five-day one and I was only too happy about it.
Florence: Art, aperitifs and other tourist attractions
Bisected by the Arno River, Florence is an open-air museum in the guise of a city. At Piazza della Signora stands a replica of Michelangelo's David, a white marble sculpture of the Biblical character. On the Ponte Santa Trinita, the world's oldest elliptical arch bridge built in the 13th century, are four sculptures depicting the four seasons of summer, spring, autumn, and winter. At Piazza di Santa Croce stands a statue of Dante Alighieri, one of Italy's most influential poets.
I landed in Florence on the afternoon of September 15, after an exhausting 13-hour journey that included a seven-hour flight from Delhi to Munich, a three-hour layover at Munich airport, another hour-and-a-half long flight to Rome and two train trips. I had thought that I'd reach my Airbnb apartment, shower and go to bed. But as soon as I walked out of Florence's Santa Maria Novella station, I was bowled over by what greeted me—a clear blue sky with fluffy clouds and a cool breeze. After a 15-minute walk, I reached my Airbnb located in Florence's Oltrarno district, where the host Stefano and his wife Patrizia helped check me in.
After a quick shower, I stepped out to explore the neighbourhood and was pleasantly surprised to discover that the Ponte Vecchio, Florence's most famous bridge, was a stone's throw away from my apartment. The only bridge that was not destroyed during World War II, it is dotted with jewellery stores, souvenir shops and outlets of luxury watch brands Rolex and Audemars Piguet. At around 5 pm, the sun was strong but that didn't deter the hordes of tourists from thronging the bridge. They stood there soaking in the view or taking pictures against the beautiful backdrop of the Arno below, the blue skies above and both ends of the city on either side.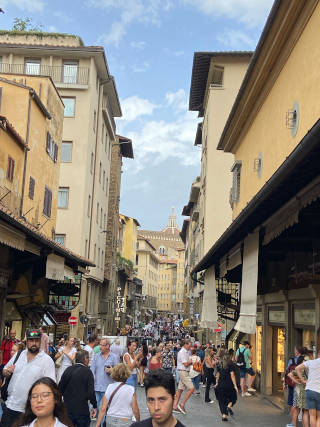 (Crowd on the Ponte Vecchio)
Normally, crowded places overwhelm me and I tend to run in the opposite direction. However, on that day and throughout my stay in Florence, I was quite comfortable standing amidst throngs of tourists. For a change, I was quite happy to be part of a crowd of smiling faces. After two years of a miserable pandemic, and subsequent lockdowns, it was heartening to see people shower some love on a country that was devastated by Covid-19. In March 2020, Italy had amongst the worst outbreaks of the coronavirus. At one point, 5,476 people had succumbed to the virus—793 in a single day. By November, it was one of the 10 worst affected countries that year, its economy nosedived and it had amongst the harshest lockdowns in the world. The return of tourists by the droves two years later, had wiped out the dark days of 2020 and 2021.
Among the must-visit places in Florence is Al'Antico Vinaio, a panini shop so famous that the queues outside can stretch over a kilometre. To avoid being stuck in a serpentine line, I reached a few minutes before the opening hour of 10 am only to find a short queue had already formed. I took my place and started talking to two American ladies standing in front. For the younger one of them this was her second trip. The older lady was visiting for the first time and told me that her journey back home was via London so she could attend Queen Elizabeth's funeral procession. Soon, it was my turn to order a panini from a list that was pasted on the wall behind the counter. I don't remember the exact name of the panini but it was the largest I've ever had in my life. The guy at the counter cut up the house-made schiacciata—a bread native to the Tuscany region—lathered the insides with pistachio cream, slapped some Pecorino cheese and rocket leaves and then stuffed it with a giant fistful of ham. The sight of that sandwich was quite intimidating, and it was so heavy it took me a good 25 minutes to finish it off.
One of the best things about Florence is that you can explore the entire city on foot. No landmark is more than a 20-minute walking distance and each square is dotted with cafes that have plenty of outdoor seating. Should you want to give your feet a rest, just grab a seat and watch people walk past while sipping on an Aperol spritz. They are to Florence what nimbu paani is to India—available at a bar, a cafe, a fancy restaurant and even a small store selling utilities. It's a refreshing summer drink that includes Aperol, a sweet Italian aperitif made of herbs, topped with prosecco and club soda.
That same evening, I went to Piazza de Michelangelo, a public square perched atop a hill. The trek from my neighbourhood was a 25-minute steep uphill walk. It's one of the best places to get a panoramic view of the city and, expectedly, was filled with tourists soaking in the expansive sight. Once the sun set, the city was bathed in orange and a live band at the Piazza started playing lively music. The tourists sat on the steps of the Piazza, sipping on their spritzes and munching away on pizzas.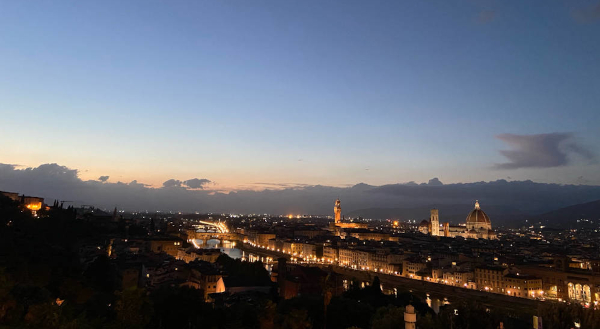 (Florence city at dusk as seen from the Piazza di Michelangelo)
The next few days in Florence weren't very different. I walked around the city, sat in the public squares, ate lots of pasta for lunch and dinner and drank lots of wine. In between, I visited some of Florence's popular tourist attractions, beginning with the Uffizi Gallery, one of Italy's most important museums. Built in the 16th century, it is home to some exquisite paintings, sculptures, and drawings. These include an arresting marble sculpture of Hercules slaying his demons and the Doni Tondo, the only finished panel painting of Michelangelo.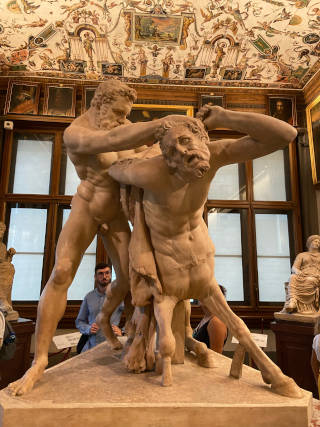 (Hercules slaying demon, the Uffizi Gallery)
On another day, I visited the Basilica di Santa Croce where Galileo was first buried and is the final resting place of Michelangelo and Machiavelli. Its high ceilings with wood panelling and the stained glass above the altar are breathtakingly beautiful. The day I went, the Basilica was moderately crowded and there was a calming silence inside.
On the penultimate day, I visited the Boboli Gardens, an open-air museum of sculptures that's also home to the Pitti Palace, the residence of the Medici family that ruled Florence in the 16th century. Its lush green lawns were dotted with marble art installations, like the ones spread across the rest of the city. On the last evening of my stay in Florence, I stood on the Ponte Vecchio soaking in the view, even as a cold breeze blew across. Behind me was a local guitarist serenading the crowds with his renditions of English songs. As I walked back to my apartment, he too drew his performance to a close by crooning Emily Watts' hit number La Vie En Rose.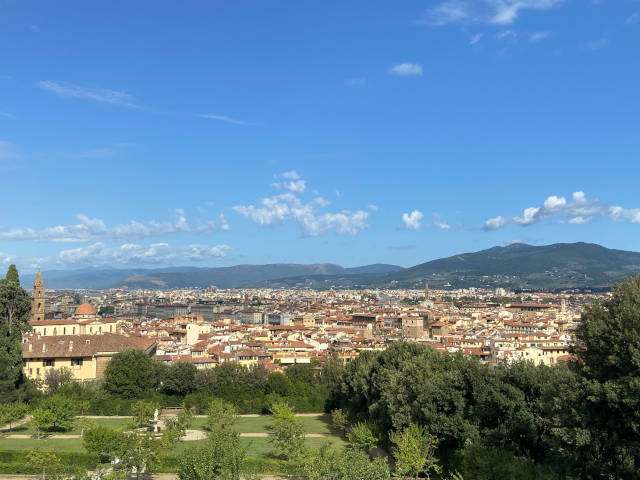 (Florence from the Boboli Gardens)
Naples and Capri: A study in contrasts
If Florence was quiet and mesmerising, Naples, my next destination, was the exact opposite. Grungy and congested, with tacky graffiti spray painted all over its walls. Honestly, the only reason my friend and I went to Naples was because we wanted to see the island of Capri. While planning the trip, I was trying to sneak in a trip to the Amalfi coast and from there I thought I'd go to Capri. However, the unviability of a trip made me reluctantly settle for Naples, where a friend from London joined me.
Its two redeeming features are the thin-crust Neapolitan pizza and the waterfront. For the first, we had to wait for upwards of an hour to get a table at Sorbillo, widely regarded as the best pizzeria in the city. The second, though visually pleasing, was dotted with average quality, overpriced restaurants with mediocre service.
The following day, we were back at the waterfront to catch the boat to Capri, along with many other tourists. After a 45-minute ride, we were greeted by the clearest and bluest waters I'd ever seen. My friend and I grabbed a table at da Gemma Restaurant and Bar, located right at the port of Capri. We ordered a bottle of crisp, dry rose wine, soaked in the view of the waters and, in true millennial fashion, uploaded photos on our respective Instagram feeds. After sitting there for over an hour, we were ready for lunch. My brother, who had visited Capri earlier in the summer, tipped me off about a Thai restaurant on the island. So after many days of eating Italian food, we headed there in the hope of eating more familiar food, only to discover that lunch hour had ended. A bit disappointed, we grabbed a seat at the nearest cafe and ate, as always, more pasta. Post lunch, we took an hour-long boat ride around Capri, to see the Grottos, limestone caves that were equal parts suggestive (White Grotto) and shimmering (Green Grotto). Unfortunately, we couldn't go to the most famous Blue Grotto because the water levels were too high. During the trip, the tour guide also showed us the residence of Benito Mussolini that was perched atop a hill.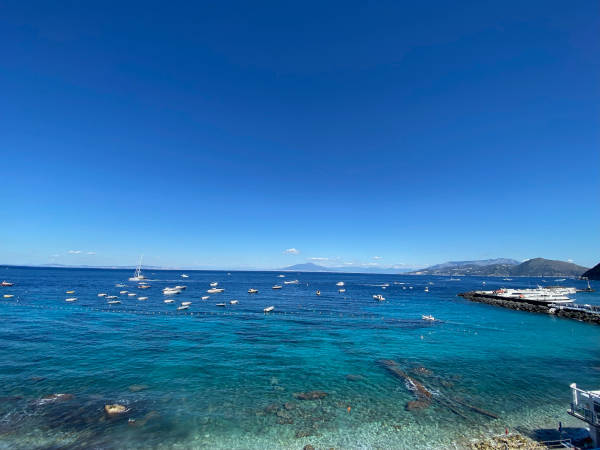 (View from da Gemma Restaurant and Bar, located right at the port of Capri)
Once back in Naples, my friend studiously searched for restaurants to eat at and zeroed in on Mimi Alla Ferrovia. Since we didn't reserve a table, we had to wait 20 minutes but once inside, we understood why it was packed. Mimi is one of the most famous restaurants in Naples and counts the late Diego Maradona among its patrons (we saw a photo of him on the wall). According to Fodor's, even filmmaker Federico Fellini has graced the restaurant. I don't know who the owner is but the service that evening was being managed by three men who looked past their retirement age. Slightly cantankerous, bespectacled and silver-haired they went about their work with business-like formality and precision. Truth be told, the gent who served us was a bit scary. He plonked the menu on our table, went away and returned after a few minutes and asked sternly "ready?" He scribbled our order, disappeared for a few minutes and reappeared with our food, which was outstanding. I had the ravioli with seabass, shrimps and squid in lemon sauce whose freshness and simplicity blew me away.
Rome: History lessons on the streets and in the museums
The next morning, we boarded the train to Rome, Italy's capital and the final destination of our trip. If Florence was a small open-air museum, Italy's was a much bigger one, dotted with historical landmarks everywhere. We drove past the majestic Altare della Patria (Altar of the Fatherland), commonly called the Vittoriano, a palatial white marble monument built to honour the first King of unified Italy. After the end of the First World War, the monument also serves as a memorial to the unknown soldier, to commemorate those who sacrificed their lives for the country. Benito Mussolini, the Italian dictator, appropriated this symbol of national unity by covering it with Fascist symbols. These were removed after the fall of his regime.
Other historical sites located in the city centre include the Roman Forum, a rectangular plaza filled with a constellation of ruins, that was believed to be a public place in ancient Rome. We were stunned when we found out that some of the ruins date back to the 5th century. The Temple of Saturn, part of the Forum complex, is even older, dating back to the 4th century. That Romans were able to build these buildings, without anything that we associate with modern technology, is nothing short of architectural genius. More importantly, the survival of these ruins is a shining example of how well Italians preserve their historical heritage—no matter how grim or cheerful it might be. It was a sharp contrast to India where several monuments lie neglected and roads are renamed, to shake off a misplaced sense of Mughal "cruelty".
(The Roman Forum)
Our hotel in Rome was in the Trastevere neighbourhood which, we soon discovered, was crammed with bars and restaurants. Among them was Dar Poeta, a pizzeria so good that we dined there twice. Our respective pizza pies were oozing with cheese, meat (in my case; my companion was vegetarian) placed on a base that was paper thin. Another landmark we dined at was Tonnarello located a few minutes away but packed to the gills. There was a queue of people that would've been about 200 metres long, waiting to grab a table outdoors. The afternoon we went, we were too hungry to wait so we settled for a seat indoors, and ordered ourselves their famous pastas—a Spaghetti Bolognaise for me. As we walked back to our respective hotels, my friend and I noticed that there were long queues of 20-somethings, waiting patiently to enter other bars and restaurants too. Like in Florence, I was happy to see groups of friends indulging in a precious activity that the pandemic cruelly snatched away for two years—socialising.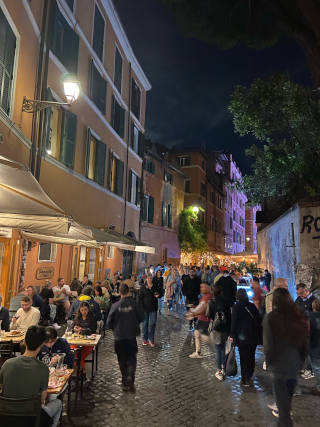 (Trastevere at night)
The highlight of our stay in Rome was a guided tour of the Vatican Museums. There are the public museums of the Vatican City that preserve art (Roman and Renaissance) and sculptures dating back many centuries. The piece de resistance of the tour was a visit to the Sistine Chapel, built in the 15th century and used, among other things, to elect a new Pope. Its ceilings and walls were painted in fresco (a technique of mural painting) by Michelangelo. Between 1508 and 1512, he worked alone, depicting the creation of humanity. It is said that nobody—not even the Pope—was allowed to see the ambitious project's progress till it was over. The Sistine Chapel is such a marvel of art that one feels like taking as many photos as possible. Unfortunately, photography is banned inside because it is a functioning chapel.
When we weren't dining at culinary landmarks or visiting historical ones, I repeated what I did in Florence. After lunch or dinner, I went over to the Ponte Palatino bridge and soaked in the views of the city, bisected by the strong current of the Tiber river, and covered by a blue sky. Those moments of quiet reflection served as a much needed break from all the touristy activity we indulged in throughout the trip. It was the perfect way to cap a memorable first trip to Italy.
When I returned to Delhi, I resolved that I would cut down on some of my discretionary spending and instead, use that saved money to travel more. Italy taught me that the permanent joy of international travel far outweighs the temporary pleasures one derives after buying expensive clothes, or the latest iPhone.
Travel Tips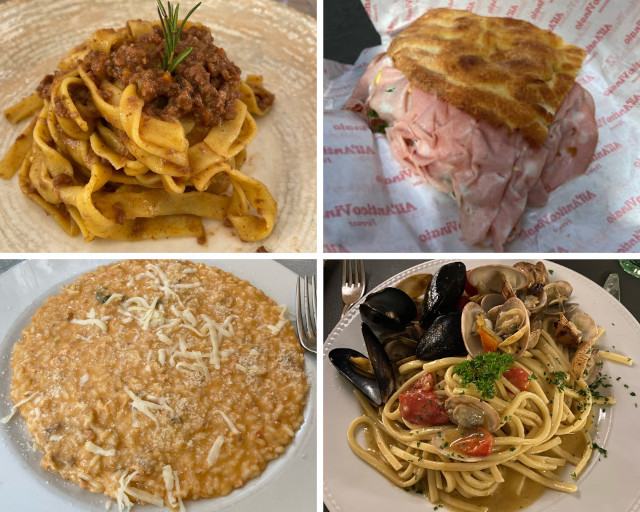 (Clockwise from top left: Tagliatelle in Florence; Ham sandwich at Al'Antico Vinaio in Florence; Spaghetti with seafood in Naples; Salmon risotto in Rome)
Walk, eat and carry a bag. Italy is one of the most pedestrian-friendly countries and the best way to explore any city is to walk. In Florence, I clocked 15 km in a day—that's more than the distance I cover in a single month on foot. It's also a great way to work up an appetite. Needless to say, wear comfortable shoes to ensure your feet don't swell up. And carry a satchel in which you can keep a bottle of water, snacks and a cap.
The food: Each region in Italy has its distinct food. So if you're in Florence, definitely try the Bistecca alla Fiorentina (aka a steak of beef), a seafood pasta in Capri (since it's the coast), the Neapolitan pizza in Naples and pasta carbonara in Rome! Wrap up your meals with a giant scoop of gelato ice-cream or a generous portion of Tiramisu.
Book as much in advance as possible. My brother, who went to Italy in May, booked his tickets in March and scored a return ticket for approximately Rs 50,000 per person. By the time I booked my flight in May, the price had doubled.
Avoid Lufthansa (and other European carriers). The only reason I chose Lufthansa was because of the timing. The flight from Delhi left at 1 am and, by the time I reached Rome, it was just 10 am (after a three-hour layover in Munich), giving me a whole day to myself. The plane ride itself was quite forgettable. The seats were narrow and the cushioning was thin. There were no non-vegetarian food options for economy class passengers and the idli-sambar they served would offend any self-respecting Indian.
Visa: Apply in time. For my September trip, I applied for a visa in May, thinking that it would take the Italian Embassy at least a month to process it. It was also the time when international travel had opened up and there was a huge rush for visas, overwhelming VFS and the embassies. While some of that rush might have reduced now, it's wise to apply at least a couple of months in advance.
Aayush Soni is a communications consultant based in New Delhi. Follow him on Twitter and Instagram @aayushsoni.