I have been a regular visitor to London since my son settled in Wimbledon eight years ago.
This year, two big sporting events coincide with my visit: Ashes 2023 and the Wimbledon Championships. Swept up by the sporting fever, I too made a pilgrimage to the Lord's Cricket Ground and stood in the queue for a ticket to gain entry to Wimbledon. Alas, I couldn't enter either stadium, such was the rush. But I could still experience the thrill—it's infectious and everywhere in the city at such times.
What I love most is to wander about the city—and London is very inviting for a walker. Polite fellow-pedestrians, no disorderly traffic, even the dogs are well behaved and won't lunge at you. I can tell you, there's much to see and enjoy around Lord's and Wimbledon—even if you are a distant spectator (or listener, in my case) to the actual matches.
Here's the London I like to walk around.
A cricket fan finds consolation in The Beatles and Sherlock Holmes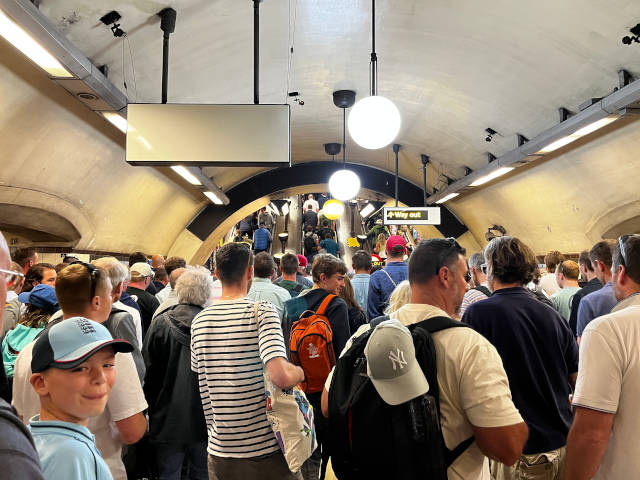 [St John's Wood station: There's just one way to go—to Lord's!]
I decided to visit Lord's on the final day of the second Ashes Test match between Australia and England—this was on July 3, a day before Wimbledon was to start.
At Waterloo I could not board the first train, such was the crowd—of Londoners and foreign visitors alike. I managed to get on the second train and got down at St John's Wood station, the closest station to the Lord's Cricket Ground. Almost everyone got down here. In fact, the station authorities had ensured that both the escalators were moving up—there was no one going down anyway.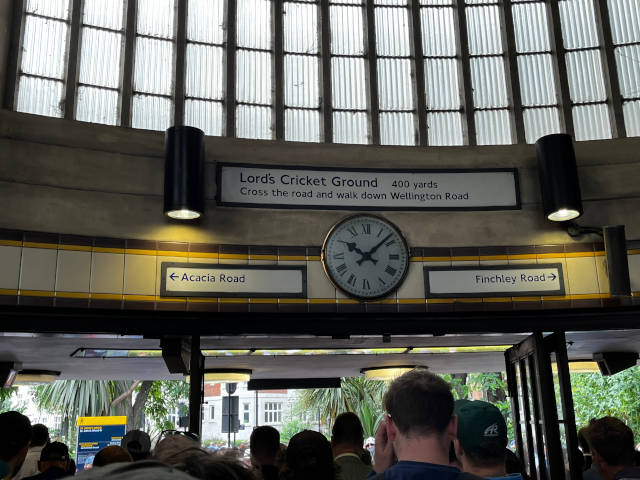 [Follow the crowd]
I joined the crowd going to Lord's. Like any Mumbaikar going to Wankhede Stadium during a match would know, you do not have to ask for directions. Just follow the crowd!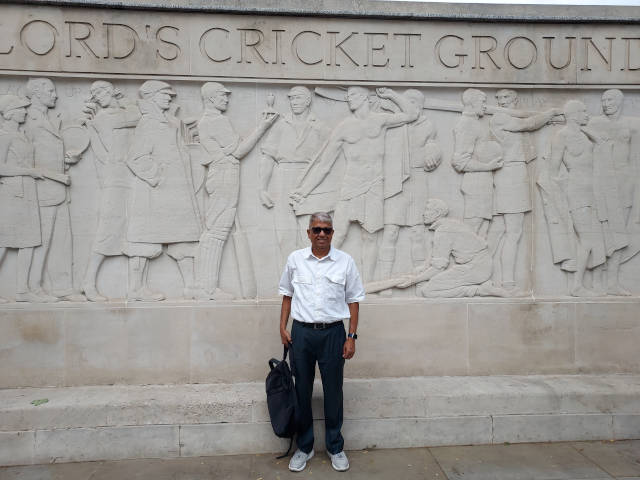 [Selfie point near Lord's]
I found myself at the Wellington Road entrance, one of many entrances to Lord's. As you turn towards it, you come to a wall with murals—a good selfie point. One of the volunteers in red T-shirts obliged.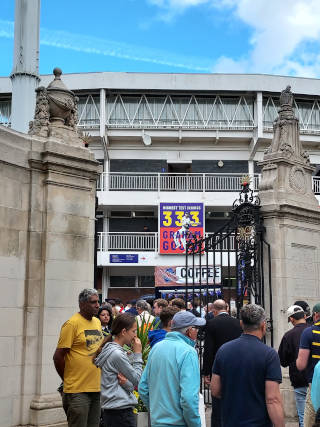 [Fans waiting to enter]
The main entrance displays the records clearly. Graham Gooch scored 333 at Lord's in the first innings and 123 in the second innings (1990). Against which team? India! (To give you the complete story, Ravi Shastri and Mohammad Azharuddin also hit centuries in that match). Inside, there is a museum. From previous visits I know that there's a board in the players' room that lists the batsmen who scored centuries. Rahul Dravid figures there; Sachin Tendulkar is missing as he never scored a century at Lord's.
Alas there was no way I could get into the stadium. This day, the fifth day, was crucial, England was on the verge of defeat.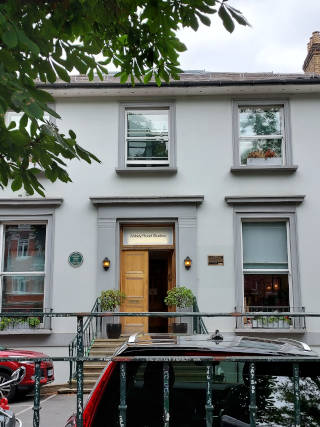 [Abbey Road Studios]
I proceeded to Abbey Road Studios, the creative base of The Beatles, a 10-minute walk from Lord's. I stopped in my tracks when I heard a big roar from the crowd at Lord's, audible almost 200 metres away. Jonny Bairstow was stumped, a decision that, to put it mildly, did not go down well with the crowd.
Abbey Road Studios is the oldest purpose-built recording studio in the world. Visitors are usually not allowed in, but if you are visiting in August, you can buy tickets to a guided tour—the studio is opening its doors over two weekends in August.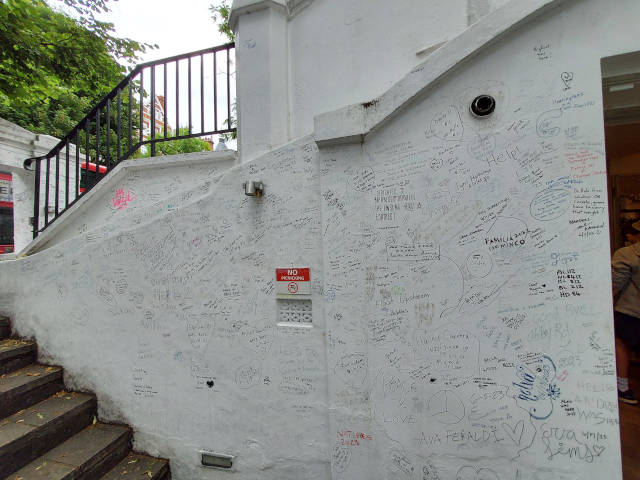 [Graffiti on the entrance wall to the Abbey Road Studios store]
The store was open, so I went in and clicked some photographs—though the memorabilia is predictable: T-shirts, books, mugs, photos. The walls of the entrance and stairs are white. Music aficionados have scribbled their names, a familiar sight in India.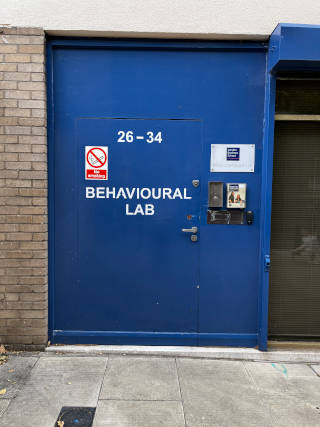 [My feet lead me to my Mecca]
A roughly 3 km walk from Abbey Road Studios took me to a building that looked familiar; it was the back of the London Business School. Nostalgia! And I saw this door to the Behavioural Lab. There's a Marathi proverb that goes: 'Chukala Fakir Mashidit' (If a fakir loses his way, you will find him in a mosque). No wonder this HR professional landed at that door.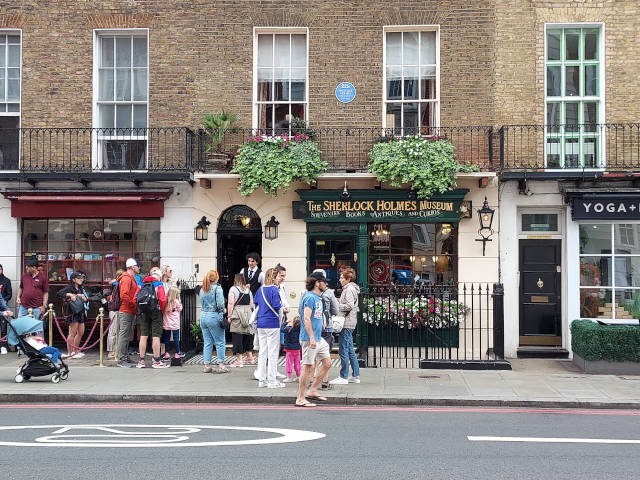 [The Sherlock Holmes Museum]
I wanted to visit Baker Street—just 100 metres away. I had stayed in the neighbourhood in 2006 when I attended training at LBS. It is a familiar area for me. You spot The Sherlock Holmes Museum where the queue at the entrance never ends. A blue plaque above the entrance says 221b—the detective's address. These blue plaques are historical markers that commemorate famous people and events—though this one commemorates a fictional character. (There are more than 900 blue plaques all over the city. They tell us where authors, political leaders and people of eminence, stayed in London. Sister Nivedita lived on Wimbledon High Street. An Irish lady, she had met Swami Vivekananda, and devoted her life to work in India. Watch this one-minute video about her residence.)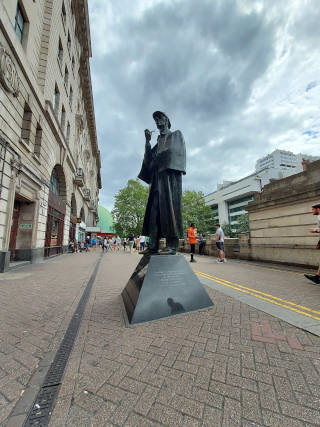 [Holmes's talking statue]
Back to Baker Street! A few metres ahead of the Museum, as you turn left you see the Sherlock Holmes Statue, right opposite Baker Street Station. Made by the sculptor John Doubleday, it is one of a series of "Talking Statues" across London; passers-by can receive a simulated telephone call from the statue's subject by scanning a QR code or visiting a link.
From there I went back to Wimbledon.
There's more to Wimbledon than tennis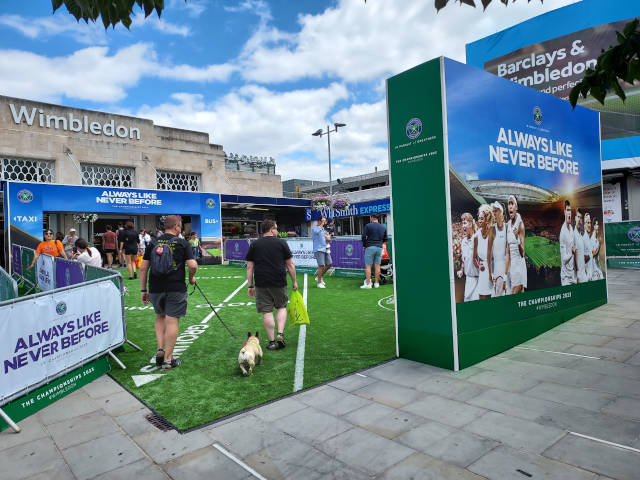 [Wimbledon station]
The Wimbledon Club isn't far from my son's house. The vast expanse of this multisport club—for cricket, hockey, squash, and of course, tennis—sits opposite the famous tennis club arena. People queue up in big numbers to gain entry, some even camp overnight for early admission on the first day of the tournament.
To me, a Mumbaikar, what always fascinates me is that no one shouts 'E, ghusto kaay!' (Hey, don't jump the queue!). Nobody jumps the queue. There are even some chairs and coffee vendors. Everybody is on 'correct' behaviour. (This may not apply to cricket and football fans, though. On the final day of the second Ashes Test match between Australia and England at Lord's, three MCC (Marylebone Cricket Club) members were suspended after the Australia team experienced "aggressive and abusive" behaviour in the Long Room.)
The Centre Court tickets are very expensive, but they do a resale when people return tickets. If you are lucky, you can get one for just 10 pounds. The proceeds go to charity.
On an earlier visit, I managed to get a resale ticket and watched a doubles game where Leander Paes had teamed up with Martina Hingis. The court rule is clear—you cannot move when the ball is in play. You can only move when the players take a short break after two games. And people follow the rule.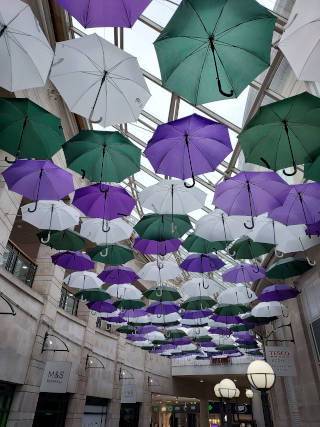 [At Centre Court Shopping Centre]
Wimbledon comes to life for the Grand Slam tournament. The official Wimbledon Club colours—white, green and violet—are on display everywhere.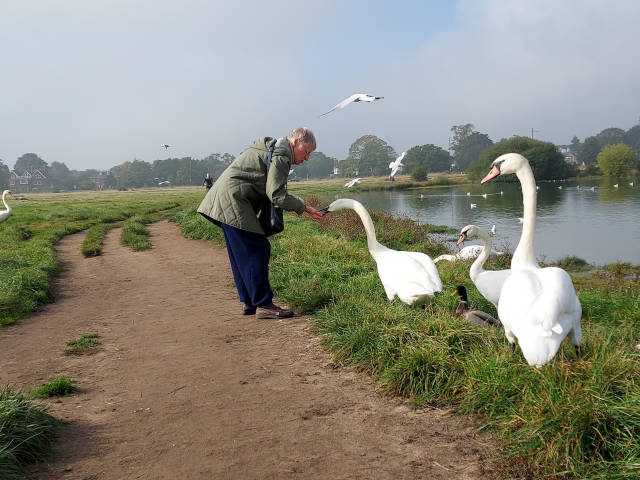 [At Wimbledon Common]
To be honest, Wimbledon Common, a large expanse of heathland, attracts me more.
The first thing you notice is a big pond in the vast open area; you can feed swans there. The birds are not afraid of human beings. While I was clicking photographs, a few walked up to me, hoping I'd feed them. It was a unique experience. Beware though—they can be aggressive in the breeding season.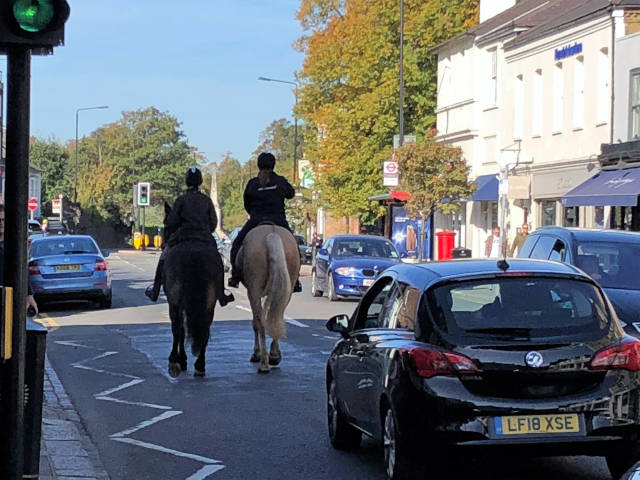 [Riders out on the weekend]
That 'rules are rules' is unmistakable at Wimbledon when the horse riders are out on the weekends. The traffic stops to give right of way.