[Cathedral of Mary Help of Christians]
By Lilly Assisi
Most visitors to places such as Shillong expect to see much. But that is not what you go to Shillong for. Because all of the touristy things that are there to be seen can be done within two days on the outside.
What you really must go to Shillong for is to breathe the fresh mountain air, experience a way of life, and step away from the humdrum. Shillong has a soul. And silence. It takes a while to experience all of it, embrace the tranquility it brings and begin to enjoy that. So, if it's a "touristy" experience you're seeking, I don't recommend the place. But if it's peace and a getaway from the humdrum that you want, then Shillong is the kind of place you must go to.
I, of course, have sepia-tinted memories as well of Shillong. I first got to see the place some 40 years ago when my husband who was in the Indian Air Force (IAF) was posted there and we finally got there in September 1972. This was his second posting after being inducted into the Air Force. We were traveling from the Gorakhpur Air Force base then. I was 24, pregnant with our first child, and the hot weather was beginning to get on my nerves. The journey was a long affair that took many days via places such as Lucknow and Guwahati (then called Gauhati) via train and road, all of which looked intimidating. I didn't know what to expect there. But Shillong didn't disappoint and I remember the five years there as the best times of my life.
So, when my younger son suggested I visit the place with my daughter-in-law and grandson, I was excited. I've been wanting to go there for a very long time, but had been putting it off for various reasons.
After leaving Mumbai, we left for Guwahati where we stopped over and then drove down to Shillong so we could take in the sights and sounds at places such as the Kaziranga Forest Reserve.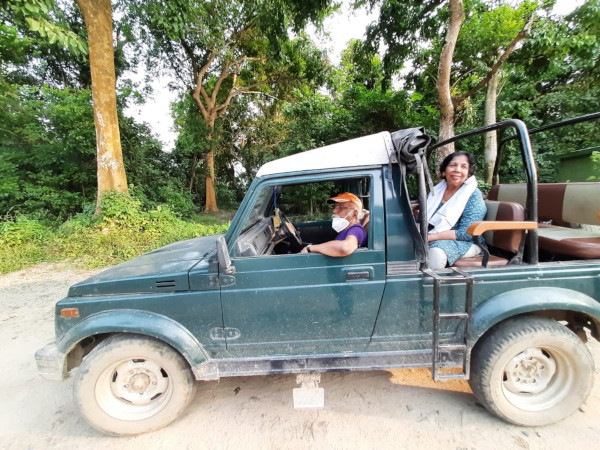 [Stop over at Kaziranga Forest Reserve]
On getting to Shillong, one of the first things I noticed was that I started to breathe easier. For someone like me who had grown up in Kerala and had seen only rivers and the sea, the mountain air was fresh and crisp. I felt fresh. That is exactly how I felt this time as well. I now have a lung condition that makes breathing difficult, particularly in cities such as Mumbai and Pune where my sons live. On getting to Shillong, I could make out the difference in the air right away and I could feel my lungs were functioning better.
But one of the first things that struck me is that the weather doesn't feel as cold as it used to back then. When I first got there icicles would form towards evening all through the year. When my older son was a baby, each time he found one, he would grab it and suck on it until it melted in his mouth like kids have lollipops now. I couldn't see any icicles this time. Maybe, it forms only in the winters now. While the weather is certainly pleasant and the air is crisper, like I said, it isn't as cold as it used to be back then.
Then other thing that struck me when we first got to the Air Force base back in September 1972, was the number of security points. It was significantly more than the ones I had seen at Gorakhpur. This time around though, there were much fewer security checkpoints. The ecosystem appears to be more visitor friendly now.
The quarters we were allotted then were beautiful. The balcony on the front overlooked a pine forest. I had never seen such trees before, except in pictures. I thought I had seen greenery all my life. But this was the first time I was witnessing an altogether different kind of greenery and couldn't help but keep looking all around. While these pine forests are still around, the cover has reduced and I could see a lot of civil work on to build new approach roads and broaden existing ones. These are changes I see all over the world whenever I travel. It is inevitable. I just hope they do it thoughtfully and don't destroy the original character of the place and the pine forests that surround this lovely place.
There was a balcony at the back of the house as well from where we could see the mountains and a small village. Our neighbours told us it was a Khasi village. I had only heard from others about Khasis, but had never seen them or met a Khasi. So, I was keen to meet one of them.
It wouldn't be too long before I got to make my first Khasi friend, a girl called Rita. She was introduced to me after my older son was born to help me care for him and the home because I needed all the help then. In any other part of the country, as is the norm now, Rita would have been described as a 'domestic help'.
But unlike in other parts of the country where domestic help are expected to be subservient, Rita neither came across as subservient nor would tolerate being treated as subservient. This was an alien idea for me. Soon, we were friends. And despite not having a common language between us except a few words in Hindi, we learnt to communicate. So, she'd speak in her native Khasi, I'd speak in Malayalam and we'd throw a few words of Hindi the both of us knew at each other. But we figured out how to understand each other.
She introduced me to Khasi cuisine that was dominated by pork dishes that I wasn't used to. That was also the first time I tasted noodles. What struck me then about Rita's cooking was how sparingly she used spices and delicately cooked vegetables. I grew up being told that everything must be "cooked well". But in Shillong, I learnt to appreciate that food has its natural flavours and we must learn to appreciate it.
Rita was a devout Christian and showed me around the church she went to—The Cathedral of Mary Help of Christians. This church is one of the most beautiful I had ever seen back then and I just had to see it once again. They have not just maintained it well, but have made it look better. I have fond memories of this place because this is where my sons were baptised (named).
It is because I hold fond memories of Rita that I was keen to meet some Khasi people this time around. So, I was delighted when my son booked us at the La Tngnelang Homestay owned by a Khasi family. If you do plan a visit there, I highly recommend it. I know of the Khasis as very warm people who like to share stories and listen to ours as well. They don't breach your privacy either and know how to respect women.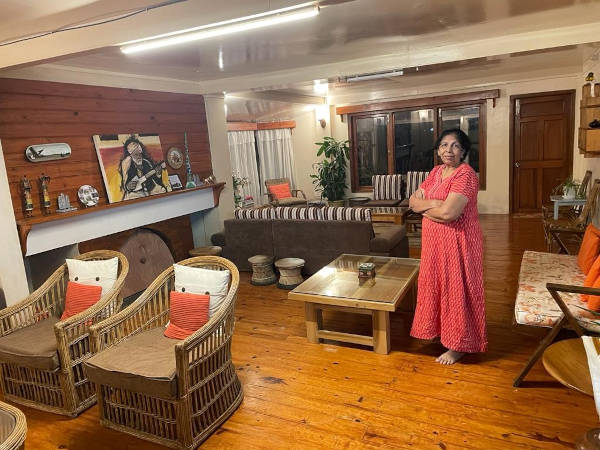 [At La Tngnelang homestay]
Ian Lyngdoh is the patriarch of the family. Most of our evenings were spent talking with them and Ian would regale us with stories about his book, Ficus Khasiana, a collection of his travels through the region. It is the outcome of his research and an attempt to document the history of the flora and fauna of the region that only the Khasi people know about. The book was released in April this year.
Ian and his family had assigned Deihaphi, a Khasi woman, to help us during our stay there and I took an immediate liking to her. The flooring there was a wooden one, similar to the one at my home in Fort Kochi.
A few things, however, stood out. The first was that unlike in the past when Rita and I used sign language to communicate, this time around, Deihaphi and I had no trouble. She was comfortable with both English and some Hindi that I have picked up over the years.
What I also noticed is that the family has kept their wooden floors spotless and shining. This is very unlike what I see in other parts of the country, including my home in Fort Kochi where I struggle. Just how does she manage to keep it that way? No one in Mumbai or Kochi has been able to help me with a solution. But Deihaphi knew what to do and suggested a particular polish to use on the floor and how to go about it. Many homes in that part of the country have wooden floors. I promptly went and got hold of the polish from the market.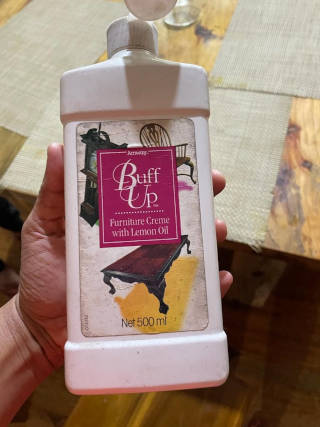 [Polish for wooden floors]
Back then when I lived here with my husband and young kids, every Sunday was picnic Sunday. We used to visit places such as Cherrapunji, Elephant Falls, Bara Pani, and the border of Bangladesh that wasn't too far from Cherrapunji. Then there was Laitkor Peak from where we could see all of Shillong. There was this waterfall as well where all of us young people liked to hang out.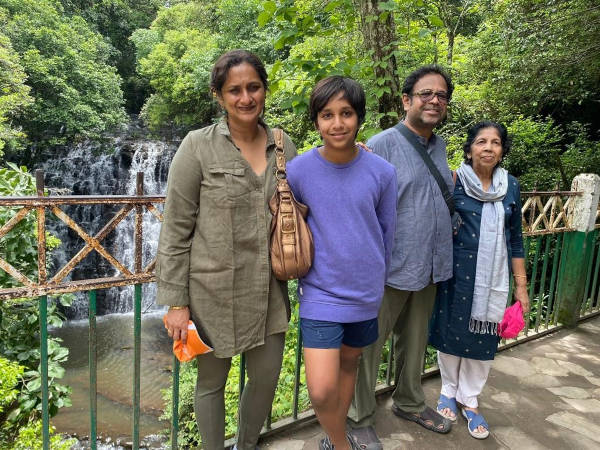 [At Elephant Falls with my son, daughter-in-law and grandson]
To rekindle memories, I asked my son to take me to all those places. One concern I had was if I would be able to walk those distances given the condition of my lungs and breathing capacity. But like I said earlier, the air here is such that I found myself walking longer and enjoying it. This was turning out to be a lot better than I expected.
But much has changed as well. I could see many restaurants have sprung up on the way to all these places. Most of these serve wontons and momos and other kinds of cuisine too. With the influx of tourists, other kinds of foods have made their way to the place that include Punjabi and South Indian, as is the norm now. But that wasn't what I was there for. It was the local cuisine as I knew it back then that I wanted to taste. However, I could see it had taken a backseat at popular places that catered to visitors.
My memory from four decades ago had tagged the many corners of Shillong as quiet places where we could have day-long picnics at the end of which we'd either gather or buy lovely oranges, bananas, and fresh honey at places such as Cherrapunji, feel happy, and head home. While it was disappointing to see such large 'tourist' crowds, I figured the best thing to do is ignore them.
Then there was the Bara Market in Shillong city. Many decades ago, this was where we used to go once a week to purchase everything we needed. Fortunately, there are no malls around the place. But the nature of Bara Market has changed. While the access roads were crowded by the standards then, it now feels choked. Back then, it used to be a clean place. Now, it appears noisy and dirty. That was disappointing to see and made me feel sad. But having said that, I do recommend looking this place up for the kinds of things that are up for sale. This is where everyone from Shillong congregates to make their purchases.
I could see a lot of construction work on the hills. Perhaps, they are at work to build new access roads. Of course, it is needed. But I do hope, they do it in a sensible way without killing the spirit and character of the Shillong I know and love so intimately.
And how can I forget this? When I was pregnant with my younger son, the doctors attending to me predicted he was due to be born on a later date in October 1974. But I started feeling queasy a few days earlier and by the time my husband could get his hands on a vehicle on the base to drive me to the hospital, I went into labour. My younger son was on his way. What I do remember is that he was delivered in a meadow with no medical support.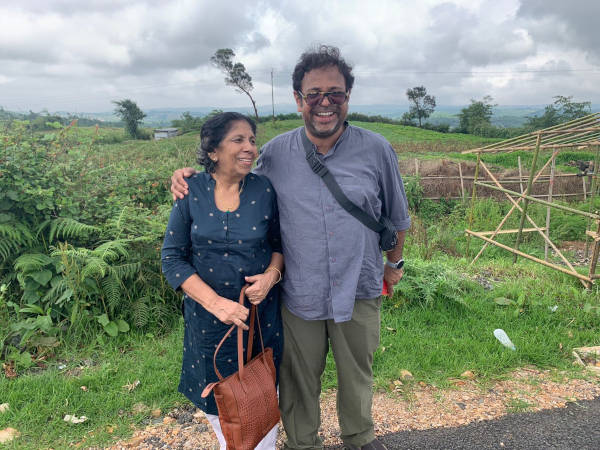 [The meadows with my son where he was born]
And so this time around, the both of us looked around until we found just the spot where he was born. The meadow looks pristine and practically unchanged. For old times sake, we revisited the Air Force base we lived in and the route my husband took that day.
Those were the best days of my life!
Places to visit
Lyngksiar Falls
Shillong Market - Police Bazaar
There are several falls in the vicinity of Lyngskiar Falls
Visit Laitkor Peak. Check if access via the Air Force base is open on that day before you go
Umiam Lake or Bara Paani
Cathedral of Mary Help of Christians
Editor's Note: Part 1 in this series was on Landour, which has remained small and serene.