Good morning,
Last year, Founding Fuel signed up as a knowledge partner for the BITS School of Management (BITSoM), a new global business school in Powai, on the outskirts of Mumbai, in association with the London Business School (LBS). Our mandate was to curate the inaugural edition of Beacon 2022, a Festival of Ideas.
Much brainstorming and backbreaking work later, #Beacon2022 was launched in a digital avatar to a by-invitation-only audience on Airmeet, a digital platform, in January.
To craft a unique experience and stoke conversations around themes that matter most to us even as the pandemic was peaking was a challenge. In an era where there's fatigue with webinars, our mandate was to reimagine digital engagement and create a lean-forward experience—through a compelling lineup of speakers from India and across the world, thought-provoking themes, and laser focus on relevance to a post-pandemic world.
Our intent was to offer an expanded view of management—for management is not limited to just business.
The audience included senior business leaders, innovators, frontline entrepreneurs, top academicians, bureaucrats, social entrepreneurs, and select BITS alums. And rich learnings emerged through the audience interactions too.
Now, the question on our mind was: Just how do we showcase what stood out? After much debate internally, we zeroed in on five sessions that we believe will offer you a perspective of the breadth and depth that emerged. They exemplify good storytelling, innovation, and leadership in a time of chaos and crisis.
A hyperlink to all the conversations that happened during the ideas festival is embedded below and at the end of this selection. After you've been through it, will you let us know which ones make the cut for you and why? We'll wait to hear from you.
Click here to see the entire festival and access the sessions on YouTube.
Have a good weekend!
Editor's Picks: The Best of #Beacon2022
(In no particular order)
5. Savio Kwan on Growth, Resilience and Giving Back
Most narratives place Jack Ma, the founder of Alibaba, as one of the poster boys of China's e-commerce revolution. Yet, Jack Ma sought out Savio Kwan, an experienced leader from the old economy, to take over as president and COO when he was in trouble. Kwan is sometimes accused of bringing in the GE culture into Alibaba. But he is also what Alibaba needed.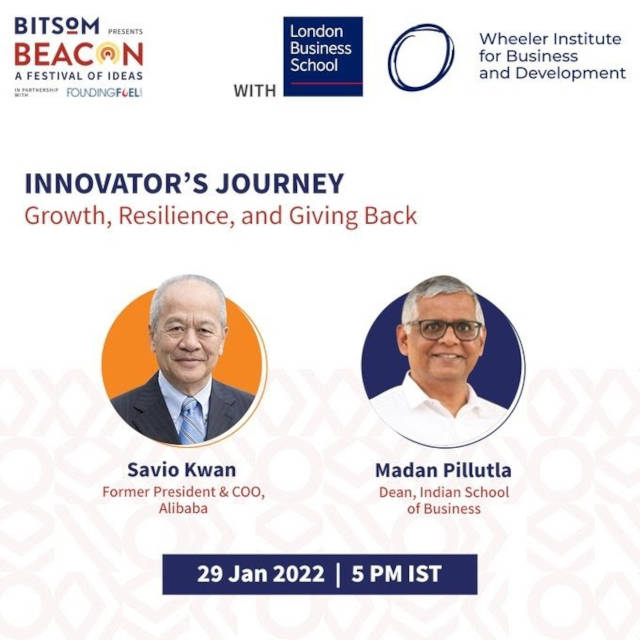 "What can an old economy guy like me do for a new economy set up like Alibaba—for Jack Ma? The headhunter gave the right answer: Jack Ma needs someone who can help him put the systems and business discipline and institutionalise those" - Savio Kwan
Dig deeper
4. How Shankar Mahadevan Is Using Digital to Spread the Joy of Music
Not everyone knows of Shankar Mahadevan in his avatar as an entrepreneur and innovator in the digital learning space—learning classical Indian music, to be precise. Mahadevan started the Shankar Mahadevan Academy (SMA) in 2010 with his co-founder Sridhar Ranganathan. In this short time, SMA has served 35,000+ students, which includes more than 10,000 students in 84 countries through its online offerings. Post-pandemic, their brick-and-mortar centres died. SMA went all-online, and saw a surge in online sign-ups. In their 11-year history, one-third of the total signups have come post-pandemic. Mahadevan shares his learnings. Some of which include finding good teachers is tough, a good performer may not necessarily be a good teacher, and that while learning online comes with big benefits, teaching digitally is a very different ball game.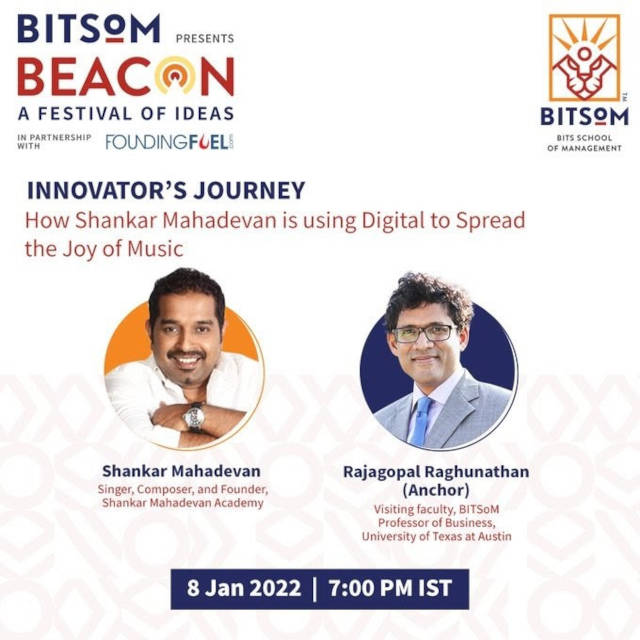 "The fear of failing is the last thing you should have. Who is successful? Tell me one hero whose all films are blockbusters—including Rajinikant… You have got to try various things and go onto un-treaded paths" - Shankar Mahadevan
Dig deeper
3. Lessons from Zoho's Founder
Sridhar Vembu's bootstrapped venture, Zoho Corporation, provides an interesting counterpoint to the obsession with unicorns. He says, we need to be aware of the "false gods" like Jack Welch (former Chairman and CEO of GE), and to understand what went wrong with glorious companies like GE, IBM, Boeing. We need to think deeply, otherwise our economy will be an economy of assemblers. Vembu believes in a principled form of localism: There is a much bigger world out there, he says, and smaller cities offer abundant opportunities, resources and talent, which metro cities won't allow an entrepreneur to realise.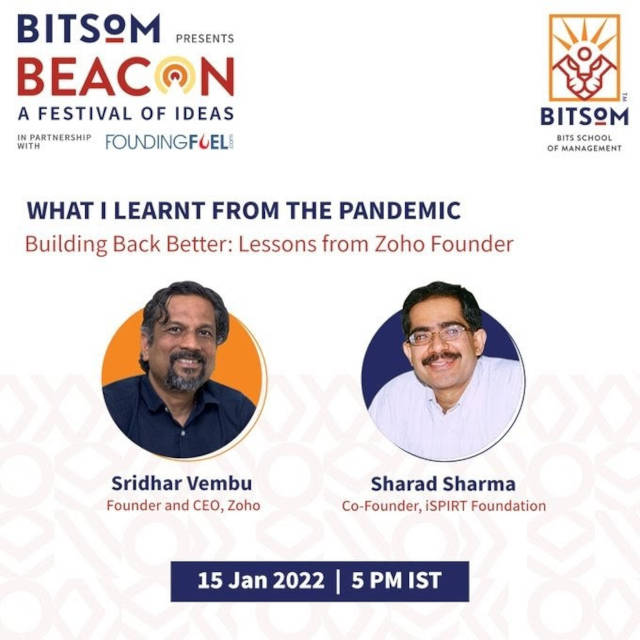 "What makes some societies rich and some societies poor? My entire business journey has been about understanding that. Business to me is applied economics where your explicit goal is to create prosperity and create wealth."
Dig deeper
2. Leadership in an Hour of Crisis: Mumbai's Pandemic Story
When the pandemic struck Mumbai, a city of 16 million, with many high density areas like Dharavi, many wrote off the city. It needed a fresh approach, courage and professionalism. BMC commissioner Iqbal Chahal's arsenal included decentralization (to empower communities and deliver an effective response), and integrating data and technology into the administration system. His approach? When fighting a crisis, it is important to create systems which can work in autopilot mode.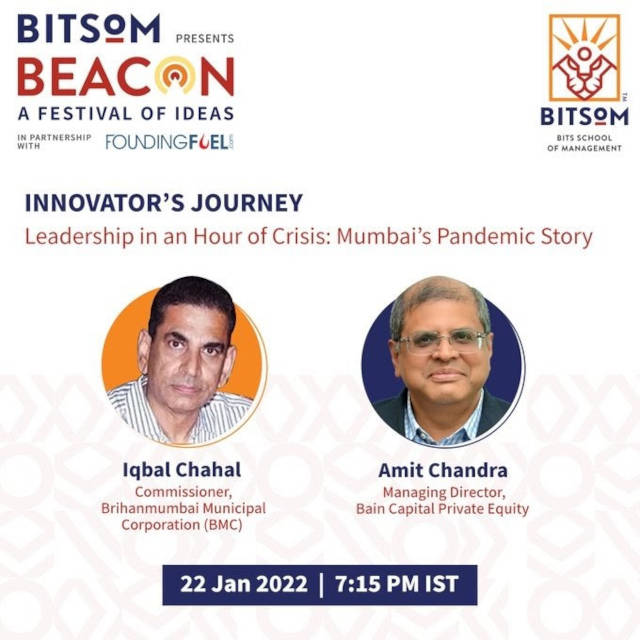 "I told them (my team) this is going to be a long drawn war. This is not going to end in a few days or weeks. And wars are not fought by individuals. Wars are fought by systems… Individuals can only fine tune systems." - Iqbal Chahal
Dig deeper
1. Making the Global Economy More Resilient
The festival got over in January, but in some ways we saved the best for last—three specials, the first of which is a conversation with Roger Martin and Geoffrey Garrett, two of the world's foremost management thinkers. They were in conversation with BITSoM Dean Ranjan Banerjee. The lens shifted effortlessly between macro and micro. They talk about, among many things, how talent is in charge now; the handcuffing of monopolists; deglobalisation; and exploring win-wins—the way to win economically, geopolitically and personally. As Roger Martin tweeted later, "This was a fun discussion. We got a bit edgy!!!"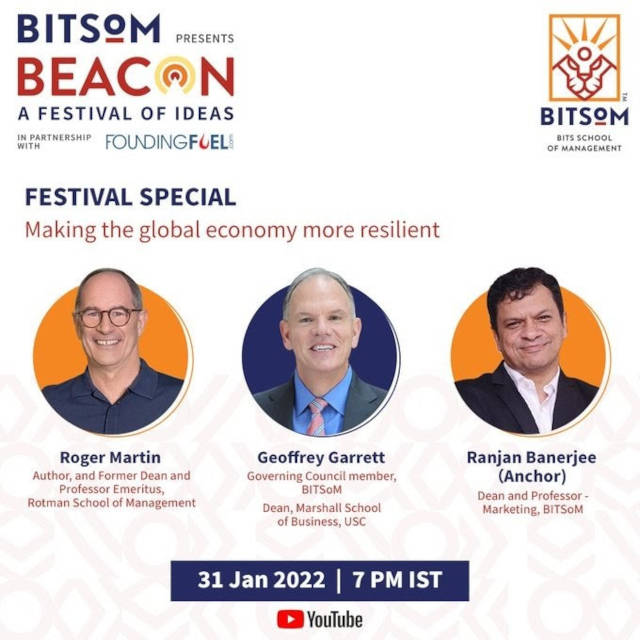 "If you ask the question … Why did Japanese cars get to be seen as the paragon of fit and finish in the American market? It's because the average Japanese car buyer spends 16 minutes inspecting their vehicle before taking possession of it and the average American spends less than one minute." - Roger Martin
Dig deeper
The full lineup