Good morning,
When they are trying to develop a character, Pixar writers use what they call an elevator test. Put that character in an elevator, make it break down, and see how the character reacts. Nothing reveals a character as well as putting them in a tough situation.
As a society we have built an elaborate system to do just that. Sports. It puts human beings in tough situations, and millions watch how they respond. There is much to learn.
At Founding Fuel, we have often turned to sports to get the insights that will help entrepreneurs and business leaders.
In this sporting season—with a few more days left of Olympics, that greatest of sporting events, and as the Indian cricket team's tour of England gains pace—we have curated seven stories from our archives.
Have a great weekend.
Lessons from Michael Phelps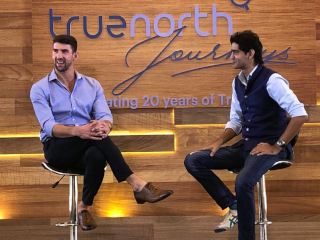 When the most decorated Olympian of all time speaks, you shut up and listen. That's what everyone seated at the auditorium in Mumbai did when Michael Phelps started to speak. Just how did he earn 28 medals at the Olympics in swimming?
Phelps dwelled on levels of self-awareness. That is why, he said, he worked fiercely to protect his me-time and stay close to those who matter most. Else, he'd get lost.
The other thing he learnt was to imagine the ideal outcome. But to get there, circumstances had to be dealt with. His coach thought up every possible circumstance that could happen—even the worst—and pushed him to work on it. Such as breaking his glasses so that water seeps in when training. It was exasperating. Nobody saw it. But that happened during the Beijing Olympics in 2008 and he knew just what to do. "You get what you prepare for."
Then there is the pressure after you reach the top—you have to grapple with hurt when you fall from grace, as you eventually do. And there's a craving to live like normal people. "I'm now at a place where you can give me my favourite meal on the planet and find no joy in it. I just eat what I must to survive. I honestly don't know what my favourite food is."
But Michael Phelps has made his peace.
Dig deeper
What it takes to be Roger Federer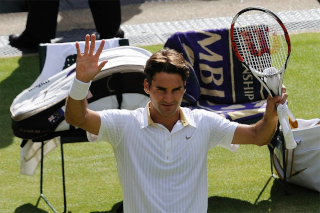 [By Justin Smith under Creative Commons]
A little before Roger Federer took to Centre Court to play the finals at Wimbledon against Marin Cilic, there was much speculation this would be Federer's swan song. He was 36 and Cilic was 28. There were many who were hoping the younger man would win because Federer had started to resemble a machine clobbering everyone in sight. A new hero was needed.
But our colleague Charles Assisi had done his homework and argued "[M]ay I submit Federer will win the game later this evening? And that he isn't anyplace close to retirement. Not for anything else, but because all evidence suggests he will win the game. But this is a narrative nobody, me included, wants to buy. Because it isn't a sexy narrative to tell. What all of us want to hear instead are stories of humans who defied the odds and got to where they are on the back of determination and talent, after having fought all that is railed against them. But this is unappetizing."
He had spoken to Sukhwant Basra, former sports editor at Hindustan Times who now runs a tennis academy with Leander Paes. Basra had offered pointers with evidence to back him up. Age is overrated. Talent is overrated as well. How else do you explain the longevity of players such as Paes in tennis or the burning out of Vinod Kambli from cricket?
Dig deeper
The difficulty of talent spotting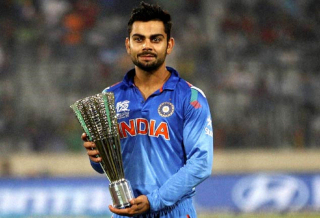 [Photograph of Virat Kohli by Himanisdas under Creative Commons]
On Sunday, March 27, 2016, Virat Kohli scored 81 off 51 balls hitting 9 boundaries and 2 sixes in a T20 match against Australia. It's still considered to be one of the best performances in the format. Writing about it soon after the match, our colleague Indrajit Gupta explored the art of identifying talent in cricket and in business. It's tough. To understand how tough it is, we have to look at counter-examples.
Indrajit writes:
"I remember watching Unmukt Chand lead our U-19 national side in 2012. He was billed as the next cricketing sensation after Virat Kohli, scoring a century against the Australians in the finals of the U-19 Cricket World Cup, which won praise from Ian Chappell. Chand even penned down his memories of the U-19 World Cup in a book Sky Is the Limit. The book describes his journey from a normal boy practicing on uneven grounds with his peers to becoming captain of the winning India U-19 cricket team. Dravid, VVS Laxman and Sanjay Manjrekar wrote forewords for his book.
"Yet Chand hasn't yet lived up to his full potential once he moved into the senior league. He even lost his place in the Indian Premier League (IPL) side. His story is a familiar one—where many talented youngsters lose their way, caught in a dangerous spiral of hype and early success."
Dig deeper
The art of leadership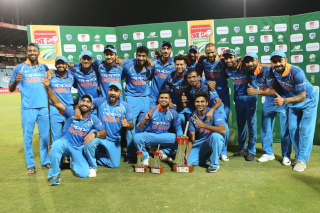 [Via Facebook]
Two years later, in 2018, India had a fantastic run at South Africa, and Indrajit Gupta used the occasion to explore the themes of leadership and the art of building the foundations of success.
He writes: "Sometimes, it's easy to get swayed by leadership style alone. Kohli's aggressive brand of leadership wouldn't amount to much, if it didn't help channelise that aggression into real, impactful on-field performance. And for that, every player must know his role—and how he can contribute to the side.
"For me, the big revelation of this tour was the contribution of the old war horse MS Dhoni. The stump microphone provided enough clues of how the astute former captain helped the two young spinners—Kuldeep Yadav and Yuzvendra Chahal—bag a tonne of wickets. Dhoni has also helped Kohli set the close-in fields. None of this would be possible if Kohli was insecure about having a former captain issuing instructions to the side. And this concept of distributed leadership allows him to tap into every pocket of wisdom that exists within the team. Listening to valuable advice and creating space for other leaders to step up helps build ownership. It also builds a sharing culture that enables players to learn from each other."
Dig deeper
Getting it wrong and learning from it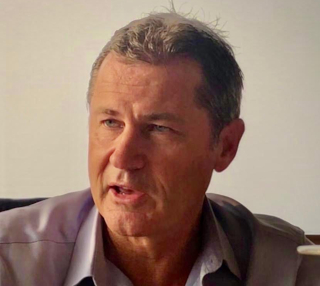 Till he retired in 2012, Simon Taufel was considered the best umpire in the game of cricket.
Indrajit Gupta and Anmol Shrivastava caught up with him soon after the launch of his book Finding the Gaps: Transferable Skills to Be the Best You Can Be. While the book is about cricket, Taufel says the lessons were applicable to business as well—particularly for leaders who are looking to build high performance organisations.
On getting it wrong and learning from it, he draws on the incident with Sachin Tendulkar at Trent Bridge in 2007, where he'd incorrectly given Sachin out for 91: "it's not about what you do at the time, it's about what you do next.
"I walked away from the game in 2004 with a choice. And I remember thinking about that choice… I didn't sign up for this feeling… I feel terrible… So maybe, just maybe this international umpiring is not what I'm cut out to do… [But then I started to] self-discover and connect with how I got there, how I got into that dark place, and made so many mistakes…
"If you watch the video clip, I do take a long time to give Sachin out. And that's because I overthought that decision. I didn't follow my gut…
"[A]t the end of the day, I truly believed that players don't want us to apologize. That all they want us to do is to get the next decision right."
Listen to the interview (or read the transcript), where Taufel uses the lens of cricket to talk about
how we can help people see where their performance gaps are, and shift behaviour to bridge those gaps
what a good coach can bring to the table, as well as how do you get ready and be 'coachable'
what one can learn from different industries, different sports, people from different walks of life
how to create a system that attracts the right people
Dig deeper
What it takes to be a good coach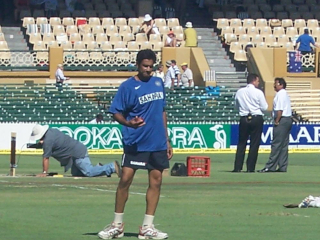 [Anil Kumble, at the four Test series versus Australia at Adelaide Oval in 2007-08. Photograph by Riana under Wikimedia Commons]
Kavi Arasu wrote this piece on coaching in 2016, when Anil Kumble became the head coach of the Indian cricket team. It's as relevant today as it was then.
Kavi writes about how he discovered what executive coaching is really about, and how it is different from—yet similar to—sports coaching:
"It was a struggle…. Executive coaching, I realised, was about helping people create greater awareness for themselves…
"Great players do not make great coaches by default. Coaches require a different skillset.
"So much so, great coaches are aware of their understanding of the domain and the biases their understanding brings along. This awareness and clarity helps them keep their knowledge or understanding from interfering with the realities and the dilemmas that the coachee is wrestling with...
"As much as they are different, sports coaching and executive coaching are aligned at many levels…
"What executive coaches do with deep listening and questions, great sports coaches do with expert observation. Observations that they make by standing on the sidelines, yet staying in the game. The clarity that distance brings gives them the elbow room to work their feedback. This way, players who are perpetually in the thick of things get to see newer alternatives and connections. Coaches do not play in the field but are in the game. That is a unique position to be in and a unique role to play."
Dig deeper
The importance of wise counsel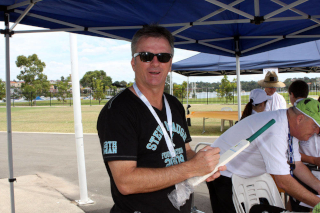 [Photograph of Steve Waugh by Eva Rinaldi under Creative Commons]
In 2016, Shane Warne, one of the finest spin bowlers of our times, created a stir when he called Steve Waugh 'a selfish player'. Dr Rajat Chauhan and Charles Assisi used this—and Waugh's dignified response—to surface some of the key leadership qualities of Waugh.
They start by writing, "Waugh wasn't interested in winning a match or a series alone. He saw the potential in these two superstars as integral to a champion team. But he needed the both of them to contribute. The thing is, Warne can be a handful to manage. But Waugh did a great job of keeping him calm and perform at his highest level. It is entirely possible, the younger generation who now follow cricket don't know much about Waugh. But everybody talks fondly of the legendary prowess of Shane Warne. However, this is not because of Warne, but because Waugh set things in motion. He wasn't interested in being on the popularity charts. He was a man on a mission."
But even such people need friends—for which they might have to turn outside. Rajat and Charles: "Waugh knew that though Warne and he were team mates, they could never be friends. That is why he seeks solace and counsel from one of the greatest Indian batsman of all time—Rahul Dravid. They bonded during a one day international in 1998. Waugh could see, 'Rahul wanted that extra edge that would elevate his game to the next level, and at the Adelaide Oval he completed his journey.' On his part, Dravid says of Waugh: 'He is someone who valued his wicket… Steve appeared to relish the big occasion and thrive in such situations.'"
Dig deeper