[From Unsplash]
By Ipsita Bandyopadhyay, Himal Belwal and Piyul Mukherjee
India Inc's diversity agenda is in need of an urgent upgrade. According to the Census 2011, out of the 121-crore population, 2.68 crore people are 'disabled', which is 2.21% of the total population. A study by Business Standard in 2019 highlighted that persons with disabilities (PWDs) constitute less than 0.5% of employees in India's top companies. While over the years, several firms have declared allegiance to the disability inclusion agenda, progress has been slow.
"But companies have such limited understanding of disability," says Meera Shenoy, founder of Youth4Jobs (YFJ), an organisation that advocates for people with disabilities to find placement in Indian corporate houses. Shenoy helped establish Employment Generation and Marketing Mission (EGMM), India's first skilling mission, and has worked closely with the ministry of rural development and the National Skill Development Corporation, as well as with the World Bank. Set up less than a decade ago, YFJ already has 44 centres across India, and has trained more than 28,000 people since its inception. It is doing the critical work of creating a more integrated society.
The official definition of disability, according to a government whitepaper published in 2016, goes a lot deeper: "Disability is not just a health problem. It is a complex phenomenon, reflecting the interaction between features of a person's body and features of the society in which he or she lives. Overcoming the difficulties faced by people with disabilities requires interventions to remove environmental and social barriers."
And this is where the true challenge lies.
To frame policy for inclusion, policy makers need to understand the complex lived reality of disabled persons who are trying to not just find their legitimate space in an ableist world, but are also battling tremendous challenges that arise from an intersection of disability and society—gender, caste, privilege, rural/urban divide, to name a few.
The solutions need to come from understanding these root factors not just from a humanitarian lens, but by recognising the incredible value people with disabilities add to the workplace and eventually, the economy.
In this edition of Ground Realities, we introduce you to the diverse trajectories of three women as they navigate the corporate world while living with a disability, as well as key members of the YFJ team who have been facilitating many such journeys. It is time to rethink how policy is designed for disability inclusion and align it realistically with outcomes.
Because the problem isn't even hostility, it's indifference.
A para sportswoman's journey to the podium
"In our state, there are no stipends or incentives for para sports persons"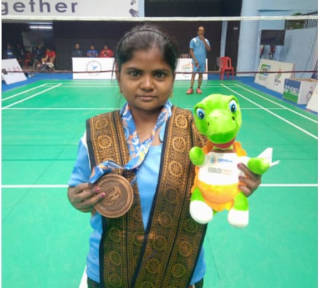 Y. Sasikala, Age 30
Occupation: Customer service executive
Residence: Chittoor, Andhra Pradesh
Family: Originally from Lepakshi, Anantapur district, Andhra Pradesh. Now lives with her husband and in-laws in Chittoor.
A fierce need to live for herself underlines Sasikala's being. Uncommon in a culture often awash with obsequious filial piety, her goals were very clear: she owes nothing to a society that systematically discriminated against her. Born with dwarfism, a genetic condition that doesn't let her grow beyond 3.5 feet, her sole aim was to be a sportswoman.
Not one to cut her goals to size, she realised early on that she needed to find allies outside her family if she wanted to make it in the competitive world of national para sports. There were several challenges—not least having almost no access to information or training facilities.
"I come from a village that's 200 kms away from anywhere!" she says, remembering her struggles. Education was important, she knew, so she made sure to get herself a commerce degree at the local district college, unlike her sisters who never completed their education.
While her family was non-committal when it came to her dreams and aspirations, she knew that training for her dream—to play national-level badminton—would require her to be financially independent. And the best training was in Visakhapatnam, hundreds of kilometres away from home. Hungry for opportunities and learning whatever she could, she took coaching for bank entrance exams for a year and even grittily, went for door-to-door sales of products.
"Customers would often ask me why I didn't take up anything else as a job," she recalls.
Youth4Jobs (YFJ) came into her life almost by chance—through a forwarded SMS while she was pursuing her postgraduation in Tirupati. She is the only girl in her village who made it to postgrad. Despite the course being fully sponsored, she says she didn't take the SMS seriously at the time.
The next six years were hellish. Though she was already training in shot put and discus throw, her heart was in badminton. She'd been a good sportswoman in school but lack of opportunities for para sports in her home state Andhra Pradesh left her in the lurch. While professional sportspersons train hard their entire teenage years, she was battling her family's lack of confidence in her abilities and then, mind-numbing bureaucracy.
"I kept trying to crack government exams through the para sports quota but in our area, there is no stipend or incentive for para sports persons," she recalls. "Through this time I had earned a national bronze medal in badminton and a state gold medal in discus throw and shot put but still, there was no provision for me because of a policy loophole. Any national champion receives a stipend from the government but para sports do not." She recalls her despair during this time when she was trying to make an income and shift to her favourite sport.
An abject irony in the year that India celebrated 19 gold medals at the Paralympics in Tokyo.
The pandemic changed everything. She was hitting 30 and knew she was running out of time if she were to fulfil her goal of becoming a para sports champion. She took up the YFJ programme where she trained in English, soft skills and basics of business. Things changed soon with the dedicated support of YFJ's Tirupati centre. They helped place her in a larger company as a customer service rep. She brushed off customers' snide comments on her child-like voice and kept herself focused on her goal. By mid-2021 she'd left home for good and moved to the district headquarters where some para sports facilities were available. Here she lived on her monthly salary of about Rs 10,000, having received a small increment in her first month itself for her remarkable performance at work.
Sasikala thrived with the financial independence and the single-minded austerity of her routine. She didn't mind being at training at 5 am—she was in fact living her dream to be a national badminton champ by the end of the year.
"I still need to earn at least Rs 20-25,000 per month to live in Vizag where the state government runs a wonderful para sports facility. I am working towards it—I have given myself three years," she says. "I don't feel obliged to send money to my parents and I never take from them either. They don't understand my struggle. But yes, my sisters, I send them money when I can, they are not educated like me," she shrugs.
The latter half of 2021 brought a major life change for Sasikala when she got married and moved to Chittoor district to live with her husband and his family. They have proven to be supportive of her dreams. She started attending her dream facility at Vizag to prepare for the national para badminton championship in Bhubaneswar in end-December 2021. And went on to win a bronze at the National Para Badminton Championship in December 2021.
She is resolutely moving towards her goals.
A quest for independence
"In the US, you don't need to reveal your disability status. But here I would tell them about my eyesight because you cannot withhold that information"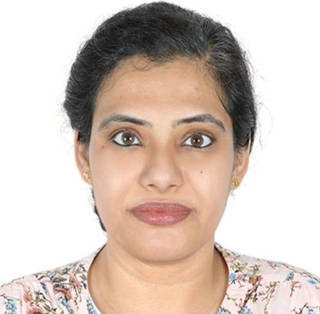 Carol, 30
Occupation: Works in TVS Motor as a costing executive
Residence: Bangalore
Family: Based in Mangalore. Includes her parents and brother who are all working.
Carol was living the upwardly mobile Indian's proverbial dream in 2016—with a job in Dubai for a Big-4 firm—when she began to lose vision in both eyes. "It was retinal detachment. I had to come back to India and figure out my options," she explains. (She lost up to 40% vision, and endured several surgeries in three years.)
Despite a master's degree in finance at that time and a career that checked most boxes, she found herself at a tough crossroads.
"I came up against a wall." Not having a career was never an option for her. "In the middle-class family I grew up in, every family member earns their own bread."
But her disability made her a no-go for many companies.
"When I applied on LinkedIn for some big-name consulting and financial services companies, they wouldn't even get back to me. In the US, you don't need to reveal your disability status. But here I would tell them about my eyesight because you cannot withhold that information. I would've felt bad later if I wasted their time. But seeing that, they would ghost me."
Carol had a hearing impairment since the age of eight, but it did not impede her career growth or independence. However, now, the additional challenge of retinal detachment and the resultant loss in vision complicated matters. Not to mention the psychological impact of being considered suddenly 'less than able'.
But she didn't give up. She enrolled for a parallel degree in library science to work towards her childhood dream of working with books.
With help from YFJ, Carol now works with TVS Motor as a costing executive with the sales and purchase department. She was hired as part of their diversity inclusion programme.
Trying to make a new beginning and relearn things was not an easy task. With her visual disability, continuously staring at a screen was an agonising strain on her eyes. In a way, work from home has been a blessing. It allows her to wear her hearing aid without awkwardness and simultaneously blow up the size of the Excel sheets on the computer screen to her convenience. Though the team she works with has been cooperative, it's inevitable that she misses out on things at times. Like when someone in the office calls out for her or there's a group discussion, she misses out on details as her hearing aid works only 60% of the time. She almost entirely misses out on the social aspect of work—friendships and bonding with colleagues—something she wishes she had more of.
Day-to-day life can be tough. Her peripheral vision is absent, so she finds it difficult to spot the bus or cross a road with busy traffic. "I can do it alone but it's much better to have someone."
Having a social circle too has become a challenge. Friends often find it tedious to hold a conversation with her as she frequently needs them to repeat themselves. "Earlier I managed with lip reading but now I can't see beyond a certain distance, so lipreading is not easy." Shrugging, she says, "When your own friends are not cooperative, you can't expect the corporate world to do that for you."
But she is fighting the good fight. She knows it will be a thorny path but believes she has come a long way from the day she had gone to the government department to collect her disabilities certificate and had enquired how can disabled candidates look for a job. "They just kept staring at me, not knowing how someone with partial vision and hearing ability could hope to be hired."
Finding a spot in a reputed organization has given Carol the faith to pursue her ultimate dream of working in a library. She has completed a degree course in library science and is awaiting the results. She hopes the system will become more supportive and provide an inclusive environment. She hopes solutions will go beyond Braille as the answer for all vision-related impairments. "I end up reading children's books at times because they have a bigger font."
Carol is heavily dependent on the yellow lines on the stairs to guide her, which restricts her movement—she can't access places without such facility. "It impacts how I experience the world." According to a WHO report, India has an estimated 62 million people who are visually impaired, of which 8 million are blind. However, the system and in fact, society as a whole, continues to tread awkwardly around the issue of inclusivity of the disabled, with very few provisions to make things easy on the professional and personal front.
Despite the lack of aid from the system, Carol remains matter of fact, "I knew this would come. I had known there were challenges, not big ones but small ones. I had to push myself." Her world turned topsy-turvy, but she continues to chase her dreams.
Carol has had to make peace with choices in her personal space too. She moved alone to Bangalore from Mangalore with encouragement from YFJ. Here, she lives in a women's PG where things are 'taken care of'.
She dreams of her moving to her own apartment soon, where she will be truly independent.
Bridging the gap
"I love working with a brand where they try to understand me at least"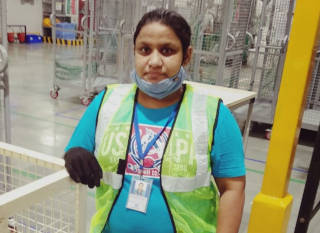 Priti, age 33
Occupation: Loading executive, Amazon
Residence: Rohini, New Delhi
Family: Priti lives in a one room kitchen self-contained home with her husband. Her mother-in-law and father-in-law stay in the same neighbourhood.
When Priti was 23, her mother passed away. And right away, there was a vast communication gap within the household. None of her three older siblings, or her father, had ever tried to learn sign language. Unlike her mother, who had done so to better understand Priti, who has a hearing impairment from early childhood.
"I had no one to share my thoughts with," says Priti. "They [her siblings] would take me for granted and be impatient with me all the time. I became totally quiet."
Marriage brought succour. "Being hearing handicapped himself, my husband knows sign language. He understands me, he is my main supporter," says Priti.
When her mother-in-law continued to criticise her lack of abilities, the couple decided to live separately within the same locality. When the pandemic hit, her husband lost his job as a sorter at a garment manufacturing unit, but the couple persevered.
Priti credits Youth4Jobs for giving her confidence in herself. "Before I did their course, I did not even know of concepts such as self-esteem or positive thinking." The interpreters here, not just one but many, could communicate in sign language. She met others with various sorts of disabilities—all of this had a huge influence.
Unlike caste, ethnic groups, or village kinship groups, there is no real network of disabled folks. Just getting to know so many others who face similar challenges and who were successful in getting jobs, profoundly impacted Priti.
After the three-month course, Priti landed a job at Amazon, where she works a five-hour shift during the daytime and earns double what she earned earlier working fulltime as a data entry operator.
Her animated conversation is peppered with TL this and TL that. As a packing and loading executive, she likes it that her TL, her Team Leader, makes an effort to communicate with her. As do her other colleagues.
"If my work friends are unable to understand me or make themselves understood, they make fun of themselves, that they are so bad at sign language. They are very sweet."
"At Amazon, people take initiative and make efforts to talk to me," says Priti with delight. "That makes me feel at ease. I wait every day to be able to go to work. I hope I can work here for a long time to come." A far cry from her earlier workplace where she was treated as if a favour had been bestowed to get a low paying job.
Family network, the bulwark that is expected to support a disabled person, may itself be threadbare. Living in an economy where jobs are few, any such member is treated as a liability.
But to Priti, dignity has come from her work and colleagues.
All employees feel good about working at a place that is seen to care, where diversity is paid more than lip service. Disability inclusion at the workplace reaps rich dividends that go far beyond the reductive factors of less absenteeism, or lower employee turnover. Indian companies need to pay heed to this simple fact. Sensitized workplaces will own the future.
Champions for change

(Left) Muthuraj D, Project Executive, Mangalore VIC, YFJ
(Centre) Mohammed Irfan, WISE* Centre Manager, Delhi, YFJ
(Right) K Vijaya Kumar, Project Executive, Tirupati WISE* team, Andhra Pradesh, YFJ
*WISE is YFJ's flagship programme that focuses on rural youth
A well-known global chain of supermarkets has an outlet in Mangalore where the lead management has refused to hire people with disabilities. They believe customers will be turned away if a person with disability offers assistance while they browse the aisles.
"We are explaining to them that more than able-bodied people, our folks will work diligently," says Muthuraj. "And they will work with you for years to come."
What does this tell us about the mindset of our nation, where the YFJ team needs to reach out to individual companies and stress on bottom line value-adds? "We continue to cold call employers."
At the other end, their task is equally cut out in getting people with disabilities to register. "Parents tell us we will take care of our child as long as we have strength and there is God," says Irfan.
"This problem is more acute in rural areas."
While this works initially, YFJ has noted that older disabled people face difficulties and abuse. "It becomes near impossible to place anyone over 40, if he or she has never worked earlier," says Vijaya. "Imagine if we ourselves are asked to stay 24 hours within the confines of our own walls, year after year, for decades. Won't we become crazy?"
Of the thousands now registered and trained by YFJ across 44 centres from Jammu to the North East, cities to tier 2 towns, the majority are between age 18 and 24. "We reach out to communities explaining how, when you as parents get old, no one will care for your affected child. We show videos of the impact of making children independent and letting them earn their living," says Irfan
To extend this mobilisation, YFJ reached out to government schools, local NGOs, local bodies and multiple rehabilitation workers.
YFJ has by now trained nearly 30,000 young people with locomotor disabilities, hearing impairments, those visually challenged, and those with multiple disabilities.
"We hold workshops within companies on how to communicate with team members who have disabilities," says Muthuraj. "We also help match the company's requirements with the physical needs of each person. If a person has a locomotor disability over 40%, you cannot ask him or her to stand for eight hours."
During the pandemic, training has moved online. This has helped widen YFJ's reach. Earlier when training was at the centres, logistical issues of organising free stay and food were also taken care of. "In the past year alone, we have trained over 6,000 young people. Most have been placed also," says Vijaya with quiet pride.
Earlier many parents were hesitant about sending their daughters away from home for the initial training. "Now the girls who got trained virtually are holding jobs and gainfully contributing to their families," says Muthuraj.
YFJ also helps its students monetarily, paying part of the expenses in the initial months, when they go for interviews or try to find accommodation at a new place. Beyond money, YFJ also supports them by working closely with aid organisations and government bodies to streamline certification so they can apply for government quotas.
The team at YFJ is motivated and dedicated to the cause. "There are so many of us who are here for the long duration, not just hopping from job to job," notes Vijaya. "It tells you how good this organisation is. Now we do have more employers reaching out to us than the other way around."
In the absence of greater regulation to include handicapped persons in the workforce, the need of the hour is for Indian corporates to lead change and take an active role in inclusion, not just as a box to be checked but also in terms of changing mindsets and approach.