Dear friend,
Welcome back to the Founding Fuel newsletter.
If I were to look for one leadership theme that emerges from the stories we wrote this past month, it is making your organisation people-centric. Whether it is an imperative to create a safe workplace, highlighted by the #metoo movement; to find new market spaces, which requires creative imagination; or truly understanding complex phenomena—it all begins with the people. Customers yes, but more importantly your own people.
And don't miss the interview with India Posts' CEO Ashok Pal Singh, where he talks about why good governance needs specialists, what must a leader do to make his tenure effective, and how to endure there's more skin in the game.
Listen to the interview and read these stories in the Featured Stories section.
Wishing you a happy Diwali,
Sveta Basraon
(For Team Founding Fuel)
Featured Stories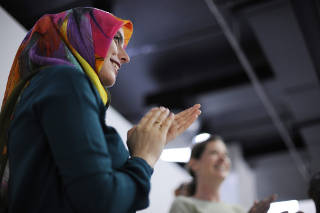 [By rawpixel, under Creative Commons]
Women will believe they will get justice when they see leaders champion a harassment-free workplace. For that, a compliance mechanism alone is not enough. Leaders must initiate open conversations that define the norms for a safe workplace. "When something is the focus of conversations initiated by senior leaders, it often engenders confidence in employees." (By K Ramkumar. Read Time: 5 mins). Read Now

[By Prentsa Aldundia, under Creative Commons]
The #metoo movement has provided a wake-up call for leaders across India Inc to significantly up the ante in building safe and gender-balanced workplaces. ""The challenge is to make the transition from a compliance-based approach to a new workplace culture that supports safe and gender-neutral behaviour…. Cultures don't get formed overnight. It requires open, facilitated conversations led by leaders." (By Indrajit Gupta. Read Time: 5 mins). Read Now

[Microsoft co-founder Paul Allen. By Miles Harris (CC BY-SA 3.0), from Wikimedia Commons. Photograph cropped from original.]
There are artists and entrepreneurs. Their stories aren't pretty. But tough calls must be taken. Their stories can be found across the world, India included where the IT Services business is staring at a tough time. (By Charles Assisi. Read Time: 10 mins). Read Now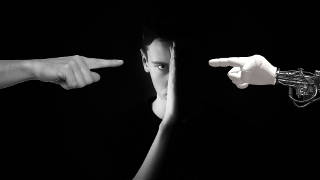 [By Gerd Altmann, under Creative Commons]
Data can tell us much and the capabilities of AI are improving exponentially. But how do you get deep insights and how do you know the right things to do? An eclectic mix of five books—on mathematics, social sciences, AI technology, moral science, and Hindu philosophy—offer some pointers.
"What else is there to human intelligence that AI does not have? The answer is: 'judgement'. And judgement… is the ability to choose amongst options to produce the outcome desired. The choice of the outcome desired involves questions of ethics and morality… Judgement is required… to act even when there is insufficient information." (By Arun Maira. Read Time: 24 mins). Read Now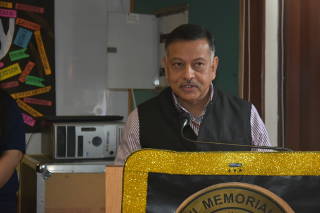 Ought candidates from the private sector be inducted into the government as "lateral hires" is under intense scrutiny. How do we examine the issue? Charles Assisi asks Ashok Pal Singh, CEO of India Post Technology Centre. (By Charles Assisi. Play Time: 35 mins). Play Now

[By Taste of Cinema (Public domain), via Wikimedia Commons]
In this never ending race for greater productivity and measurement, the practice of management appears to have lost touch with real human values. It is time to correct that. (By Indrajit Gupta. Read Time: 3 mins). Read Now

Founding Fuel's book, The Aadhaar Effect, written by NS Ramnath and Charles Assisi, is available on Amazon and will be available in all leading bookstores in the next few days. This will be one of Oxford University Press's biggest book launches this year. You can buy the book on Amazon.

Follow our wider coverage on the revamped site aadhaar.foundingfuel.com, where we will continue to bring you insights on all the ways this biometric identity programme is evolving, its ramifications, and the learnings for entrepreneurial leaders. You can also subscribe to our fortnightly newsletter on the theme.
What We Are Watching and Reading
The Netherlands is one of the smaller countries in Europe. It is also, somehow, the bread basket of the entire continent. More surprisingly still, the Dutch farmer leads a fairly comfortable life unlike her counterpart in India.
Buzzwords and anxiety fill the hallways as Hollywood giant tries to maintain a winning culture amid breakneck growth; 'sunshining' the 'N-word' scandal
The e-commerce company has so much information about us that it's become expert at shilling us things we didn't even know we needed. No wonder its advertising business is booming.

In Leadership Goodwin draws upon four of the presidents she has studied—Abraham Lincoln, Theodore Roosevelt, Franklin D. Roosevelt and Lyndon B. Johnson—to show how they first recognized leadership qualities within themselves and were recognized as leaders by others. By looking back to their first entry into public life, when their paths were filled with confusion, hope and fear, we can share their struggles and follow their development into leaders. This seminal work provides a roadmap for aspiring and established leaders. In today's polarized world, these stories of authentic leadership in times of fracture and fear take on a singular urgency.
From Our Archives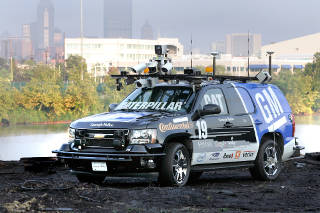 [From tartanracing.org.]
Grand challenges that bring together government, universities and industry, can solve near future problems using technologies innovatively, writes N Dayasindhu

In his keynote speech at last year's 19th Polestar Awards function, an annual award for excellence in journalism, Azim Premji draws on his vast experience in education and philanthropy to talk about what needs to be done to improve public education in India.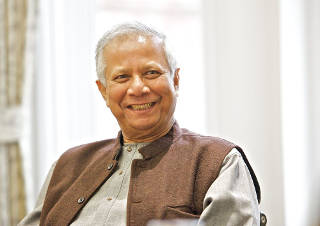 [By University of Salford Press Office (CC BY 2.0), via Wikimedia Commons]
In his new book published last year, Nobel Peace Prize winner Yunus argues that social businesses can help solve poverty, unemployment and pollution. However, we need to work hard to make it happens, writes NS Ramnath