Speaking of alphabets, all of us have something that we really want to do – let's call that our Option A – and we fall head over heels in love with the idea of it. This is one of the reasons rejection is so tough for us to deal with. If the dream job, the dream partner, or the dream home that we work all our lives for don't come our way, we are shattered.
While there is nothing wrong with having an Option A, it is important to remember that in life we always have Option Bs and they aren't usually compromises either. My consulting career was my Option A at UPenn. I forgot – though my parents kept reminding me – that I had a solid Option B: two summer internships at Microsoft and a confirmed pre-placement offer from them before I started the search for a consulting position. Microsoft was a place I enjoyed working at, a place that would pay me well. It was a real option, and a good one at that. In hindsight I know that if the McKinsey opportunity hadn't cropped up, life would have worked out just fine for me at Microsoft.
Over the years, I have learnt not to limit my definition of success to a single option, because I have experienced the power of Option B. Most consultants, after their two year programme, apply to private equity and venture capital firms as a next step; it's the thing to do and that's what I did after my stint at McKinsey. I got an interview with every big private equity firm, but I didn't get a single offer – not even from smaller outfits that I interviewed at next. At the same time, I received an interview opportunity from AQR, which happened to be founded by Cliff Asness, who had attended the same programme I graduated in at UPenn. AQR was a quantitatively focused company run by academically oriented professionals, and Cliff was the chief nerd there. My finance and computer science backgrounds were a good fit for them. Quantitative investing and AQR were never a part of my post-McKinsey plan, but with Option A gone, this was what I had left. I rose up the ranks to become a fund manager at AQR, which grew quickly in the Wall Street boom of the mid-2000s. Forefront was later built on the same principles of quantitative investing. Was AQR an inferior option to working in private equity? I don't know, but it enabled me to come back to India and start a fund business of my own at the age of 24 and, more than that, it helped me transition into the role that I have today. A very important part of what we do at Edelweiss MF is quantitative and process-driven investing, and my Option B experience at one of the world's leading quantitative funds has come in handy.
♦¤♦¤♦¤♦
It's sometimes overwhelming and intimidating to realize that we don't have some of the skills to take on the roles we aspire to, but nothing should stop us from constantly and consciously evolving and upgrading.
Kalpen Parekh took on his first CEO role at IDFC Mutual Fund at 38, and now heads DSP Mutual Fund, one of the largest mutual fund companies in the country. He spent a significant number of years in the industry in sales and marketing, but as CEO he now oversees investments. I have always been curious about how he made the transition because investments is a technical domain that requires a very different skills from sales. Managing investment professionals requires you to speak and understand their language, and also build a connect with them, which is much harder when you don't come from their world.
When I asked Kalpen about this, he told me that well before he took on the role of CEO, he had realized that if he was to do well in this business he would have to master the investing side and also know the fundraising aspect. He wasn't afraid to take classes to gain this knowledge – whether at FLAME University in Pune or investment workshops at Harvard Business School, where he also got exposure to global investment professionals. In fact, even today, he continues to take classes to master different areas of money management. At his age and the stage in his career he is at, most people would shy away from being in a classroom with kids half their age, but Kalpen is comfortable being a student.
Being a learner is a state of mind. I also believe that if you are hungry enough you will leverage even the smallest opportunities to learn within the organization you work at, which includes participating in activities beyond day-to-day work projects that most people dismiss as 'that extra work that probably won't do much for me'. Kalpen, for instance, says that four years into the business he had the chance to visit the Asia offices of Prudential, a global asset manager, and joint venture partner of ICICI MF, where he then worked on a month-long project that proved to be transformative for him. He took advantage of the fact that he worked for asset management companies that had global partners, and picked up something from each of them – emotional marketing from Prudential, durability in money management from Sun Life and the knowledge of different asset classes from firms like Natixis.
♦¤♦¤♦¤♦
Those who ask are genuinely aspirational. They work hard to achieve their ambitions and, at the right time, are not afraid to say, 'I want to try this, and I think I can do it.' They seek to grow, but they do not put others down as they move ahead. Complainers, on the other hand, are a perennially unhappy lot. They constantly compare themselves to other people and want what others have. They also express their unhappiness again and again (and again), which can get grating very quickly.
Four years into the business, a member of my team came up to me, just as I had done with my boss many years ago, and told me that in seven to eight years he aspires to be the CEO of a mid-sized mutual fund company. He told me there were gaps in his profile and that he was looking to develop certain new skill sets. He wanted to take on an additional responsibility that had the possibility of opening up in the near future and asked if he could be considered for it. He was right. An opportunity was going to open up, and while I had never seen him in that role and had planned to hire for the position externally, the conversation set me thinking 'Why not him?' Eventually, he landed the role.
The workplace is a competitive space, but I believe that all of us have a shot at opportunities bigger than we can imagine if we choose not to be held back by artificial fears and limitations. My talk, 'The Girl with a Broken Neck', was a result of my asking for an opportunity. In 2017, I met Captain Raghu Ramanan, as a part of a weekend workshop on storytelling, and while I am usually suspicious about training programmes, this one spoke to me in a way no session had until then. On the second day of the programme, after a session of theoretical training, Captain Raghu asked each of us to deliver a 15-minute TED-style talk and share a personal story. At the end of the day, when I was leaving the workshop, he told me to stay in touch with him and added, 'Radhika, you will go really far. You have a lot of potential.'
A few weeks after the training, Captain Raghu sent us an email saying that TEDx had a few open slots around the country and asked if any of us would like to try formally speaking on this platform.
Maybe it was his last comment from the workshop that had stayed with me, but I called him the next day and said, 'Captain, do you think I can try this? I am not sure I am ready, but can I try?' Captain Raghu responded to my question with enthusiasm and commitment, and said he would coach me through the process. A couple of months later, I was on stage, speaking at TEDx TISS. While that talk never released, my second attempt 10 months later, 'The Girl with a Broken Neck', did come about, and it went viral.
My storytelling journey thus started with me putting my hand up for an opportunity and now I consider myself to be truly bitten by the storytelling and public-speaking bug!
Every instance of putting one's hand up may not have this outcome, of course. There are real 'no's, and they sure pinch. I had once called a mentor to ask him about an opening that I thought I was a fit for, and he told me, very candidly, that I was overreaching and should build up my skill set a little more before attempting it. 'You just need more experience to do this right, Radhika. Now isn't the time.' I felt pretty bad hearing this and sulked for a few days. But I've learnt since then that occasional rejection should not stop you from asking again, maybe after doing a little more homework or preparing yourself better.
Buy it on Amazon
(Excerpted from Limitless: The Power of Unlocking Your True Potential by Radhika Gupta. Published by Hachette India.)
The AAA Life: Ambitious, Aware & Asking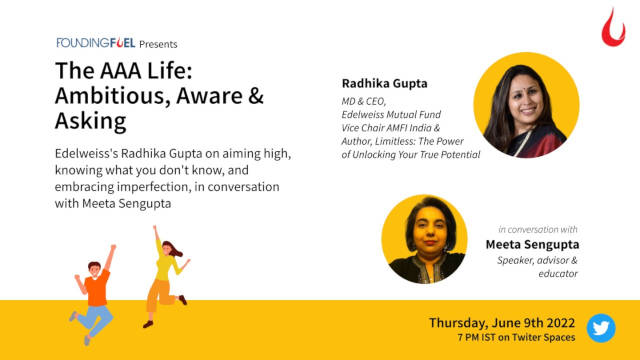 Join us at 7 PM IST on Thursday, June 9: https://twitter.com/i/spaces/1RDGlgNwkYlKL
We are delighted to invite you to a Twitter Spaces conversation, hosted by Founding Fuel, at 7 PM on Thursday, June 9, with Radhika Gupta, CEO, Edelweiss Mutual Fund and the author of Limitless: The Power of Unlocking Your True Potential, a recently published book on the lessons from her leadership journey. The conversation will be anchored by Meeta Sengupta, speaker, advisor and educator.

About the session: Radhika's book provides an unusual peek into a woman high achiever's journey and raises many relevant issues that would be of interest to our community of leaders. She draws out her learnings on being resilient, on moving past failure/rejection, on owning your ambition and taking risks, and working with imperfections.