[From Unsplash]
Pandemic
The pandemic has continued to ravage humans for the second year. As always, the poor and the marginalised, as well as women and children, have been the hardest hit. Covid-19 highlighted the role of nonprofits in providing many critical services to the most vulnerable and marginalised communities around the world. Nonprofits have had to face unprecedented challenges in doing so, while also having to shoulder the added burden of operating with restricted grants and compliance conditions.
In contrast, despite the pandemic disruptions, venture capitalists have invested extensively in start-ups all around the world, including India. So why is sizeable risk capital so hard to come by for nonprofits?
SNEHA CEO Vanessa D'Souza and I wrote about this as well as the need for more unrestricted grants to nonprofits in this article published by India Development Review. You can read more about SNEHA's response to the pandemic here, and you can find its annual reports here.
You can support SNEHA's much needed work here.
Education Emergency
Schools for more than 168 million children globally have been completely closed for almost a full year, says UNICEF. Furthermore, around 214 million children globally—or 1 in 7—have missed more than three-quarters of their in-person learning.
School closures have devastating consequences for children's learning and wellbeing. The most vulnerable children and those unable to access remote learning are at an increased risk of never returning to the classroom, and even being forced into child marriage or child labour.
According to the latest data by UNESCO, more than 888 million children worldwide continue to face disruptions to their education due to full and partial school closures.
The nonprofit Pratham Books responded to this emergency with a series of programmes and initiatives such as:
Learn at Home to support parents and educators in keeping children reading and learning.
Missed Call Do, Kahaani Suno! to listen to delightful stories for free on the phone without internet.
Goshticha Shaniwar with UNICEF that impacted 36 districts of Maharashtra, 100,000 schools and anganwadis, 260,000 teachers, anganwadi supervisors and workers, and 2.5 million children.
You can read more about these here. Pratham Books' latest annual report details how it has been 'Keeping learning open when schools were closed'.
You can support Pratham Books' work here.
The Three-Body Problem
Our response to the coronavirus—which continues to challenge and test our resilience, ingenuity, as well as our values, principles and shared humanity—leaves much to be desired.
How would humanity respond to an extinction event, a first contact or a threat by a far more advanced alien civilisation?
While there have been many books, articles and movies about such scenarios, one series that I would recommend is the award winning The Three-Body Problem by Cixin Liu translated by Ken Liu.
It combines philosophical conundrums with Chinese history and culture, as well as psychology, sociology, scientific expositions, fascinating characters and a thrilling narrative into a mind-expanding experience.
Wisdom
The road to wisdom?
- Well, it's plain
and simple to express:
Err
and err
and err again
but less
and less
and less.
This grook (short aphoristic poem) is by the Danish poet, designer, inventor and scientist Piet Hein, who wrote over 10,000 of them, mostly in Danish.
Finite and Infinite Games
"There are at least two kinds of games. One could be called finite, the other infinite. A finite game is played for the purpose of winning, an infinite game for the purpose of continuing the play."
Thus begins the book Finite and Infinite Games by James Carse, who points that our approach to life as a finite or infinite game determines the life we live. He adds that "the finite play for life is serious; the infinite play of life joyous."
Inspired by James Carse, Simon Sinek wrote The Infinite Game, elaborating the difference in the two mindsets as well as why and how we need to lead and live with an infinite mindset.
Questions
One of the many ways that I err, is in speaking unnecessarily. James Clear, author of Atomic Habits has this advice:
Some questions to consider before you speak:
Does this need to be said?
Does this need to be said by me?
Does this need to be said by me right now?
Dickie Bush (@dickiebush) shares 21 questions to reflect on as you end 2021
What were the 5 most difficult conversations of the year?
And what are 5 difficult conversations I'm currently avoiding (with both myself and others)?
Shinrin yoku
I am grateful to have discovered the luminous joys of birdwatching a few years ago thanks to my partner. During the pandemic, I joined a group of birders who came together for weekend outings in and around Bangalore and discovered many lakes, woods and oases that have provided the wondrous benefits of 'Shinrin yoku' (translated in English as forest bathing).
This paper that studied evidence from field experiments in 24 forests across Japan, concluded that 'forest environments could lower concentrations of cortisol, lower pulse rate, lower blood pressure, increase parasympathetic nerve activity, and lower sympathetic nerve activity compared with city settings.'
Breath
Modern research in pulmonology, psychology, biochemistry, and human physiology is showing us that making even slight adjustments to the way we inhale and exhale can help jump-start athletic performance, rejuvenate internal organs, halt snoring, allergies, asthma, and some autoimmune disease, and even straighten spines.
None of this should be possible, and yet it is. Award-winning science journalist, James Nestor, travels the world to find out what went wrong in our evolution of breathing and how to do fix it in his book Breath: The New Science of a Lost Art.
Climate Crisis
Amitav Ghosh, in The Great Derangement examines our inability—at the level of literature, history and politics—to grasp the scale and violence of climate change, and urges us to confront and address this most urgent crisis of our time.
John Doerr, in his new book Speed & Scale, presents an action plan to address the climate crisis in time. This poster based on the book summarises the 10 objectives and 55 key results to get to net zero emissions by 2050.
In this marvellous short video, Pale Blue Dot, Carl Sagan is particularly profound and evocative. This stark truth about our human reality is the wisdom humanity desperately needs to save it from itself.
Grief and Loss
The ongoing pandemic has forced us to confront grief and loss on both a personal and global scale.
In Notes on Grief Chimamanda Ngozi Adichie writes: 'Grief is a cruel kind of education. You learn how ungentle mourning can be, how full of anger. You learn how glib condolences can feel. You learn how much grief is about language, the failure of language and the grasping for language.'
Ten years after the death of Elisabeth Kubler-Ross, the commemorative edition of her final book On Grief and Grieving co-authored with David Kessler combines practical wisdom, case studies, and the authors' own experiences and spiritual insight to explain how the process of grieving helps us live with loss.
Her earlier book On Death and Dying taught us the five stages of death—denial, anger, bargaining, depression, and acceptance. On Grief and Grieving applies these stages to the grieving process and weaves together theory, inspiration, and practical advice, including sections on sadness, hauntings, dreams, isolation, and healing.
Sleep and Health
Noted early stage investor Anand Lunia wrote this ET opinion piece 'Dear founders, it's ok to give yourself a break', triggered by the shock of the sudden death of the young serial entrepreneur Pankhuri Shrivastava.
Bill Gates reviews the book Why We Sleep by Matthew Walker and shares some tips on improving our sleep.
This Tim Ferris podcast, Tools and Tips for Better Sleep, includes lessons about sleep, recovery, and regeneration, along with tips and recommendations from: obstacle course racer Amelia Boone, comedian Mike Birbiglia, strength coach Charles Poliquin and Dr. Peter Attia.
Nithin Kamath, Zerodha founder & CEO, remarked on the number of people with severe heart issues in his extended circle, with the common thread being sleep deprivation.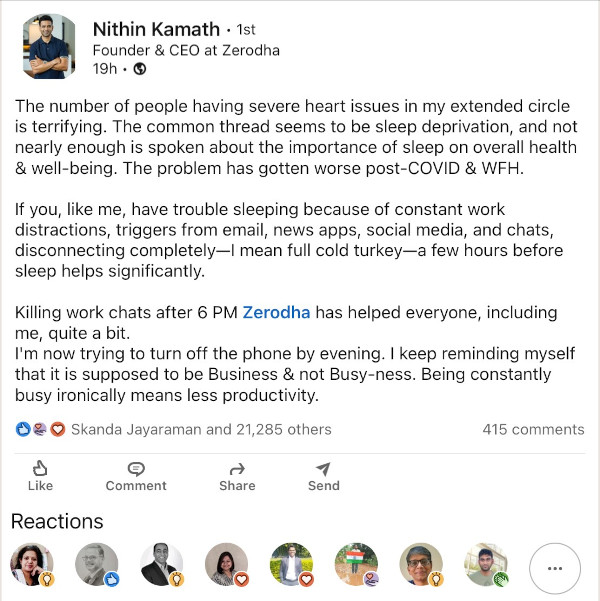 Living
Investor, entrepreneur and creator Sahil Bloom (@SahilBloom) shares 21 lessons learned in 2021
Say Thank You More
Show more gratitude to the people who have mentored, supported, or helped you.
Not just on special occasions—every single day.
"I appreciate you" is my most frequently sent tweet and text.
Why? Because it's true.
Gratitude makes the world a better place.
David Perell shares The Paradoxes of Modern Life:
Here's #4 The Paradox of Decision Making:
It's better to choose, commit, and get started instead of waiting for the best possible option, so the correct decisions are actually suboptimal.
Arun Maira shares the following clues to living well: Keep learning; be curious; explore new ideas; listen to more people 'not like yourself'.
He adds: 'My mother, who passed away when she was 97, living as independently as she could till the end, would brush aside my brothers' and my concerns about her failing health. She said she wanted to add more life to her years, not years to her life. She always wanted to explore and learn more till the very end. When learning stops, living stops, and only existence continues, she said.'